NBA Finals 2011: Heat vs. Mavericks Series Preview, Predictions, Updates, More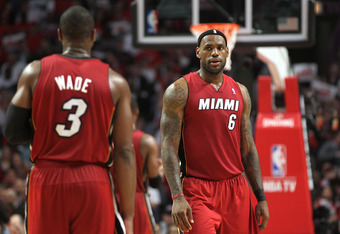 Mike Ehrmann/Getty Images
The 2011 NBA Finals are about to get under way.
In what may be the most polarizing Finals of all time, it's hard to find any preview articles out there that break down this series from a fair, logical perspective.
Yes, I know millions of people want to see the Heat lose, but I also know LeBron's jersey sales were higher than anyone else and the Miami Heat's ticket sales were the highest in the league wherever they went.
Yes, I know that a storyline of Dirk Nowitzki getting back to the Finals and the 38-year-old Jason Kidd finally winning are more fan friendly than the "Big Three" uniting to win a title in their first year.
But when that jump ball goes into the air, none of that matters. The winner of this seven-game series will be the better team.
I want you to know that this is not an angry Heat Hater, a Mavericks lover or Heat enthusiast writing this article. This is me putting all biases aside, all storylines, all heartwarming angles to rest and breaking down these two teams from a pure basketball perspective.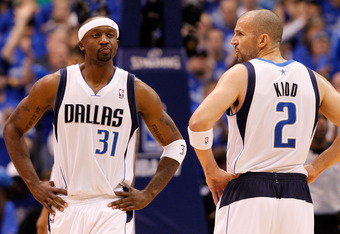 Mavericks Point Guard Play- Tonight's game is the freshest we will see Jason Kidd all season long. How will this effect the game? Will Miami be ready to deal with a passing guard rather than a drive to the basket nearly every time guard? Will Kidd be on from three-point range?
Also, it will be interesting to see if JJ Barea is able to have his points off the bench and get his floaters over the shot blocking Joel Anthony and dangerous help of LeBron and Dwyane Wade.
Dwyane Wade's Health- This series will be over with fast if Wade is not healthy. While all reports indicate that he is feeling fine, look to see if he is reaching for his shoulder late in games.
Jason Terry- Terry is the second scoring threat for Dallas. He usually has big games back in Dallas, but will he be able to get hot here in Miami?
LeBron James- Are we going to see the same clutch James that we've seen for the last 10 games? How dominant will he be and will he be more of a scorer or distributer tonight?
Dirk Nowitkzi- Everyone seems to expect Dirk Nowitzki to have a monster series, but what if he has an off night? He did have an 18 point game against the Oklahoma City Thunder so it is possible. If he starts the series in a funk, will he be able to shake it off and get back to himself for the next games?
Defense- Will Miami's defense translate over now that they are facing a dangerous offensive team? Boston and Chicago did not have nearly the firepower that Dallas has. Likewise, Dallas has not experienced a team with three weapons like the Miami Heat. Will their defense be abused or surprise us with solid play?
This article is
What is the duplicate article?
Why is this article offensive?
Where is this article plagiarized from?
Why is this article poorly edited?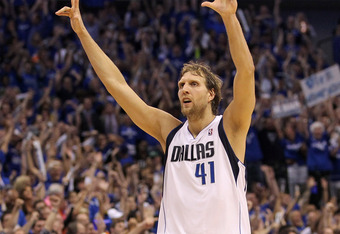 Win or lose, I expect Dirk Nowitzki to have a bigger game than LeBron James or Dwyane Wade.
I'm not saying every game will be this way, but in Game 1, the Miami Heat have no idea what strategy is going to work on Dirk Nowitzki.
Dallas at least has the strategy in place. They know that Shawn Marion creates problems for LeBron James and they know DeShawn Stevenson bothers Dwyane Wade. For the Mavericks, it's a matter of figuring out how much Jason Terry to use and if they can afford to put Peja Stojakovic on the floor guarding LeBron James.
The Mavericks also have their zone, which they have perfected during the season and the playoffs.
For the Heat, they don't know who to throw at Dirk Nowitkzi. They will have glimpses tonight of what works and more often that not, glimpses of what absolutely doesn't work.
All three players, Dirk, LeBron and Dwyane Wade are going to be hard to stop regardless of strategy. However, LeBron and Wade are not as bizarre of an offensive threat as Dirk.
This article is
What is the duplicate article?
Why is this article offensive?
Where is this article plagiarized from?
Why is this article poorly edited?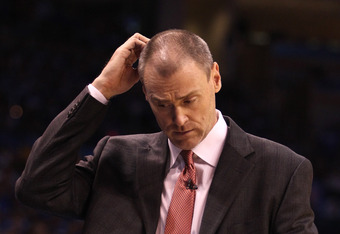 Whoever wins Game 1 tonight is not a guarantee to win the series.
Miami was blown out by the Chicago Bulls in Game 1 of the Eastern Conference then came back and beat the Bulls four straight times.
The Mavericks have yet to be down in a series and are 3-0 in Game 1's, but they also have lingering memories of 2006 when a 2-0 lead was not safe.
Tonight's game will give us a chance to see how these two teams matchup against each other. It will give us clues as to how they will defend each other, how the Mavericks will try and slow down LeBron and Dwyane Wade and how Miami will try to slow down Dirk Nowitzki.
But make no mistake, both coaches are extremely smart guys and will make adjustments between each and every game. Especially between Games 1 and 2.
Expect both teams to come out and play hard tonight, but I am not going to know who is going to win this series probably until one of these teams has won three games and only has 10 seconds left to go in the elimination game.
Even then, who knows.
This article is
What is the duplicate article?
Why is this article offensive?
Where is this article plagiarized from?
Why is this article poorly edited?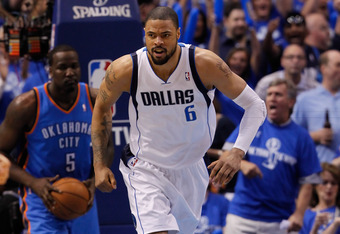 Tyson Chandler and Brendan Hayward are not big offensive threats, but Dallas does run lobs for Chandler. Anthony will have to keep an eye on Chandler in ways he didn't have to with Noah.
For example, I think we will see times when Kidd or Barea gets into the lane, Anthony steps over to go for the block and the point guard lobs it to Chandler for the alley oop.
Stopping Dallas' centers may not be hard, but Anthony/Haslem will need to rebound, because if Dallas gets second chances, unlike Chicago, the Mavericks will will make those shots.
This is the best pairing of centers that Miami has faced in the entire playoffs. It's hard to predict how they will handle them since we really have no precedent in the postseason in terms of who Miami played (they didn't have to play Dwight Howard or Al Horford)
Chandler and Hayward are not huge offensive threats, but they are big, physical guys who are much more dangerous offensively than Joakim Noah and Jermaine O'Neal.
This article is
What is the duplicate article?
Why is this article offensive?
Where is this article plagiarized from?
Why is this article poorly edited?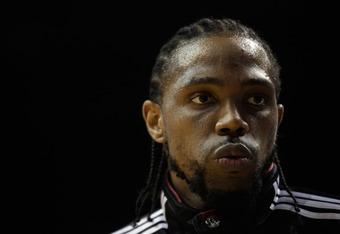 Centers
Another sigh of relief for the Mavericks.
Tyson Chandler does not have to worry about Joel Anthony going off for any more than 10 points. Honestly, Anthony will probably be around 3 ppg in this series. Chanlder and Hayward's role is to clog the lane and give helpside defense for when Wade and James get to the rim.
What will become interesting is when the Heat go with the Wade-LeBron-Miller-Haslem-Bosh lineup late in games. Haslem and Bosh both have good midrange jumpers, but I think Chandler has to simply risk them beating him rather than leaving the position near the rim.
How Do The Mavs Matchup With Miami's "Closer" Lineup?
What we saw in the final couple games in the Chicago Bulls series was the Heat ending games with the lineup of Dwyane Wade, LeBron James, Mike Miller, Udonis Haslem and Chris Bosh.
I think the Mavericks are best suited to stick with their normal closing lineup. Put Jason Kidd on Wade, Marion still on LeBron, have Terry on Miller, Dirk on Bosh and Chandler on Haslem. The obvious problems this creates is how much energy will Kidd have left late in games to guard Wade and will Terry be able to box out the 6'7'' Miller.
This article is
What is the duplicate article?
Why is this article offensive?
Where is this article plagiarized from?
Why is this article poorly edited?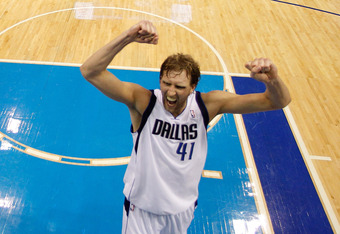 This matchup is what the series is all about, and I think Dirk Nowitzki will cause more problems for Miami defensively than LeBron or Wade will cause for the Mavs.
Chris Bosh is not an exceptional defender. I don't see him being able to guard Nowitzki as well or better than Serge Ibaka, Nick Collison, Pau Gasol or LaMarcus Aldridge have done so far in the playoffs.
Giving up points is one thing, but the problem with guarding Dirk is you pick up tons of fouls. Serge Ibaka had 5 fouls twice and hit 4 fouls two times in the last series, while Collison fouled out twice, had 5 fouls once and 4 fouls another time. For OKC, sending Ibaka to the bench was not a huge deal, because Collison could come in and play defense better and have potential to score the same amount of points.
Miami does not have that luxury. If Bosh is in foul trouble, they go with a Haslem and Joel Anthony look. Haslem's defense is good—although he is better defending a more traditional power forward—but his offense is not at the same level as Bosh. With Bosh off the floor, Miami is reduced to LeBron and Wade running with an iffy Mike Bibby, no offense Anthony and either Haslem or Miller who are meant to be fourth or fifth options.
Why Not Put LeBron On Him?
LeBron James would really bother Dirk Nowitzki, but once again, foul trouble is a concern. The Heat can still win with Bosh on the bench, they will not win with James on the bench. Not only do they become less of a threat offensively, but then Peja Stojakovic can come in for more minutes and potentially hit threes over Mike Miller/James Jones.
I think the Heat will use Bosh and Haslem on Dirk Nowitzki for the first three quarters then try out LeBron on him in the fourth. For this to work, James will have to have only 2 or 3 fouls going into the fourth quarter, because he will likely pick up 2 while guarding Dirk for 12 minutes. If he hits number 5, then he has to be less aggressive on Dirk for fear of fouling out.
This article is
What is the duplicate article?
Why is this article offensive?
Where is this article plagiarized from?
Why is this article poorly edited?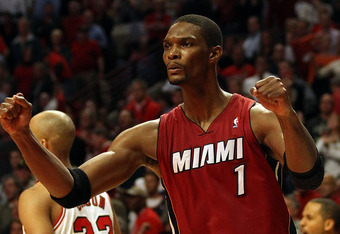 This is actually an ideal situation for Dirk Nowitzki. On one end, Chris Bosh is a much more dangerous threat offensively than Serge Ibaka, but his style of game allow Nowitzki to not have to exert himself on defense.
Let me explain. The worst situations for Nowitzki are when he plays a post-up, physical, back to the basket power forward. For example, had the Mavericks played the Memphis Grizzlies and Nowitzki had to guard Zach Randolph, Nowitzki would be tossed around and probably end up in foul trouble.
With Bosh, he will simply have to put a hand in the face, usually out at the free throw line. It will be similar to guarding Ibaka in style, but Bosh will hit much more of those shots.
In the Portland series, Dirk had to guard a traditional power forward in LaMarcus Aldridge. His ppg average was 27.3. Against L.A., once again he guarded a back-to-the-basket power forward, and scored 25.2 ppg (the stat is a little misleading since he didn't play much in Game 4, so in games 1-3 he was at 28 ppg). In the OKC series, when Dirk didn't have to exert himself defensively, his ppg went up to 32.2.
Granted, there were other factors, but I do think the amount of output Dirk has to put out defensively directly relates to what he can do offensively. Against Bosh, he won't be worn down and will be able to make all those late game shots in the fourth quarter.
Where the Mavs Have To Be Careful:
While it may not be physically demanding to guard Chris Bosh, or Udonis Haslem, Dirk can not simply take defense off. If Dirk scores 32 a game in this series but allows Bosh to have an occasional 25-30 game or Haslem to get 10 points off the bench here and there, then suddenly the Mavs best player is only giving them a few more baskets than the Heat's third option.
In order to win, Dirk needs to be at the 30-35 ppg range in this series and hold Bosh to a 17-20 ppg range. The difference in their point totals needs to be about 15 for the Mavs to win.
This article is
What is the duplicate article?
Why is this article offensive?
Where is this article plagiarized from?
Why is this article poorly edited?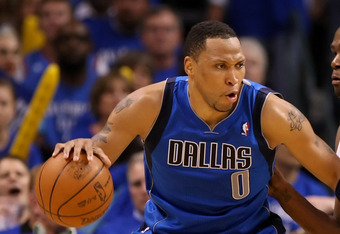 Shawn Marion is a sneaky offensive player. The trick here is LeBron will have to know where he is at all times. If Marion slips away, Kidd will find him for either the layup or a baseline jumper that he fires up with his nasty chest shot form, but yet it usually goes in.
Off the bench, Peja may be a defensive liability when guarding LeBron, but on offense, once again LeBron will not be able to leave him open. Peja's only role on this team is to fire up threes that are usually left open because defenses are paying so much attention to Dirk.
Defensively, this will probably be a little harder than guarding Luol Deng or Andre Iguodala but not as challenging as Paul Pierce. LeBron will have it under control.
The Matrix can not be a one dimensional player in this series, he needs to give the same effort he did on Kevin Durant, but also chip in as the third or fourth leading scorer for the Mavericks
This article is
What is the duplicate article?
Why is this article offensive?
Where is this article plagiarized from?
Why is this article poorly edited?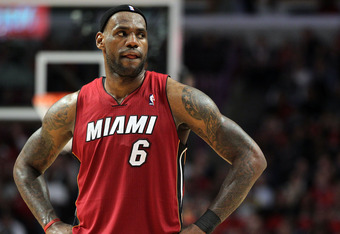 This will be the most difficult situation. Shawn Marion did a great job on Kevin Durant, but Durant—although he plays the same position as LeBron—doesn't play the same way at all.
LeBron gets to the rim and has much more physicality than Durant. LeBron is also showing his three-point shot is a threat too, so Marion can't give him too much space.
The issue created here is LeBron will be on the floor 44 minutes a night. The Mavericks can not afford to have Peja Stojakovic guard him. LeBron will blow by Stojakovic every time with ease, get to the rim, and put Dallas' bigs in foul trouble.
If you look at the Dallas-OKC series, by the end, Shawn Marion was playing about 40 minutes a night. Marion, who often led the league in minutes played, is athletic enough to do this, but it puts pressure on him to also score since Peja's minutes are now down to single digits. Peja's point totals in the last three games: 7, 4, 3.
Before, when Marion would play about 28 minutes and Peja would get 20, Marion could score 16, Peja would get 14 and the Mavs were getting 30 points out of the small forward position. Now, when Peja can only be expected to chip in 4 or 5, Marion has to do what he did in Game 5 against OKC and chip in 25.
Problems here?
Foul Trouble- If Marion gets into foul trouble, that means more Peja on LeBron.
Marion's Offense- Yes, Marion scored 26 points in the last game, but he also had a 9 point and 7 point outing during the OKC series. Against L.A., when Artest was on him—LeBron's defense these playoffs has been near Artest levels—Marion scored a grand total of 30 points in four games.
Other Options? With Dwyane Wade, they can throw Stevenson, Kidd, Brewer and Terry at him and have a good chance of slowing him down. With LeBron, after Marion they really don't have any options defensively.
I don't see the Mavericks being able to take LeBron out of games the way they were able to with Kevin Durant. One strategy could be to have LeBron play the role of facilitator and trust their defense on the other four players. The other strategy is realize LeBron's going to get 30 a game, but try and get a matching 30 or at least 25 from the Marion/Peja pairing.
In 2006, Wade was the Heat's most dangerous weapon, in 2011 it's LeBron.
This article is
What is the duplicate article?
Why is this article offensive?
Where is this article plagiarized from?
Why is this article poorly edited?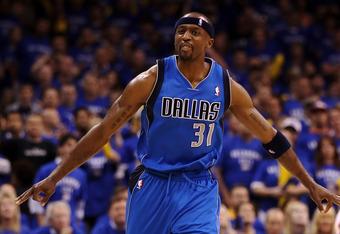 Much like Keith Bogans, Dwyane Wade does not have to worry about DeShawn Stevenson scoring many points. The same can not be said about Jason Terry.
Terry has only been held under 10 points twice these entire playoffs. He's averaging 17 ppg off the bench and had a memorable 10 made three-pointers game in a 32 point outburst against the Lakers.
As I wrote about in the 'Mavs covering Heat' note with Dirk on Bosh, this is a situation where Wade can not allow the combination of Terry/Stevenson to match him point for point. In Chicago, it wasn't nearly as much of a problem with Bogans/Brewer, and I'll throw in Korver too.
Going into the Miami series, Bogans was averaging 5.3 ppg, Brewer 2.5 ppg, and Korver 7.8. Those three combined were under 15 ppg.
Terry is at 17 for the playoffs and Stevenson is at 3.5. The combination of Terry/Stevenson is around 21 ppg and Wade's average for the playoffs is at 24.
Since Dirk Nowitzki will be outscoring Chris Bosh, it's extremely important for Wade to hold the Dallas shooting guards under his average.
This article is
What is the duplicate article?
Why is this article offensive?
Where is this article plagiarized from?
Why is this article poorly edited?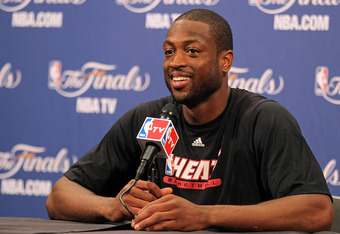 The best example of defense the Mavs have to draw from is what they did to Kobe Bryant in the second round. After Kobe scored 36 in Game 1, the Mavs held him to 23, 17 and 17.
By starting DeShawn Stevenson, the Mavs have their Keith Bogans figure, who goes out there and makes things difficult for his opponent, keeping the other shooting guard from establishing a rhythm early. For a guy like Wade who usually scores his point in bunches, Stevenson's early game defense will be critical.
Carlisle will also occasionally turn to Corey Brewer if Stevenson gets into foul trouble, but he doesn't want to switch over to the offensive mentality with Jason Terry just yet.
When Terry comes in, it usually becomes his job to just match the amount of points rather than be a defensive stopper. His role in this series is to score 20 points off the bench since Stevenson will likely be in the 5 or 6 range. As I said above, expect Kidd to cover Wade when it's Terry-Kidd in the backcourt. Terry's best defense is actually to be a pain in the ass on offense, forcing Wade to chase him and wear down.
It's hard to predict which Dwyane Wade we're going to see in this series. In the Boston series, Wade was dominant, but Boston didn't have a Keith Bogans figure who could play Wade close and bother him, forcing turnovers. This year's Wade misses wide open dunks and turns the ball over a lot more than the 2006 self.
However, the Mavericks need to be ready to treat him like the Game 4 Brandon Roy, never letting him get easy looks.
This article is
What is the duplicate article?
Why is this article offensive?
Where is this article plagiarized from?
Why is this article poorly edited?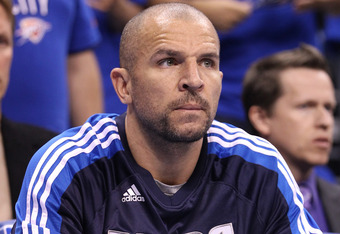 There really aren't comparisons to be made between the 38-yearpold Jason Kidd and the 22-year-old Derrick Rose, other than both of them will one day be in the Hall-of-Fame.
The difference is—as electrifying as Rose can be—his style of play does not matchup well against the Heat's defense. Having Rose get the ball at the top of the key and then having him try and barrel past his man into a lane that has LeBron James, Dwyane Wade then Joel Anthony waiting for him is going to end in turnovers or missed shots more often than powerful dunks.
The most effective way to beat Miami's defense was the way Boston played them at times during the season and even in their playoff series. You have to make the extra pass, be patient, wait for things to open up rather than driving madly into the lane, because they will steal the ball, pass it ahead and throw it down. Again, and again, and again.
Kidd will not require the same type of defensive attention as Rose, but he is the right type of point guard to go at this defense. A high assist game for Rose is 10, whereas Kidd always is around 10 per game. Kidd will get the ball to his teammates where they can make easier baskets and will not turn the ball over nearly as much. Also, Kidd is a better three-point shooter than Rose, so the Heat won't be able to simply leave him open like they did with Rajon Rondo.
One of the main reasons the Philadelphia 76ers were able to play Miami somewhat close was Jrue Holiday. Holiday had a total of 11 turnovers in 5 games. Rose had a total of 19 turnovers in their 5 game series. To beat the Heat, you don't need your point guard to be the main offensive option, in fact it's better to have a low turnover, assist guy to pick apart the defense.
Off the bench, JJ Barea has surprised teams again and again. You think this guy should get swatted every time he goes into the lane, but somehow Barea is thriving no matter if he's going against a bench guy or starter. It's not that Barea is this hidden secret to the Mavericks chances of beating the Heat, but if they allow him to get 20 off the bench, I don't see how the Heat will make up the point differential.
Mike Bibby and Mario Chalmers at best might combine for 20 in a game. Kidd and Barea are capable of combining for 35.
The Heat can not let Kidd be comfortable and can not afford to have Barea chip in double digit points off the bench.
This article is
What is the duplicate article?
Why is this article offensive?
Where is this article plagiarized from?
Why is this article poorly edited?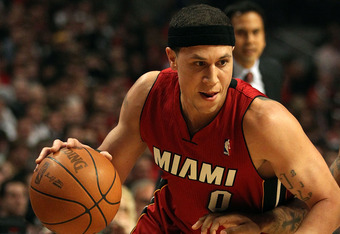 This is an area of relief for the Mavericks. First of all, Jason Kidd does very well in Game 1's, because it allows his 38-year-old body to be fresh. Here's a look at his Game 1 stats throughout the playoffs:
Against Portland: 24 pts, 4 assists, 5 rebs
Against LAL: 7 pts, 11 assists, 5 rebs
Against OKC: 3 pts, 11 assists, 3 rebs
The Mavs are 3-0 in Game 1's so far and Kidd's impact has been key.
The advantage Kidd has in this series, is he's guarding Mike Bibby as opposed to Russell Westbrook. When he's guarded older point guards, like Andre Miller and Derek Fisher in earlier rounds, he has more energy in his legs for offense and can help out on defense guarding Kobe Bryant and even Kevin Durant.
Expect Kidd to keep Mike Bibby in check and not allow Mario Chalmers to score much either. When Jason Terry comes in, don't be surprised to see Kidd go over and guard Wade.
JJ Barea is not the best defender, but it's not Miami's style to ride a Mario Chalmers or Mike Bibby since they have three more reliable scorers on the floor.
This article is
What is the duplicate article?
Why is this article offensive?
Where is this article plagiarized from?
Why is this article poorly edited?