Jim Tressel Resigns: Latest News and Rumors Surrounding Tressel and Ohio State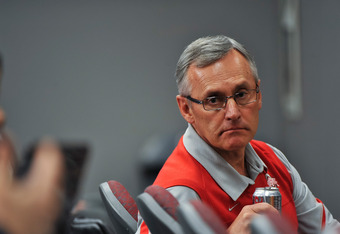 Jamie Sabau/Getty Images
After months of snowballing revelations about NCAA infractions, Ohio State football coach Jim Tressel resigned earlier today. Tressel had already been suspended for the first five games of 2011 for lying to the NCAA before and during its investigation of his program.
Tressel had failed to report infractions by his players involving the exchange of memorabilia for improper benefits, most famously free tattoos for star QB Terrelle Pryor and others. Five Buckeye starters will be suspended for the first five games of the 2011 season as a result of the violations.
Assistant coach Luke Fickell has been named interim head coach for 2011. Fickell, who had been Tressel's defensive coordinator, was slated to coach the team during Tressel's suspension.
Although athletic director Gene Smith and university president Gordon Gee had been publicly supportive of the embattled coach, no one at the university can be entirely surprised by his resignation. With NCAA hearings scheduled for August, the Buckeye program faces severe penalties, and Tressel's departure may help to soften the blow.
Read on for all the latest buzz regarding Tressel and the Buckeye program as fallout continues from his sudden announcement.
David Purdy/Getty Images
Coach Jim Tressel Is Gone, But OSU's Terrelle Pryor Has Problems Of His Own
Ohio State football would have more than enough to worry about with coach Jim Tressel's resignation. Now, it appears, the Buckeyes' star quarterback could be in for NCAA penalties of his own.
According to the Columbus Dispatch, both the school and the NCAA are conducting an investigation of OSU standout Terrelle Pryor to determine whether he received improper benefits. Pryor has, among other incidents, been issued three separate traffic tickets while driving cars owned by a local car dealership or one of its salesmen.
Pryor is also, of course, one of the much-maligned Tattoo Five, the quintet of Buckeye starters who face five-game suspensions to start 2011 after receiving improper benefits. Pryor's role in that scandal can't help his cause in the current investigation, which is unrelated to Tressel's resignation.
After the initial tattoo revelations came out, many wondered if Pryor (who was eligible for the 2011 draft) would leave Columbus. Instead, he expressed his desire to finish his college career.
Will Pryor change his mind now that his coach is gone and he himself is under fire? It's unlikely that anything he does in 2011 will help his NFL prospects, and he could enter the supplemental draft rather than risk further suspensions at Ohio State.
Ultimately, it seems likely that Pryor will stay for whatever he can get of his senior season. It may be his last chance to play quarterback, and he won't be perceived as running away from his problems.
Even if he's a long shot to lead the Buckeyes to a national title, Pryor has more to gain from a partial season with them than a full "season" in the lockout-bound NFL.
This article is
What is the duplicate article?
Why is this article offensive?
Where is this article plagiarized from?
Why is this article poorly edited?
Kevin C. Cox/Getty Images
Jim Tressel's Resignation Could Be Only The First Departure From Columbus
With an NCAA disciplinary hearing looming in August, Ohio State knew the future of their football program was in trouble. Now, Jim Tressel's resignation may lead to unexpected problems in Ohio State's present.
The so-called Tattoo Five—a quintet of Buckeye starters due to be suspended for the first five games of 2011 for receiving improper benefits—had promised Tressel they would return to school for this season as a condition of their playing in January's Sugar Bowl. With Tressel gone, CBS Sports reports that several sources expect one or more of the players to petition the NFL for inclusion in the supplemental draft.
QB Terrelle Pryor, the most valuable of the five to the Buckeyes, is considered iffy as an NFL prospect because his scrambling style is unlikely to translate at the next level. Like many running QBs at the college level, Pryor may wind up having to play a different position if he wants to stick in the NFL.
Pro teams would likely take more of an interest if standout OT Mike Adams or RB Dan Herron declared for the supplemental draft, where a team selecting either would have to forfeit a pick in the corresponding round of the 2012 draft.
If any of the Buckeyes leave, they'll benefit more from getting out of a potentially sinking ship in Columbus than from jumping the gun on the 2012 draft process. If they all stay, though, the Buckeyes still have a chance at a strong season even with all the adversity.
This article is
What is the duplicate article?
Why is this article offensive?
Where is this article plagiarized from?
Why is this article poorly edited?
Al Messerschmidt/Getty Images
After Jim Tressel's Resignation, OSU Would Love To Hire Urban Meyer
The resignation of Jim Tressel as Ohio State head coach creates a sudden vacancy in one of college football's most coveted jobs. There isn't a higher-profile coach available than ex-Florida head man Urban Meyer, and rampant speculation places Meyer at the top of OSU's wish list.
Whether Meyer, who won two national titles with the Gators and is currently a TV analyst, would be good for the Buckeyes is pretty much beyond question. Whether the Buckeyes would be good for Urban Meyer is another issue altogether.
Meyer started his coaching career as a graduate assistant in Columbus from 1986-87. He's an Ohio native who has previously listed Ohio State as among the best jobs in college football.
Under the present circumstances, however, Meyer seems at least as likely to tell OSU, "thanks, but no thanks." The violations that have already cost Tressel his job are likely to leave the Buckeyes' program crippled with sanctions on postseason play and scholarships for several years.
Meyer said he was leaving Florida to spend time with his family, but many observers have wondered if his much-publicized health problems were the primary factor in his decision. Either way, for Meyer to return to coaching only to spend his first several years rebuilding an embattled program seems an unlikely move.
This article is
What is the duplicate article?
Why is this article offensive?
Where is this article plagiarized from?
Why is this article poorly edited?
Jamie Sabau/Getty Images
Buckeyes Interim Coach Luke Fickell Should Be Up To Challenge
With Jim Tressel's resignation at Ohio State, Luke Fickell becomes the interim head coach for the 2011 season. Fickell was already due to coach the first five games of the year while Tressel served his suspension for lying to the NCAA.
Fickell has served as co-defensive coordinator and linebackers coach under Tressel since 2005. He's an Ohio State alum who started a school-record 50 consecutive games as a nose guard from 1992-96 under Tressel's predecessor, John Cooper.
Fickell won't have an easy task keeping the Buckeyes relevant in 2011. The schedule features tough road games at Miami, Nebraska and Michigan, along home showdowns with Michigan State and Wisconsin.
Both Miami and Michigan State will face a depleted OSU squad while stars like QB Terrelle Pryor and WR DeVier Posey serve their suspensions for illicit memorabilia sales.
Despite all the obstacles, Fickell should be able to keep the Buckeyes in the Big Ten conversation for most or all of the season. His always-dangerous defense can carry the team while Pryor is out, and the suspended players will only miss one road game (Miami).
The Buckeyes will be in serious trouble in a couple of years when the (likely) NCAA sanctions start cutting into their scholarship totals. For 2011, though, the talent on the field will be too strong to be kept down by coaching problems off of it.
This article is
What is the duplicate article?
Why is this article offensive?
Where is this article plagiarized from?
Why is this article poorly edited?
Jamie Sabau/Getty Images
Jim Tressel's Contract Says Salary Void If He Resigns, But He Deserves Better
Facing an NCAA disciplinary hearing this summer, Jim Tressel had enough problems even before resigning as Ohio State's football coach. Now, it appears Tressel will likely lose all of his $3.5 million annual salary going forward.
NBC Sports reports that according to Tressel's contract with Ohio State, the coach "shall not be entitled to receive any further compensation" if he resigns. Tressel had been under contract through the 2014 season.
The contract does include a provision that, should Tressel resign, OSU has the right to re-hire him as an associate AD at a greatly reduced salary. Nevertheless, given how deeply Tressel is implicated in the Buckeyes' rules violations, it's hard to imagine the school keeping him on in any capacity.
Still, before the school cuts him off without a penny, it might consider what he's done for the program.
More relevant than his successes on the field here is his conduct in the past couple of months. When violations have come to light, Tressel has accepted the responsibility for them, and by resigning, he's making the only move that might salvage some hope for the Buckeyes' program in the near future.
Obviously, the best way to prevent these sanctions would've been not to commit the violations to begin with, but Tressel is doing the best he can at this late stage of the game.
In practice, there's probably no way for OSU to pay Tressel anything without compromising the value of the sacrifice he's making. Still, it's got to be a bitter pill for the coach to swallow that he's doing everything he can to save the program while the program is unable to do anything for him.
This article is
What is the duplicate article?
Why is this article offensive?
Where is this article plagiarized from?
Why is this article poorly edited?
Jamie Sabau/Getty Images
Oddsmakers Say Loss Of Jim Tressel Cuts Ohio State's Title Chances In Half
We're years away from being able to determine the long-term effect of the Jim Tressel Era and its violations on the health of Ohio State football. In the short term, though, the effects of Tressel's resignation are already being calculated.
According to sports betting site Covers.com (via Twitter), the odds for an Ohio State national championship at one Las Vegas sports book dropped from 25:1 to 50:1 after Tressel's resignation. Does the loss of their sweater-vested coach really hurt OSU's chances that much?
Obviously, there will be a certain amount of turmoil associated with the changeover to interim head coach Luke Fickell. However, with Tressel already facing a five-game suspension, much of that chaos was built in even before the head coach's announcement.
Tressel's success as a recruiter has had more to do with his winning in Columbus than his X's-and-O's coaching. The on-field coaching won't be quite as strong with Fickell at the helm, but it won't be catastrophically worse, either.
The Buckeyes' title hopes depend far more on their talent (and their ability to beat Michigan State with five starters suspended) than their head coach. They'll be worse off without Tressel, but their problems haven't doubled just because he's gone.
This article is
What is the duplicate article?
Why is this article offensive?
Where is this article plagiarized from?
Why is this article poorly edited?
Jamie Sabau/Getty Images
Jim Tressel Resigns, But More Scandals May Be On Horizon For OSU
Much as Ohio State and its fans would like, Jim Tressel's resignation will not be the end of the problems for Buckeyes football. Remarkably, there may even be new, serious infractions to be added to Tressel's ledger.
Last week, OSU's campus newspaper, The Lantern, reported that ex-Buckeye Ray Small said the biggest perk he and his teammates received "was definitely the deals on cars." The car dealership in question, Jack Maxton Chevrolet, is under investigation by the university after selling cars to more than 50 Buckeye student-athletes or their families.
Aaron Kniffin, a salesman for the dealership, told the Sporting News that OSU's director of NCAA compliance, Doug Archie, was closely involved in the transactions he had with Buckeye players.
The memorabilia-for-tattoos deals the NCAA has already uncovered make Ohio State look bad enough. If players were getting special treatment on items as expensive as cars, and the NCAA can prove it, it's going to be even worse news for an already troubled program.
This article is
What is the duplicate article?
Why is this article offensive?
Where is this article plagiarized from?
Why is this article poorly edited?
Jamie Sabau/Getty Images
Ohio State Officials May Have Prompted Jim Tressel To Submit Resignation
Jim Tressel's decision to resign as Ohio State's football coach could help protect the program from the worst of the NCAA sanctions that are sure to be coming. It's not surprising, then, that some university officials may have helped ease Tressel out the door.
The Columbus Dispatch is reporting that, according to sources, Tressel "was encouraged to resign." The paper notes that school officials would not confirm the reports, and that many of the principal figures (including athletic director Gene Smith) declined to make any comment on Tressel's decision.
With an NCAA disciplinary hearing scheduled for August 12, the Buckeyes' program is in danger of being hit with penalties at least as severe as those that have rocked USC football. With his resignation, Tressel continues the pattern he established during the initial firestorm of revelations in March, attempting (perhaps too late) to absorb criticism of the program onto himself.
Tressel's official statement declares that "it is in the best interest of Ohio State that I resign." Unfortunately for the Buckeyes, the move could well be too little, too late.
With so many violations already having come to light, and more under investigation, it's hard to believe that even Tressel's resignation will spare his former team from severe sanctions when the NCAA makes its decisions in August.
This article is
What is the duplicate article?
Why is this article offensive?
Where is this article plagiarized from?
Why is this article poorly edited?

Ohio State Football: Like this team?