Vancouver Canucks Have Power to Sweep Stanley Cup Finals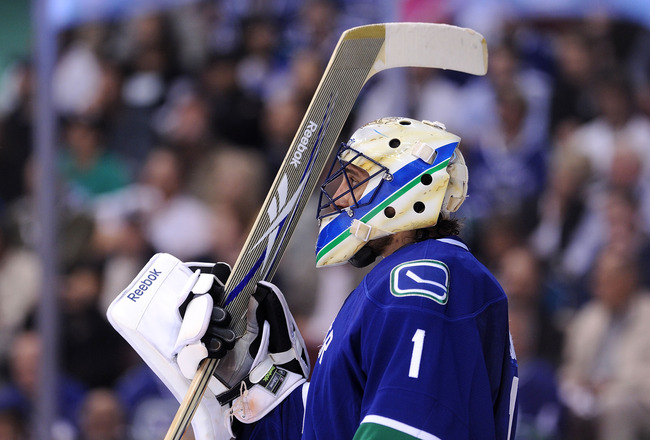 Harry How/Getty Images
They did it run and gun against Chicago, they did it tight and close against Nashville, and they did it big and physical against San Jose.
Along the way, they've faced some of the league's best shooters (Kane, Toews, Thornton, Heatley), defensemen (Keith, Seabrook, Weber, Suter), and goaltenders (Rinne).
On Wednesday, when Game 1 of the Stanley Cup Finals kicks off, you could argue the Vancouver Canucks will face a team that offers a taste of all three, a team that plays big, relies on balanced scoring, and has the ability to not only shutdown but also shut out.
With a Norris finalist and Vezina finalist, the back end is well-represented, and what the Bruins lack in a single standout premier forward, they make up for in a formidable degree of depth: Lines one through three are offensively dangerous and well balanced and can burn you in the blink of an eye.
Nevertheless, the Vancouver Canucks stand on the precipice of a franchise first–a Stanley Cup victory–and they have a solid chance to do it in a four game sweep.
This is not a close matchup.
Here's why.
1. Size Doesn't Matter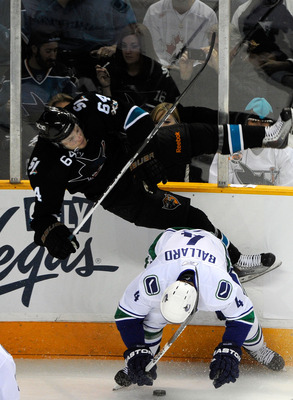 Thearon W. Henderson/Getty Images
The Bruins are big and bad, so the saying goes.
Well, so are the Canucks. And so were the Sharks up front and so were the Predators on the blue-line. Both dispatched with relative ease.
The relentless Vancouver attack and Coach Vigneault's ability to roll lines wore out the large and physical Nashville defenders, and the horrendously undervalued Vancouver defensive corps boxed out and nullified their larger San Jose attackers.
Net front presence: Take it.
Rebounds, second chances, whacks at a loose puck: Think again.
You want to beat this team with your size, it better make your cross-ice passes crisper and sharper and quicker to get Luongo and the box moving side to side, it better make your one-timers click and pick corners five or six times a game and allow you to convert on maybe two of them.
2. Mobility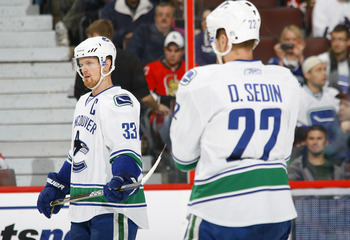 Phillip MacCallum/Getty Images
One of the reasons size doesn't matter is the high degree of mobility built into Vancouver's game.
Size only matters if you can pressure a player and separate him from a puck. Vancouver as a team is exemplified in the Sedins as a tandem, who for all intents and purposes have imported Ali's rope-a-dope into the strongest part of their game: the cycle.
You can pressure and pound them all you want: they always have an out, there's always puck support, and they rarely get knocked off their feet.
It's said that Vancouver plays puck possession, it might more accurately be called puck control.
Ehrhoff, Kesler and Raymond can lug it and gain a zone, but they're the exceptions.
The rest of the time, a big hit on a Vancouver player only means that the puck has already moved on to another teammate and now the opposing team is short a man who is out of position and struggling to get back into the play. These are the moments Vancouver thrives on.
From the back end, skaters one through nine (yes, even the three healthy scratches on any given night) are lauded on their ability to retrieve, retain and move the puck up the ice without breaking stride.
San Jose learned quickly where promising young scoring chances go to die: either corner of the Canucks zone, because the puck is back out over the blue line and streaking toward your own goaltender in an average of roughly five seconds.
3. Henrik, Daniel, and Kesler
The Bruins have their fair share of world class talent, but the trio of Daniel, Henrik, and Kesler is unmatched in this series, and all three are immune to everything short of thermonuclear war.
The twins are said to be soft, but anyone in Vancouver will tell you they're magnets for abuse and liberties and they never complain, lose the puck, miss a shift, or go down with injury. They are the purest definition of Iron Men that this hockey club has ever known.
Yes, Henrik disappeared in Round 2, but he was playing through what was rumored to be a hip-flexor issue, and five days off between series led to a 12-point outburst in five games against the Sharks.
They don't dish it out, but they take it and take it and don't give a damn, because they know you're spending more energy checking them than they are by taking it.
The Legend of Kesler grows with each game this postseason, and his goal against the Predators in which he filleted Shea Weber tells you all you need to know about his ability to raise his game and his skill set in a single stride, to a level beyond even where he thinks he's normally capable of reaching.
But there is intangible element to his game as well, to his personality, to his will to win.
Always Mr. Theatrics, Kesler is a legend in this town for his postseason play dating back to his first NHL postseason appearance in 2006-07 against the Dallas Stars.
In that first playoff game, Kesler broke his finger. Unable to stuff it, stiff and jagged, into his glove and play, he suggested the only thing reasonable: Chop it off, he told the team doctors.
Sew it back on after the game.
Beat that with a strong forecheck.
4. Evolution; Canucks Still Improving
Harry How/Getty Images
Both teams exorcised demons in Round 1. But since those opening tilts, the Vancouver Canucks have progressively smoothed out their game and disposed of opponents with more efficiency and growing confidence and fewer stumbling blocks.
Not only have the Canucks climbed the ladder in terms of games needed in order to clinch per round (from seven to six to five) they've suffered less existential crisis with each passing game. If such a Richter-like scale were to exist, the Blackhawks provided the Canucks with a 10, the Predators with a 7, and the Sharks with a 3.
In short, the games and the pressure of the games has grown easier, not harder, and there hasn't been a meltdown moment or a crushing, resounding defeat for this team since Game 5 against the Blackhawks – 13 games ago.
5. Environment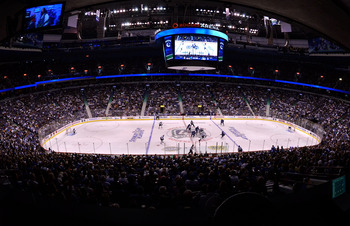 Rich Lam/Getty Images
The Canucks are used to significant travel and all of the discomforts which go with it.
As the NHL's most remote outpost, Vancouver travels more than any other team in the league, with their closest road matchup still being a three and a half hour flight away in Calgary.
Comparatively, Eastern seaboard teams like the Bruins enjoy the luxury of driving themselves to and from a large percentage of their away games. The Canucks battle airports and hotels and jet lag for 41 games a year. It's routine, and it will have an impact in this series in the sense that it has no impact on the Canucks.
In addition to travel and routine, the Canucks aren't likely to bend to the pressure of playing in the Stanley Cup Finals with home-ice advantage.
Having gone through the emotional ringer in Round 1 against Chicago, it would take a dramatic and lengthy series of twists and turns in the Finals for the Canucks to feel faced with similar pressure.
The Round 1 test cannot be understated, and with all due respect to the Boston Bruins who defeated their own arch-rival the Canadiens in Round 1, the Canucks-Blackhawks series was generating talk of suicide-watch for a number of Canucks should they have lost.
The stress and the pressure of the way in which that series unfolded was nothing short of extraordinary. It was visceral, and the rest of the playoffs has largely been a series of emotional anti-climaxes for this team as a result.
Conclusion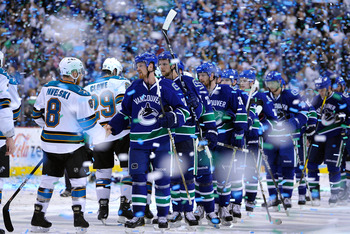 Rich Lam/Getty Images
This is the Vancouver Canucks' series to lose, and they have all the pieces and parts to deliver on their own expectations and potential.
The way their postseason has progressed, anything short of a five- or six-game series win would be considered a letdown, and a loss an outright meltdown.
It will be a hard-fought series, just as the the Canucks' second- and third-round series were hard fought, but the result will tell a much different story:
One team will be consistently better than the other, and they won't so much as stumble along the way.
Keep Reading

Vancouver Canucks: Like this team?