2011 MLB Trade Speculation: 4 Possible Moves for the Boston Red Sox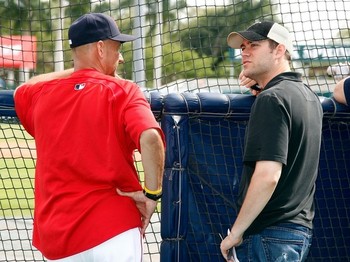 Manger Terry Francona and GM Theo Epstein
The sky isn't falling in Boston after all.
After getting off to the one of the worst starts in franchise history, the Boston Red Sox have not only rebounded, but they've worked their way from worst to first in the American League East standings.
All is well in Beantown, as the Sox have a two-game lead over their division rivals, the majority of the roster has avoided the injury bug and multiple big names have exceeded even the loftiest expectations to this point.
The sentiment regarding the 2011 season hasn't been this cheery for long though.
Just a month and a half ago, one would have been hard-pressed to make a case for Boston's championship hopes.The team was mired in an epically horrid slump, a slump bad enough to produce headlines declaring it the worst start since WWII.
Many were ready to write the Sox off, and fans were left wondering how such a promising group could sputter and stall before even getting started. As May comes to a close, the Red Sox are now starting to resemble the star-studded team many projected to compete for the World Series trophy this year.
General manager Theo Epstein invested hundreds of millions of dollars into this roster during the offseason in order to create a contender in 2011 and beyond. Yet despite the recent success, this club is far from firing on all cylinders.
There are many areas of concern which could still derail this club, areas that Epstein will be looking to address before the trade deadline. With that said, here's the framework for four possible moves the Boston Red Sox could make that could put them over the top.
4. Acquiring an Outfield Utility Player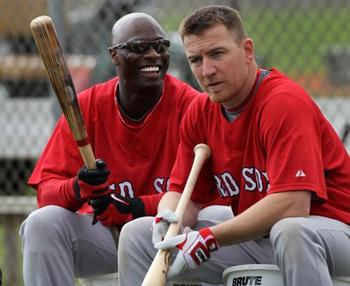 OFs Mike Cameron and J.D Drew
It's been quite some time since the Sox have had an outfield lineup as solid as their current group. A healthy Jacoby Ellsbury and J.D Drew, combined with an effective Carl Crawford, won't produce too many complaints.
The depth behind those three is reason for concern though.
Mike Cameron is the primary back-up and is quickly closing in on 40 years old. More alarming is the fact that he hasn't hit more than .260 since 2006.
Behind him the depth gets even more concerning.
Darnell McDonald is currently on the DL, and while the story of his journey to the majors is an enjoyable one, his peak was likely reached last year when he hit for .270 and knocked in 34 runs in 384 at-bats.
24-year-old Josh Reddick has yet to experience sustained success past the AAA level and has even been outshined by other prospects in the organization, namely Ryan Kalish who made his major league debut in 2010. But Kalish has been on the shelf since injuring himself in late April and will likely remain in Pawtucket for seasoning until rosters are expanded in September.
Acquiring an outfielder who could hold his own in Boston's lineup isn't a No. 1 priority, but it's certainly a direction in which the team could go. If players such as Nate Schierholtz of the Giants or Arizona's Xavier Nady become available, don't be surprised if the Sox take interest.
3. Acquiring an Infield Utility Player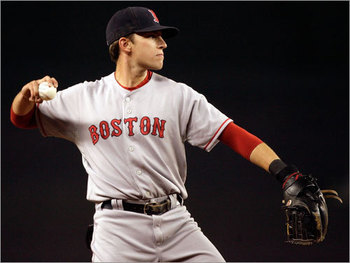 IF Jed Lowrie
An infield utility player may be a slightly larger priority for the Red Sox, as the primary back-up coming into the season was expected to be the versatile Jed Lowrie.
Marco Scutaro's injury combined with Lowrie's success at the plate meant the team's primary back-up had become the starting shortstop.
Boston has promoted from within to assist the lack of depth in the infield, bringing up both Drew Sutton and Jose Iglesias for a short while.
Sutton had been hitting very well in Pawtucket and could provide that extra bat the team needs. The Iglesias promotion was not one the Sox likely wanted to make; he's at least another year away from being ready to take on major league pitching, even though his defense is nearly flawless already.
Scutaro's return will help stabilize the infield depth, but I'm not convinced it will solve the issue, especially if Lowrie continues to see the majority of starts at short. The Sox may need another versatile body in the mix and could look to fill the need via trade.
2. Acquiring Bullpen Arms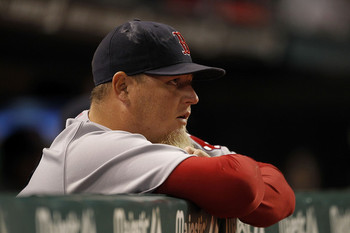 RP Bobby Jenks
It doesn't seem to matter who the Red Sox place in their bullpen, failure is inevitable.
Despite a complete overhaul of their relief staff, Boston is faced with a very familiar issue. Bobby Jenks, Scott Atchison, Dan Wheeler, Franklin Morales and Hideki Okajima all own ERAs north of four. This kind of production, or lack thereof, just won't cut it for a team with a deep playoff run on its agenda.
An addition will likely be necessary at some point in the year to help build a more solid bridge from the starters to Daniel Bard and Jonathan Papelbon. Epstein absolutely loathes giving up prospects and big contacts for relievers, and he has gone on record multiple times saying as much. But if the current 'pen continues to produce at this level, a move might be forced.
1. Trading Daiskue Matsuzaka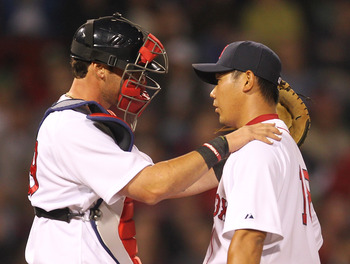 Jim Rogash/Getty Images
It's time to call it a day on the Daiskue Matsuzaka experiment.
In 10 games this season, we've learned nothing new about this highly disappointing, not to mention expensive, mistake. He struggles to get through six innings, gives up a lot of walks, gets hurt and throws one-hit shutouts sometimes.
There's no denying Dice-K has talent and the ability to play in the majors, but the Red Sox cannot afford to let this situation continue to be a detriment to their success. Matsuzaka is a liability on the mound for the Sox, and it's time the team cut their losses. His contract may be an impediment to a trade, but Boston has worked out agreements in the past, despite financial complications.
The bottom line is this player no longer offers this team anything. There's no way to know what to expect out of him on a start-by-start basis, and it hurts the Sox when they have to constantly make arrangements to deal with Matsuzaka's injury-induced absences.
It's difficult to speculate on the value the Sox could expect back in a trade for the 30-year-old, but when you consider the minimized value Matsuzaka himself offers Boston, it would make sense for the team to get what they can while they can get it.
Matsuzaka's absence could open the door for starters such as Alfredo Aceves and Tim Wakefield, who could actually give Boston sustained opportunities to win games.
Keep Reading

Boston Red Sox: Like this team?