UFC 130 Fight Card: Roy Nelson's Mullet and MMA's 15 Most Awesomely Bad Haircuts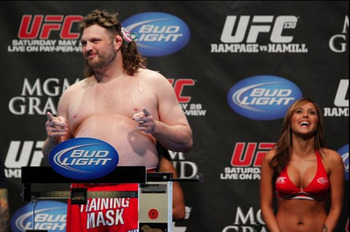 Humor—

What's one thing that all of us—well most of us—have in common with our favorite MMA fighters? If you guessed hair without reading the topic of this article, then you're probably a hair stylist or just an extremely odd individual in need of some psychiatric help—but you're right.

In the early days of the UFC, we saw Royce Gracie using his opponents' hair to his own advantage. But now with new rules in place to stop that kind of girly nonsense, fighters have taken to creating some extremely—shall we say unique—hairstyles.

As you'll see in this photo slideshow reel, UFC 130 is chock-full of some of the fighters whose hair gives a new meaning to the phrase "bad hair day."
Chris Leben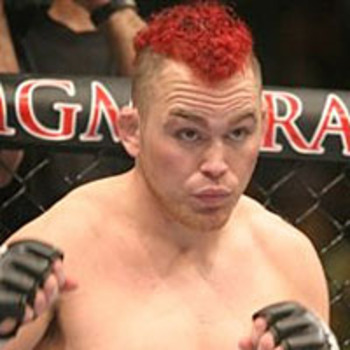 Haircut Name: The "Crackhead Ronald McDonald"
Chris Leben is known best for his run in the UFC as one of the promotion's most prominent and enjoyable sluggers. But it took some clever marketing to help gain him the kind of recognition that has made him into a star.
His bright red hair is normally buzzed or in short spikes, but on the night in this picture, he apparently decided to visit our favorite fast food icon for a last-minute touch-up before he went out to fight.

The result was a memorable awful-awesome haircut that he will never live down.
Miguel Torres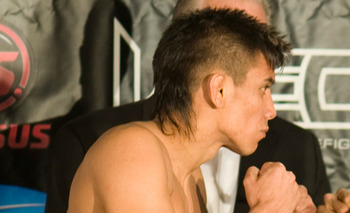 Haircut Name: The "Mom Wouldn't Let Me Get This Hair When I Was Eight"

Miguel Torres may be the best 135-pound fighter in the history of the sport, but he is also the owner of one of the worst haircuts I have ever seen.

It reminds me of what a dopey sidekick like Rob Schneider might have had in the Three Ninjas movies...and I probably would've wanted it when I was around that age.
Alistair Overeem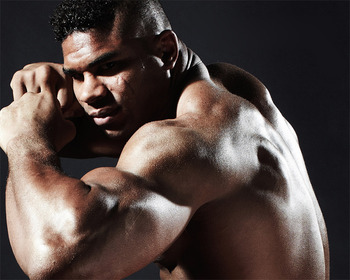 Haircut Name: The "Junior Seau"

Time may prove that Alistair Overeem is the best heavyweight fighter on the planet today, but that doesn't mean that we can disregard what is happening on the top of his head.
For a guy who takes care of his body like Overeem does, it seems surprising that he would allow such a monstrosity to be happening where people are going to look most often.

Perhaps he was just a huge fan of former San Diego Chargers and New England Patriots linebacker Junior Seau when he was growing up. That's the only logical explanation for this.
Josh Koscheck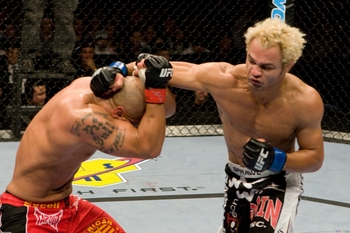 Haircut Name: The "Blonde Poodle"
When you saw the title for this article, this one had to come to mind, right?

Of course Josh Koscheck's moppy poodle hair is a staple of any humiliating MMA hair list.
At this point, one has to assume that not only does he know it, but he may even enjoy that people think his hair is ridiculous.

Still, wow...
Jens Pulver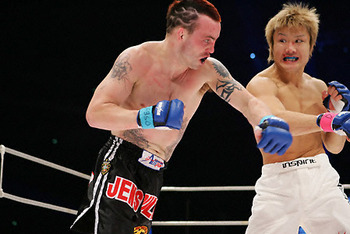 Haircut Name: The "Punched In the Face Too Many Times"
Loser of nine of his past 12 MMA fights, Jens Pulver fell victim again on Friday night as he was submitted by Brian Davidson in the main event of Titan FC 18 in Kansas City.

While I haven't seen photos of the event, I have to imagine that Pulver spent more time preparing his hair for the fight than he actually did in the fight itself, given that it lasted just over four minutes.

It's always sad to see a guy drop off like this, and Jens Pulver seems to be one of the more genuinely nice people in the sport.
His hair is a trademark and something that we'll always remember him by, but it is probably time to hang 'em up.
Brock Lesnar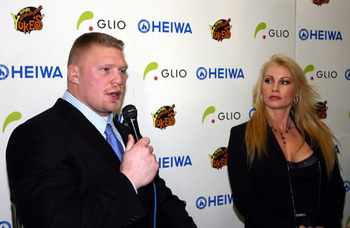 Haircut Name: The "Listen, I Lost a Bet..."

If we were listening to an Elvis Presley record at the drive-in hamburger joint and this were the 1950's, Brock Lesnar's haircut wouldn't be so bad.

But 60 years later, the flattop just looks weird on an adult male who isn't a member of an extreme, radical, militant hate group.

I love Brock, but his hair kind of reminds me of Joe from Family Guy.
Heath Herring
Haircut Name: The "Hey, I Think You Missed Some"

Known by many as the "Texas Crazy Horse," Heath Herring's unique hairstyles have always brought a certain level of fun to his fights, even in the ones when he has been completely pummeled.

That said, some of them are just downright weird and have to make us question his sanity.

Like this one. Seriously, what happened?
Kimbo Slice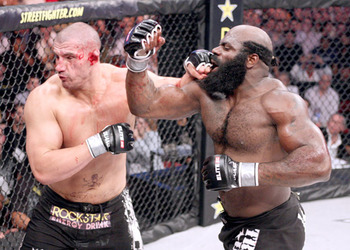 Haircut Name: The "I Swear This is How My Hair Grows"

No, Kimbo isn't fighting mixed martial arts anymore, but his hair is epic enough that it had to make the list anyway.

Bald on the top with some weird cornrow-dreadlock hybrid things going around the back, which connect to a massive beard. Only a guy who was fighting crackheads on the street on YouTube could possibly rock this.

Thankfully, Kimbo is those things and much more.

Maybe the next photo slideshow should be "the best chest hair in MMA." Kimbo would have to be the favorite to win that one, but Brian Ebersole may be a surprise dark horse in that one.
Stephan Bonnar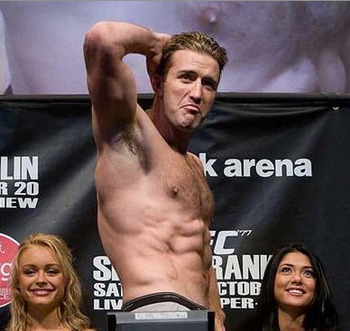 Haircut Name: The "Five Dollar Brendan Fraser"

This one isn't as bad as some of the others on the list, but it's still worthy of making the list anyway.

Stephan Bonnar has been in some real wars throughout his MMA career, but none has been more important than the one he should wage on this brutal haircut.

It looks like he went to SuperCuts on their training day and asked for the "Brendan Fraser."
Roy Nelson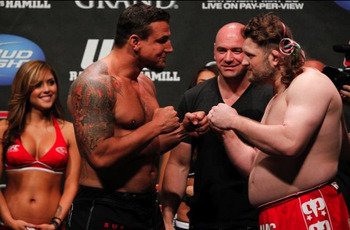 Haircut Name: The "Kenny Powers Special"

Some people may dislike what they see, but I am not about to say anything negative about this glorious hairdo.

In fact, I'm here to tell all of you to stop hatin' and start appreciatin' the tremendous amount of effort it takes Roy Nelson to look this good.

He even added an extra piece of flare to it for the UFC 130 weigh-ins. Check out the ribbon. It's beautiful, really.
Wanderlei Silva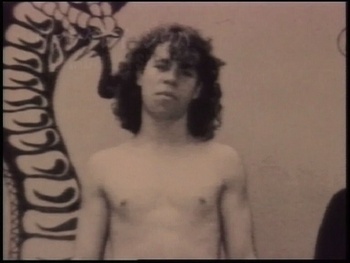 Haircut Name: "The Kirk Hammett"
Okay, you caught me. This isn't how he looks anymore and he hasn't looked anything like this since he got into MMA.
But this rare photograph of Wanderlei Silva from his teenage years represents one of the most hilariously unexpected childhood haircuts that I can ever remember seeing.
His hair is reminiscent of Metallica lead guitarist Kirk Hammett.
Jonathan Goulet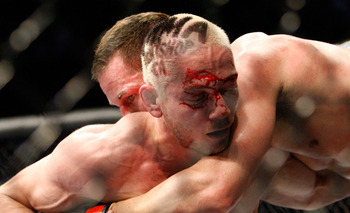 Haircut Name: The "You're Trying Too Hard"

Not only was Jonathan Goulet's idea to put advertisements in his hair a weird one, but it looked absolutely ridiculous and was hard to read anyway.

FAIL.

Coincidentally, Goulet also wins the award for "worst chin in MMA."
Paulo Cesar "Giant" Silva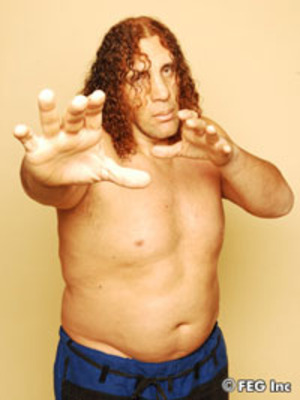 Haircut Name: The "Thinning Caveman"

From the "Is that photoshopped?" category comes former WWE star Giant Silva.

It has been nearly five years since Silva competed in mixed martial arts, and for good reason. His 2-6 professional record was probably humiliating for a guy who often outweighed his opponents by over 100 pounds and towered over them at 7'2".

His hair looks disgusting. It's the kind that hair stylists would probably suggest completely chopping off. Yuck.
Urijah Faber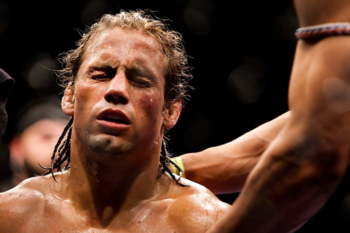 Haircut Name: The "I Normally Have Glorious, Flowing Locks, but I Decided I Wanted to Look Like I Live in the Ghetto"

This one really bothered me when I first saw it.

Normally known for having some of the best flowing locks in the sport, Urijah Faber has consistently thrown away the awesomeness by putting his hair in corn rows for some fights.

Seriously, Urijah, I know it has to be uncomfortable and the hair probably gets in your face. But you look so much cooler when your hair isn't rolled up like Snoop Dogg.
And isn't being cool what's really important?
Frank Mir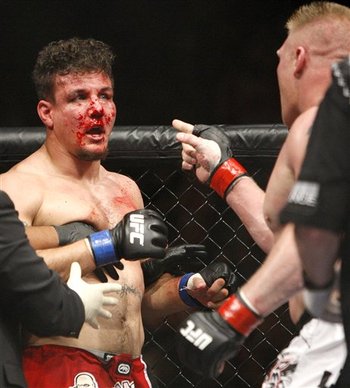 Haircut Name: The "I Cut My Own Hair With Hedge Clippers"

Frank Mir didn't seem to have much of a grasp of how ridiculous he looked during his second fight against Brock Lesnar at UFC 100.

Not only was he humiliated by being violently beaten into a bloody pulp throughout the entire fight, but that haircut!

It's not that Mir's hair is normally much better, but on that particular night, it was out of control. It looked like a squirrel was sitting on his head. Come on, Frank, you're better than this.

The UFC 130 semi main event between Frank Mir and Roy Nelson will not only be a big fight for the future of the heavyweight division, but it may also settle the score of which fighter actually has a worse haircut.
UFC 130 Rampage vs. Hamill Fight Card: News, Previews & Predictions, Results and More!
Keep Reading