UFC 130 Fight Card Preview: Notes, Quotes, Predictions, Thoughts and More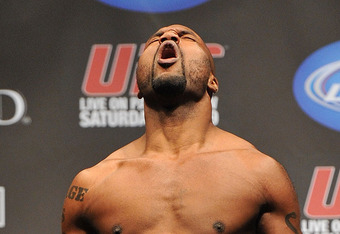 Quinton "Rampage" Jackson takes on Matt Hamill on Saturday night
Jon Kopaloff/Getty Images
UFC 130: Rampage vs. Hamill takes place on Saturday night from the MGM Grand Garden Arena in Las Vegas, Nevada.
With the planned third fight between UFC Lightweight Champion Frankie Edgar and The Ultimate Fighter 5 alum Gray Maynard on hold due to injuries, the featured bout will see former UFC Light Heavyweight Champion Quinton "Rampage" Jackson go for his seventh win in the UFC (and 32nd career victory) against TUF 3 alum Matt "The Hammer" Hamill, who is riding a five-fight win streak (albeit one that includes a controversial disqualification victory over Jon Jones).
The event will also feature a pair of high-profile bouts in the heavyweight division, as former UFC Heavyweight Champion Frank Mir will take on Roy "Big Country" Nelson in the co-main event and 6'11" Stefan "Skyscraper" Struve will look to run his win streak to three fights and pin the first career loss on Travis Browne.
Keep an eye on this space from now until Saturday night for thoughts, predictions and notes from the upcoming card.
On a night that was short on big winners, former WEC Light Heavyweight Champion Brian Stann was one of the biggest winners at UFC 130.
With his knockout win over Sengoku veteran Jorge Santiago, Stann is now 3-0 at middleweight, with all three wins coming by stoppage. With his penchant for finishing fights and his compelling personal story, the "All-American" is looking more and more like the UFC's next star at 185 pounds.
Since moving to 185 in August, Stann has produced two Fight of the Night performances and a thunderous knockout of Chris Leben at UFC 125. He's got the discipline that one expects from Greg Jackson-trained fighters, but he's also become a reliable source of stand-up fireworks. Couple that with the way he presents himself and connects with the fans - Wanderlei Silva spoke of not wanting to be booed as part of his motivation for turning down a fight with Stann - and the former Marine officer has just about everything the UFC could want in a fighter.
Stann still has yet to make the case that he's a viable contender to Anderson Silva and the UFC Middleweight Championship - a strong wrestling base seems to be the most effective weapon against "The Spider" and Stann doesn't come from that background - but at the same time, Silva hasn't fought anyone from the Jackson camp since he faced Nate Marquardt at UFC 73, and the discipline of Jackson-trained fighters has been getting better and better, to say nothing of the influence of Stann's military background on his approach in the cage.
Of course, it'll take a couple more wins before Stann can be considered for a title shot, but after dispatching Santiago, it's hard to see him not getting those victories. For now, he's moving right along.
This article is
What is the duplicate article?
Why is this article offensive?
Where is this article plagiarized from?
Why is this article poorly edited?
For whatever might be said about his performance against Quinton "Rampage" Jackson on Saturday night at UFC 130, this must be said about Matt Hamill: "The Hammer" has a world-class chin.
Hamill's effort against the former UFC Light Heavyweight Champion was neither victorious nor aesthetically pleasing, but against an established knockout artist like Rampage - arguably the most powerful striker Hamill has faced - the former NCAA Division III wrestling champion ate multiple hard shots over the course of 15 minutes and never went down.
Even Jackson - who said going into the fight that he felt Hamill was a fighter he could knockout - was impressed by the TUF 3 alum's durability, even as Hamill's perceived greatest strength, his wrestling, was completely ineffective.
That, of course, is the problem. Hamill was unable to do anything with Jackson from a wrestling perspective, and few of his 17 takedown attempts looked like they had any chance of success. Hamill had some moments in the stand-up game, but even his most effective striking was never a threat to do major damage against Rampage.
Despite the loss, Hamill continues to have value for the UFC, as he's a likable fighter with a solid skill set and a great chin, and will never do anything to embarrass the promotion in any way. However, he showed on Saturday night that what he is not is a main eventer.
This article is
What is the duplicate article?
Why is this article offensive?
Where is this article plagiarized from?
Why is this article poorly edited?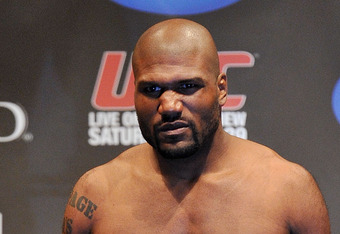 Last month, at UFC 129, Jake Shields and Georges St-Pierre demonstrated just how important a compelling main event matchup can be.
Overall, the card was as strong as the UFC had put together in some time. Seven of the 12 fights ended by knockout or submission, including Pablo Garza's flying triangle choke of Yves Jabouin, John Makdessi's spinning backfist on Kyle Watson, and of course, Lyoto Machida's dramatic jumping front kick knockout of Randy Couture that seemed as if it had been ripped from the final scene of The Karate Kid. However, when the night ended with a less-than-thrilling unanimous decision in the UFC Welterweight Championship bout between St-Pierre and Shields, the disappointment was palpable.
The lesson: no matter how thrilling the undercard, a dynamite main event is required for the evening to be considered a success. Thus, if Jackson and Hamill wish to get the maximum career benefit from tonight's main event bout, they're going to be charged with not only achieving victory, but doing so in a way that sends the fas home happy.
That's rarely much of a problem for Jackson, who is hardly from the "professional round-winner" camp. Yes, his win over Machida at UFC 123 was not aesthetically pleasing, but given that Machida has been beaten just one other time in his MMA career, it's hard to fault Jackson for anything that resulted in a victory over "The Dragon." Rampage comes to the Octagon looking for the knockout, and that will certainly be the case on Saturday night.
As for Hamill, he got his win over Tito Ortiz at UFC 121 largely by controlling his former TUF coach on the ground, but his Fight of the Night victory over Keith Jardine at the TUF 11 finale last June was achieved largely on the feet, and Hamill has five wins by Knockout or TKO in his UFC career.
All told, the ingredients should be there for a satisfying main event encounter on Saturday night, albeit not as thrilling as the planned main event between Frankie Edgar and Gray Maynard. Whether Jackson and Hamill deliver on their potential, however, remains to be seen.
This article is
What is the duplicate article?
Why is this article offensive?
Where is this article plagiarized from?
Why is this article poorly edited?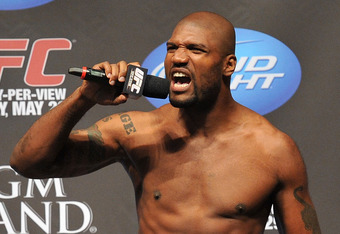 In the UFC's "Countdown" show for UFC 130, Quinton "Rampage" Jackson stated that he feels like Matt Hamill is a fighter he can knock out, and that that's what he'll be trying to do when the two fighters do battle in the main event tonight at the MGM Grand Garden Arena in Las Vegas.
Whether that will turn out to be the case remains to be seen, but it'd be interesting to know what the former UFC Light Heavyweight Champion is basing his analysis on, since the former NCAA Division III wrestling champion hasn't shown himself to be especially susceptible to knockouts since his days on The Ultimate Fighter.
Hamill has just two official losses in his UFC career: a controversial decision loss to TUF 3 teammate Michael Bisping at UFC 75, and a TKO loss to good friend Rich Franklin at UFC 88. He was on his way to losing to current 205 pound titleholder Jon Jones when they met at the TUF 10 season finale before Jones was disqualified for illegal 12-6 elbows, but Jones had not yet succeeded in knocking Hamill out. Even in the loss to Franklin, "Ace" delivered the winning blow with a kick to the body, which really isn't Jackson's style.
For Jackson, meanwhile, it's been some two and a half years since he last knocked out an opponent, as Rampage has gone to three straight decisions since knocking out Wanderlei Silva at UFC 92. A convincing victory over "The Hammer" is certainly a must if Rampage hopes to move into title contention against Jones, but to secure the knockout, he'll have to succeed where the vast majority of Hamill's opponents have failed.
Rampage is certainly the most dangerous strike that Hamill has faced, as Hamill's best career wins are against a fighter no longer in the UFC (Keith Jardine), a fighter who now competes at middleweight (Mark Munoz) and a fighter who is well past his prime (Tito Ortiz). However, when it comes to Rampage's ability to put the Hammer down, he'll have to prove it.
This article is
What is the duplicate article?
Why is this article offensive?
Where is this article plagiarized from?
Why is this article poorly edited?
Fighting in his hometown of Las Vegas, Frank Mir probably wasn't going to get booed at the weigh-in for his UFC 130 bout with Roy "Big Country" Nelson.
However, after a very tumultuous 2010, the warm reception that the former UFC Heavyweight Champion recieved had to come as at least a bit of a relief.
It was some 15 months ago when Mir caused controversy by saying that he wanted then-Champion Brock Lesnar to be the first fighter to die in the Octagon, and was subsequently relieved of his commentating duties for the WEC. A month later, Mir missed out on an opportunity to challenge Lesnar for the UFC Heavyweight Championship when he lost an interim title bout to Shane Carwin at UFC 111, getting knocked out in the first round. Mir got back on the winning track that fall at UFC 119 with a knockout win over Mirko Cro Cop, but the action leading up to the winning knee strike left fans unimpressed, and the lethargic pace of the fight promptedt Dana White to not award a Knockout of the Night Bonus (Mir had the only knockout of the night). Mir's son Marcus took to Twitter to air his grievances with the UFC President after the snub, while White questioned Mir's heart in the wake of the fight. When word circulated that White was considering Mir and Lesnar as coaches for The Ultimate Fighter and opponents for a subsequent pay-per-view main event, a massive outcry on Twitter prompted White to shelve the matchup in favor of Lesnar-Dos Santos (which became Carwin-Dos Santos after Lesnar was forced to withdraw due to medical concerns).
Time heals many wounds, however, and whether fans had forgotten about last year's controversies or just felt like cheering a hometown fighter, Mir got a loud ovation when he came to weigh in.
It remains to be seen if Mir will get a similar reception on Saturday night - and honestly, after a forgettable 2010 in the Octagon and a controversial one outside it, Mir badly needs a win - but for now, it seems as if Mir's PR issues are behind him.
For now.
This article is
What is the duplicate article?
Why is this article offensive?
Where is this article plagiarized from?
Why is this article poorly edited?
UFC weigh-ins are a time for fun.
When fighters who are tasked with the very serious business of trying to beat their opponents to the point of knockout or submission come out tossing t-shirts to the crowd - as did fighters like Rick Story, Stefan Struve and Demetrious "Mighty Mouse" Johnson on Friday - you know that the seriousness of Saturday night has not yet arrived.
Roy "Big Country" Nelson didn't toss any shirts as he came out to weigh in for his co-main event bout against former UFC Heavyweight Champion Frank Mir, but the former IFL Heavyweight Champion did find other means of showing his sense of fun: Nelson, who weighed in at 260 pounds for the fight with Mir, had his hair tied up in pigtails as he approached the scale.
"Big Country" has always kept a sense of humor about him in his UFC career, patting his ample belly after victories and making Weird Al Yankovic's "Fat" his walkout song of choice. However, in a sport that exudes masculinity, Nelson's willingness to adopt a hairstyle generally associated with elementary school-aged girls is a reminder of what sets him apart from many of his fellow fighters.
Saturday night, however, the pigtails will be gone, and it will be time for "Big Country" to try to make Mir squeal like a pig.
This article is
What is the duplicate article?
Why is this article offensive?
Where is this article plagiarized from?
Why is this article poorly edited?
From the moment Thiago Alves walked out for the UFC 130 weigh-in on Friday afternoon, it was clear that the "Pitbull" has taken an important step in his career as he prepares to face Rick "The Horror" Story.
Alves came out with nutritionist Mike Dolce in tow, and as he shed his gear before stepping on the scale, he showed that he was wearing the same "Dolce Diet" t-shirt as the TUF 7 alum. One has to figure that Dolce wouldn't put his trademark on a fighter who was about to miss weight, and sure enough, Alves was right on target. In fact, after taking advantage of the one-pound allowance in December when he fought John Howard at UFC 124, Alves came in at an even 170 pounds.
Making weight for back-to-back fights might not seem like a big deal, and to be honest, it's part of the job if you're an MMA fighter. However, given that Alves' eight fights before UFC 124 saw him miss weight twice and test positive for a banned diuretic, it's worth noting how
As he was working with Alves before the Howard fight, Dolce spoke to UltimateFighter.com and explained about how his work with fighters like Alves and UFC 130 main eventer Quinton "Rampage" Jackson goes beyond the nutritional expertise that he brings to the table (no pun intended).
"I get in there and I change their lifestyle," Dolce said. "It's not just the meal plan, although that's a huge part of it. It's their lifestyle. It's the way they think. It's the way they breathe it's the people they hang out with. It's when they wake up, when they go to sleep, their state of mind. I get in there, and I try to make everything a positive. There's so much stress on the body from this sport, just from competing, so I try to eliminate all of that and make it a positive, pleasurable, very healthy experience."
Judging by how animated Alves was when he stepped on the scale, it appears to be working for him, and that could be very bad news for Rick Story on Saturday night.
This article is
What is the duplicate article?
Why is this article offensive?
Where is this article plagiarized from?
Why is this article poorly edited?