The 50 Best Sports Hottie Bikini Bodies
While many women subtly display their attractive figures with tight clothes and a sexy swagger, others flaunt their curves in bikinis and conspicuous attire.
Especially during the sweaty months of summer.
All across the world of sports are women who are yearning for exposure and attention.
From WAGS to remarkable athletes, these women are known to be attractive but also have the body to execute an arousing picture.
Not only should they be proud of their physique but also be happy with pleasing their fans.
Their intense diets only further improve their already blessed bodies.
Here are the 50 best bikini bodies in sports.
Enjoy.
Begin Slideshow

»
While she grew as a surfer after being introduced at a young age, Doherty didn't have to try hard to maintain her body.
Growing up near a cove with two parents who were surfers, Doherty entered her first competition at seven years old.
It's clear she realized how good she looked in a bikini.
Ashley is possibly the sexiest vegetarian alive.
She started surfing at the age of five and has had a prosperous career ever since.
Her awards include the Association of Professional Surfer's Triple Crown Rookie of the Year, the National Scholastic Surfing Association's women's championship and the Pro Surf Tour of America's women's tour championship.
Her skills and body have landed her sponsorships with Oakley, Infinity Surfboards and PowerBar.
She's not only sexy but talented as well.
Named as "the hottest surfer in the world" by TW SURF and "one of the best female surfers" by Freaksurf Mag, Blanchard helped in the rescue of friend and fellow surfer Bethany Hamilton during a shark attack.
The shark must've been intimidated by her beauty.
While she may not be completely in a bikini, she's clearly welcoming viewers in.
The actress and singer may be known for her role as the sexy Phoebe in Charmed but it's her body that keeps her popular.
Her sports apparel line called Touch sounds intriguing as well.
She may be a former World No. 1 Russian professional tennis player who has won 23 WTA singles titles, including three Grand Slam singles titles, but it's Sharapova's body that has brought her to another level of fame.
She was named one of the 50 most beautiful celebrities in the world by People in 2005 and the hottest athlete in the world for the fourth consecutive year by Maxim in 2006.
The list goes on.
There's a reason the Tampa Bay Buccaneers went 10-6 last year.
Not only does Jamie Hanna lead a sexy cheerleading squad but she is also dating Rays star Evan Longoria.
A true power couple.
This is the real iron-woman.
While she is the youngest female ever to finish the Hawaii Ironman, completing it in 1995, it is her body that has gained her fame.
Having been featured in GQ, Shape, Triathlete, Runner's World and many other magazines, McMichael is used to wearing a bikini.
Originally studying to become a paramedic, Leah quickly realized her potential and began modeling at 18 years old.
She has appeared in Maxim, Men's Fitness, 944, Playboy, Steppin' Out, Muscle & Fitness, AXL, Vegas Magazine and Stuff.
The former Octagon girl continues to show off her amazing body.
Who says women can't play football?
At 5'6" and 110 pounds, Gray is the team captain and starting quarterback for the New York Majesty of the Lingerie Football League.
Whether its her aggressive nature or beautiful body that dominates opponents is still up for debate.
This is a special league.
A wide receiver for the Tampa Breeze of the Lingerie Football League, Lee is quite the figure.
Hopefully the trainers check on that body after every tackle to make sure she's still perfect.
We would love to go on vacation with these football players.
A cornerback for the NY Majesty, Tanyka always presses receivers.
Revis must've gained his nickname from her.
Although Tanyka Island would be much more popular.
Once Red Sox pitcher Clay Bucholz's girlfriend, Ellyson realized that she couldn't show off her body during the numbing months of winter in Boston.
What she didn't realize was that it actually gets hot during the summer time.
No patience.
Anyone who believes that golf is a boring sport clearly hasn't seen Natalie Gulbis on the course.
While she plays on the LPGA tour, Gulbis has become a prolific model and has appeared in many magazines, including FHM, where she has her own advice column.
Her fairway sessions must be jaw-dropping.
When she threatened to have sex with every one of her husband's teammates and coaches if he ever cheated on her, Kris Benson knew no guy would ever turn her down.
Maybe she's less powerful than she thinks she is but Anna Benson clearly would look good in a bikini.
It's simple, don't cheat.
A truly immortal WAG.
One of the many alleged conquests of Cristiano Ronaldo.
Ghazian claims to have had sex with Ronaldo when he was recovering from ankle surgery in 2008.
He apparently had a boot on and eased the swelling by placing ice down on the boot.
She took care of the rest.
Those footballers have it good.
This may be the most iconic female sports name in history.
Model of the Month in the October 2009 issue of Super Streekbike, Maddex has the ideal bikini body.
Thankfully she's not afraid to show it.
Apparently dating Bologna's Davide Bombardini in 2008 qualifies her as a WAG on this list.
After finishing second in the Miss World Competition in 2000, Palmas' career exploded and her pictures generously spread around the Internet.
This is called the unexpected pose.
The former personal assistant of David Beckham, Loos was at the heart of controversy.
A Spanish-born Anglo-Dutch model and media personality, Loos garnered attention for her alleged affair with the star footballer.
Apparently she likes to bend it for Beckham.

There's something sexy about a woman who can handle a large machine that routinely reaches 200 miles per hour on the track.
However, all one can think about is Go Daddy commercials when looking at pictures of Danica Patrick.
Who wouldn't like to be her daddy?
Tennis player James Blake's former girlfriend, Ebanks has been featured in Sports Illustrated and was a Victoria's Secret angel.
Once engaged to Nick Cannon, Ebanks is an exotic beauty.
Dating Cannon, however, takes away most of her credibility.
Franck Ribery's underage prostitute may have been treated with respect by the three footballers who paid her £2,000 a night for sex but she isn't gaining respect when she flaunts herself like this.
Not that we mind.
Brook clearly likes to live dangerously considering she dated Jason Statham for seven years.
However, the fact that she dated rugby player Danny Cipriani from September 2008 to June 2010 qualifies her for this list.
That, and how she looks in a bikini.
The ex-wife of footballer Ashley Cole, Cheryl is facing some tough luck lately.
Fired from Simon Cowell's X-Factor for allegedly having too strong an English accent, she is now single and searching for work.
The producers are looking at it the wrong way.
The heavier the accent, the sexier the woman.
An enthusiastic MMA model.
Also known as Jenny P, Mathis has worked with Hitman Fight Gear, Conquest MMA and Take a Nap Fight Gear.
There are few companies that wouldn't love to have her as their cover girl.
Once Dale Earnhardt's girlfriend, Miller is famous for her appearances in the Sports Illustrated Swimsuit Edition and her work for Victoria's Secret.
Naturally, she ranked No. 1 on Maxim magazine's 2008 "Hot 100" list.
She has a personality as well as she is an ambassador for both the American Cancer Society and the USO.
Well known in the MMA world, DeSanti has been featured on the covers of Tapout Magazine and MMA Sports Magazine.
She has routinely been in magazines such as STUFF, Maxim, Esquire, KnockOut, Fashion Ledge and FIRE.
It's hard to take your eyes off of her.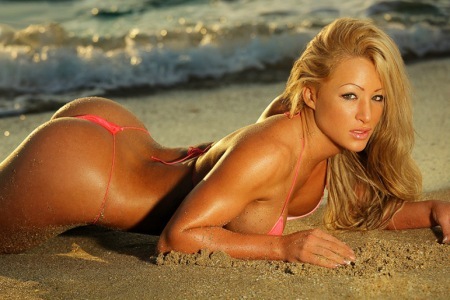 She might need some help building that sand castle.
A running back for LA Temptation of the Lingerie Football League, Cavender doesn't shy away from contact.
She might shy away from clothes but that's alright with us.
Through 50 games in the 2011 season, Hunter Pence is batting .301 with six home runs and 37 runs batted in.
Off to a stellar start, Pence always completes his goals.
That includes getting this sexy model to date him.
They might as well call him a hunter.
WAG of the week on The Offside, an Italian blog, in 2007, Barolo seems to be battling the clothes on her body.
A bikini seems like the ideal attire for this beautiful figure.
It's safe to say that she's this elegant on a routine basis.
Her fame started early.
She performed in Radio City Music Hall's "Super Bowl XXX Halftime Show" starring Dianna Ross when she was a teenager and was named Miss Teen Glendale Arizona at 16 years old.
However, she is just as human as she is sexy.
She is co-creator of Children of Our Villages, an organization that assists an AIDS orphanage in Namibia.
As if she wasn't a keeper already.
Saved by the bell.
This Bellator ring girl chose the right sport.
Her fans chose the right channel.
Modeling for Hooters and Venus International along with Frederick's of Hollywood and Playboy, Tweeden was on the cover of the March 2007 issue of FHM.
Known as the ex-girlfriend of pitcher Josh Beckett, Tweeden looks up to the military.
"If it weren't for those men and women, there's no way I'd be on TV or be able to do FHM," she says. "I'd probably be covered in a burka—and what a waste that would be."
Well said.

Jones is of Hawaiian, Spanish-Filipino, German and English descent. What a combination.
After winning the girls division of the United States Amateur Surfing Championship at 15, Surfing Magazine took notice and asked her to model.
While she has appeared on the cover of a plethora of magazines, her most famous distinctions include being named one of the "50 Most Beautiful People" by People magazine and one of America's "10 Sexiest Athletes" by Esquire.
It's easy to see why.

She may be covered in pads when she's roaming the defensive backfield but this safety still loves to show her body.
Making tackles and intercepting passes for the San Diego Seduction, Lorenzo continues to seduce fans with her vicious style of play.
She likely seduces everyone watching the game.
There is a reason she is known as "The Karate Hottie."
After graduating high school, Waterson began her modeling career.
A black belt in karate, she first gained fame as a contestant on the Muay Thai-themed Fight Girls reality show on Oxygen.
This girl has been around the block, literally.
Allegedly lying on the pavement outside a nightclub after being thrown onto a table, Lloyd reportedly needed emergency plastic surgery on a wound on her leg.
She dated footballer Teddy Sheringham and is now with Jamie O'Hara, who she has one child with and is expecting another.
She is what fans want Erin Andrews to be.
While fans waited for years to see Andrews show off her body, it never happened.
Collins, who works for the Big Ten Network, doesn't shy away from the camera and is quickly garnering attention.
While she won the 2010 Miss USA title and is also training to be a professional wrestler in WWE as a WWE Diva, Fakih makes this list as Ricky Romero's WAG.
He may be known as baseball's best-kept secret but his girlfriend sure isn't kept from the public eye.
The pronunciation of her last name is still unclear.
Marko Jaric may have failed as an NBA point guard but he clearly succeeded in his love life.
His wife, model Adriana Lima, finished first in Ford's "Supermodel of Brazil" at 15 years old and is known best for her work as a Victoria's Secret angel since 2000.
She has plenty of experience looking good.
Married to MLB outfielder Scott Podsednik, Dergan was Playboy's Playmate of the Month in July 1998.
She began a career, or rather hit it big, in sportscasting in 2001.
Her most notable accomplishment is still her body.
There's a reason Brett Favre was obsessed with the former Florida State fan and Jets "Gameday Host."
His infatuation has given her more attention than she could've imagined and she has become a prolific model.
Having modeled in Maxim and Playboy, she continues to be the woman hovering over the end of Favre's career.
She isn't only the best-paid model in Paraguay but she is also the national soccer team's most famous fan.
A supporter of both the Paraguay national football team and the club Cerro Porteño, she was noticed during the 2010 FIFA World Cup, celebrating a goal during the game between Paraguay and Slovakia with her phone between her breasts.
That'll open up some eyes.
More shoppers would enter Williams-Sonoma if it was called Ali-Sonoma.
She deservedly won the Hooters Swimsuit USA contest in 2004 and began dating MMA fighter Diego Sanchez shortly after.
Sanchez, who is Catholic, broke up with her and married Bernadette Sanchez in May 2011.
It's safe to say his parents didn't approve of the former UFC ring girl.
While she is a prolific athlete, Ivanovic is known more for her modeling.
A former world No. 1 Serbian tennis player, she recently appeared in the 2010 Sports Illustrated Swimsuit Edition.
Arguably the sexiest tennis player of all time.
She not only waited until marriage to have sex but is now making up for lost time.
Roberts was the 2006 Miss FHM and got married to MLB second baseman Brian Roberts in 2009.
Her calling has become pharmaceutical sales.
Interesting.
Aaron Boone had one meaningful hit in his baseball career and one in his personal life.
Boone is married to the former Playboy Playmate of the Month (October 1998) and they have one kid together.
He may be a two-hit wonder.
She continues to make professional wrestling look good.
Starting her career as a part of the Nitro Girls in WCW, Keibler has also worked in the WWE and has appeared on many ABC programs.
Professional wrestling sure can choose them.
No, she's not related to former NFL running back Najeh Davenport.
These Lingerie Football League players keep getting better—those tryouts must be breathtaking.
An offensive lineman and quarterback for LA Temptation, fans must love watching her battle in the trenches.
A true celestial being.
Perhaps the most famous UFC Octagon girl and certainly the sexiest, Celeste continues to be the face of the ring girls.
How the fighters concentrate is baffling.
Mets outfielder Jason Pridie may ride the bench now that Angel Pagan has returned from the disabled list but he still has the sexiest WAG in New York.
A former third baseman for the Arizona Sun Devils, Cruz turned to modeling after a successful college softball career.
What a transformation.
Maybe Pridie can make a similar change to a player with talent.