NBA Finals 2011: Mavericks vs. Heat, Will Dirk Nowitzki or LeBron James Shine?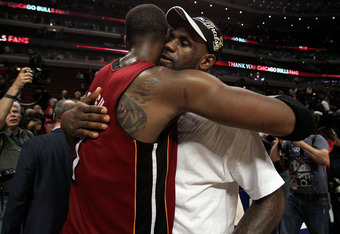 NBA Finals 2011 is Set...Who Has the Advantage Between the Dallas Mavericks and The Miami Heat
It's official.
The 2011 NBA Finals are set and the match-up couldn't be juicer.
The Dallas Mavericks took care of business against the Trail Blazers before shocking the NBA world with their four-game sweep of the Lakers. After showing the immature Thunder how to close, they are now four games away from winning it all.
Dirk Nowitzki has cemented his legacy as the best foreign born players of all-time with a performance for the ages. Jason Kidd, Shawn Marion, Jason Terry and Tyson Chandler are all hungry vets that have yet to get a ring. The Mavs are an extremely dangerous bunch.
MUST READ: Every NBA Team's Most Undervalued Player
The Miami Heat have had a season straight out of Hollywood. Through all the ups-and-downs, they received the No. 2 seed and breezed past the 76ers and the Celtics, before shutting down the Chicago Bulls in the Eastern Conference Finals.
LeBron James finally figured out his role in the offense and Chris Bosh has shaken off the nerves to become the legit third man in "the big-three".
So who is the early favorite?
Miami will be because they hold home court advantage, a place where they are currently 8-0 in the playoffs.
But who plans on guarding Dirk Nowitzki?
Dirk is too tall for James, and too quick for Bosh. It's going to be a major mismatch and one Dallas will surely use to their advantage.
On the flip side, how can the big-three be stopped?
Chandler can handle Bosh, Kidd can possibly keep Wade uncomfortable—but nobody can check LeBron. Marion will try to, but he can't keep the stronger James out of the post.
The difference will be the supreme talent of Miami. The Mavs are deeper and have more experience, but they don't have the ability to shutdown the hands down best player in the league.
It's going to take a superhuman effort from Kidd and JJ Barea to keep the Heat from sagging in the paint on Dirk.
Don't count on it—Heat in six.
Most recent updates:
This article is
What is the duplicate article?
Why is this article offensive?
Where is this article plagiarized from?
Why is this article poorly edited?