Bryce Harper: After Posey Injury, Moving Harper to the Outfield Looks Very Smart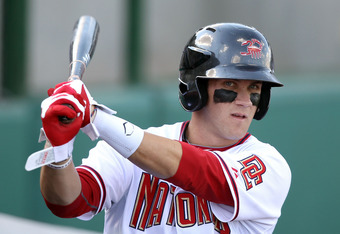 The Nationals Made the Right Decision in Moving Harper to the Outfield
The San Francisco Giants got to see their worst nightmare unfold right in front of their very own eyes on Wednesday night, as reigning NL Rookie of the Year Buster Posey was seriously injured in a collision at home plate in extra innings against the Florida Marlins.
On Thursday, it was announced that Posey had suffered a broken fibula and severely sprained left ankle ligaments. He will need surgery, and he will need two months to recover. Realistically, he's probably out for the year. Worst case scenario, he won't be the same for the rest of his career.
If ever there was an argument for clubs to take good young hitters out from behind the plate, there you go. You won't get Giants GM Brian Sabean to admit it, but he's probably wondering what might have been if he had decided to move Posey to first base or the outfield after drafting him fifth overall in 2008.
Washington Nationals GM Mike Rizzo has no such concerns about his top prospect. He made that call as soon as he drafted him.
MUST READ: 25 MLB Superstars Who Changed Positions Late in Their Careers
In case you're wondering, that top prospect is none other than Bryce Harper. He made a rather big name for himself as a catcher and sometimes-outfielder in high school and junior college, but Rizzo said he didn't want to take any chances with Harper's long-term health.
"We believe that he could pull off being a major league catcher, but his bat is well ahead of his defense as a catcher," said Rizzo last June, according to the USA Today. "With the rigors of catching, we think it is going to accelerate his development and extend his career as a major leaguer."
Right now, Harper is in his first season of pro ball, and he is absolutely tearing it up with Single-A Hagerstown. Through 43 games, he's hitting .340 with 10 home runs and 34 RBIs. At this rate, he might just see the majors in 2011.
Oh by the way, he's still just 18 years old.
Are we comparing apples to oranges by comparing Posey and Harper? Probably. For all of Harper's sheer skill, Posey was a much more polished catcher at the time he was drafted, making a position change that much more difficult. And besides, Sabean didn't know he was going to get hurt the way he did.
Maybe so. But as the saying goes, you have to hope for the best, and plan for the worst. Sabean did the former, and Rizzo did the latter.
This is not a reason to wag your finger at Sabean, of course. But if I'm a Nationals fan, I'm tipping my cap to Rizzo.
Most recent updates:
This article is
What is the duplicate article?
Why is this article offensive?
Where is this article plagiarized from?
Why is this article poorly edited?