NCAA Basketball: New Rules Outlaw Charges Close to the Basket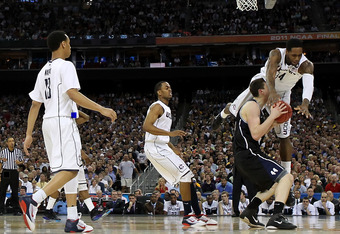 NCAA Basketball Gets a Few Rule Changes
If you're the kind of person who tunes into a college basketball hoping to see a player to take a charge within three feet of the basket, I'm afraid I have some bad news.
According to a release from the NCAA, an arc will be added three feet from the hoop. Inside that arc, a defender cannot take a charge.
The rule will be implemented immediately for both men's and women's Division I hoops, and will be implemented in Divisions II and III for the 2012-2013 season.
Other changes include the distance of the women's three-point line. It will move back to 20 feet, 9 inches next season, the same distance that the men's three-point line was changed to in 2008-2009.
MUST READ: Post-NBA Draft Lottery Preseason Top 25
In addition, language concerning flagrant fouls will now be consistent with that of the NBA. This is to say that there are now "Flagrant 1" and "Flagrant 2" fouls.
The NCAA is also going to experiment with a 10-second half-court rule in women's exhibition games. They want teams to report turnovers, fouls, points etc. in order to see how the rule effects play.
That's pretty much it. I'm racking my brain for clever ways to spin these rules into clever analysis about certain teams and certain players, but I'm coming up empty. Therefore, all of this must be for the best.
I guess I'll know I'm wrong when I start screaming for a charge after somebody goes down within three feet of the basket.
Most recent updates:
This article is
What is the duplicate article?
Why is this article offensive?
Where is this article plagiarized from?
Why is this article poorly edited?