San Francisco Giants: How Screwed Are the Giants If Buster Posey Doesn't Return?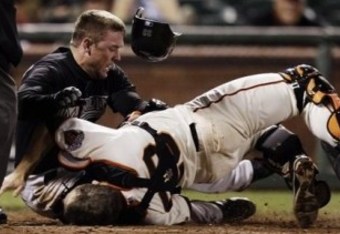 San Francisco Giants Will Have to Do without Their Leader for a While

As far as I'm concerned, talk of a player being the "heat and soul" of a given team is generally pretty lame. This is especially true of a sport like baseball, where teamwork is almost an afterthought.
However, there are exceptions to the rule, and San Francisco Giants catcher Buster Posey is definitely one of them. The reigning NL Rookie of the Year has that rare kind of aura that makes everyone around him play harder. He also anchors the lineup and guides the pitching staff, so it goes without saying that he pulls his weight.
And now he's gone, quite possibly for a very long time.
In case you haven't heart, Posey was seriously injured in the 12th inning of the Giants' loss to the Florida Marlins on Wednesday night. Marlins outfielder Scott Cousins collided with Posey on a play at the plate, sending the 24-year-old catcher sprawling.
If you didn't see it, believe you me it was not pretty.
According to the San Francisco Chronicle, Posey has a broken fibula and severely sprained left ankle ligaments. He will be out for at least six to eights weeks, possibly "much longer."
"The fracture will be fine," said Giants head trainer Dave Groeschner. "The ankle injury is most concerning to us."
The Giants hope to get Posey into surgery within a week. Recovery time is expected to be around two months.
Meanwhile, the Giants are still in first place in the NL West, and they are still on a quest to repeat as World Series champs.
But with Posey out, just how good are they?
MUST READ: 25 MLB Superstars Who Changed Positions Late in Their Careers
Well, the Giants played their first game sans Posey earlier on Thursday, and the results were mixed. The good news is that Ryan Vogelsong pitched eight innings of one-run ball. The bad news is that the Giants collected just five hits and were shut out 1-0.
To be sure, Posey wasn't tearing the cover off the ball before he went down. A year after hitting .305 with 18 home runs and 67 RBIs in just 108 games, Posey was hitting .284 with four homes runs and 21 RBIs in 45 games. Not exactly Jose Bautista numbers.
Instead of numbers, what the Giants will really miss with Posey on the shelf are his intangibles. As previously mentioned, the guy is a rock, and I don't think it would be a stretch to say that the Giants revolve around him and him only. To borrow an old Reggie Jackson line, he is the straw that stirs the drink.
Because the NL West doesn't seem to be all that strong this year, the Giants should be able to at least stick around. But if ever there was a time to curb loftier expectations, this is it.
If you don't want to think about that, think about 2010. Those were some damn good times, and they will make you feel better.
Methinks that's what Buster would want.
Most recent updates:
This article is
What is the duplicate article?
Why is this article offensive?
Where is this article plagiarized from?
Why is this article poorly edited?