Philadelphia Phillies: How Safe Are the Phillies in the NL East?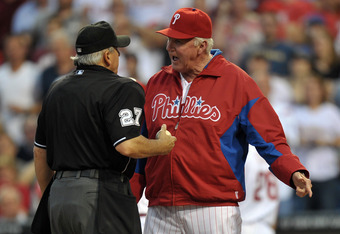 Philadelphia Phillies Are In First Place in NL East, But Not By Much
After nearly two months of play, the Philadelphia Phillies are doing pretty good. Not great, but pretty good. They're in first place in the National League East, and they have a slim one-game lead over the Florida Marlins.
Still, there's not much to complain about in the land of the Phillies (which I suppose is otherwise known as Philadelphia). After going into a minor slump in mid-May, the Phillies have won five or seven. And better yet, All-Star second baseman Chase Utley is back. In fact, he hit his first home run of the year against the Cincinnati Reds on Thursday.
Yes sir, the Phillies are just fine.
But as is the case with most aspects of life, things could be better for the Phillies.
For starters, the Phillies offense still leaves a lot to be desired. Take away their two 10-run games in the last four days, and they've scored just 13 runs in the last week. On the season, they're 11th in the National League with a grand total of 194 runs scored.
To be sure, Utley will help turn the Phillies offense around, but only to a certain extent. Expecting him to make a mediocre offense a great offense just isn't very reasonable.
MUST READ: 25 MLB Superstars Who Changed Positions Late in Their Careers
The good news is that the Phillies can pitch. Their team ERA of 3.02 ranks just behind the Atlanta Braves for tops in the NL. Phillies starters lead the league with 35 quality starts, 10 of which have come from Roy Halladay.
In the bullpen, the Phillies probably don't miss Brad Lidge all that much. Ryan Madson has done pretty well for himself closing out games, allowing just three runs in his last 10 appearances. All three of those came in one game.
If the Phillies can keep up the great pitching, they should be able to keep compensating for their relatively weak offense.
However, that's a pretty slim margin of error. The Phillies could probably get away with it if they were in a weak division like, say, the AL West, but the NL East is pretty good. The Atlanta Braves are better than they were last year and the Marlins are no joke.
The Phillies are still World Series contenders, make no mistake about that. But I think it's pretty obvious by now that they're not going to steamroll their way to the playoffs like we all thought they would.
Most recent updates:
This article is
What is the duplicate article?
Why is this article offensive?
Where is this article plagiarized from?
Why is this article poorly edited?