Ben Roethlisberger: Pittsburgh Quarterback's Sketchy Past Refuses to Go Away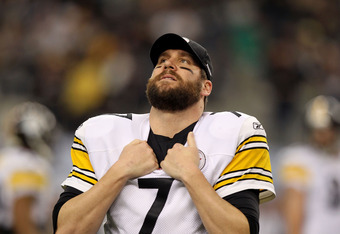 Details About Ben Roethlisberger's Relationship with Pennsylvania Police Department Come to Life
On the field, Pittsburgh Steelers quarterback Ben Roethlisberger is one of the best there is. His style of play is rarely pretty, but he always gets the job done, and the Steelers have reaped the benefits. Roethlisberger has led the franchise to three Super Bowls, winning two.
As we all know, things haven't always been as smooth for Big Ben off the field. He has supposedly cleaned up his act in a big way, but his past brushes with drunkenness, sexual misconduct, and all-around recklessness will probably haunt him forever.
Especially, one thinks, if the details keep coming.
If you haven't heard the latest, the Pittsburgh Tribune-Review reported on Wednesday that Big Ben provided "perks" to Pennsylvania State Police officials, such as seats in his private luxury box at Heinz Field and appearances at charity fundraisers.
This is a revelation that was born out of Trooper Ed Joyner's appeal to be allowed to continue his off-duty work for Roethlisberger, which was rejected by an arbiter.
Joyner started working for Big Ben back in 2005, telling his superiors that he was going to be the quarterback's chauffeur, fan mail collector, and secretary.
MUST READ: The 50 Biggest Creeps in Sports
However, Joyner offered up a whole laundry list of other duties he performed for Roethlisberger, such as "retrieving items from the hotel room if Roethlisberger needed something while playing in a celebrity golf tournament; tipping pilots, limousine drivers, etc., on trips; contacting stores to arrange for private shopping trips; detailing Roethlisberger's automobiles; cutting his grass..."
Joyner was also with Roethlisberger on the night of March 5, 2010, the night that he was alleged to have sexually assaulted a 20-year-old student. Supposedly, Joyner made sure Roethlisberger and the student were left alone in the restroom of a Georgia bar.
Per state police policy, off-duty troopers are not allowed to serve as bodyguards. Lucky for him, state police were unable to prove that this was Joyner's role.
Eventually, it was decided that Big Ben would not be charged for what happened that night. Nevertheless, Joyner's permission to keep working for Roethlisberger was revoked in early April. Shortly after, NFL commissioner Roger Goodell suspended Roethlisberger for the first six games of the 2010 season. His suspension was ultimately reduced to four games.
To be fair, all of this is squarely in the past, and the fact that Joyner's appeal was denied should help it stay that way. Still, you can't help but wonder how much dirt there is on Roethlisberger that has yet to see the light of day.
Most recent updates:
This article is
What is the duplicate article?
Why is this article offensive?
Where is this article plagiarized from?
Why is this article poorly edited?