Mike Brown: How Can New Lakers Coach Win over Kobe Bryant?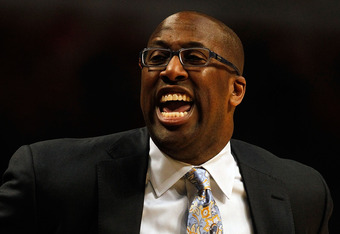 Mike Brown Will Have to Establish Some Kind of Relationship with Kobe Bryant
On Wednesday, Mike Brown became the new head coach of the Los Angeles Lakers. Not surprisingly, he seems to be quite thrilled with his new gig. It is, after all, the premiere coaching position the sport of basketball has to offer.
Another guy who is apparently pleased with Brown's hiring is Lakers VP of player personnel Jim Buss, son of team owner Jerry Buss. According to the Los Angeles Times, the former Cleveland Cavaliers head coach became the frontrunner for the job because the younger Buss wanted him.
One man that doesn't seem too thrilled with Brown's hiring, however, is none other than Lakers superstar shooting guard Kobe Bryant.
When the LA Times reached out to Kobe on Wednesday for his thoughts on Brown's hiring, he replied with a cool no comment.
Take note, Mr. Bryant. That's no way to welcome your new head coach, even if you are apparently that grumpy.
To hear Brown tell the story, he and Kobe haven't gotten off to that rocky of a start. He insisted during TV interviews that they have exchanged a few texts. But alas, no phone calls. Not yet anyway.
One way or another, Brown and Bryant are going to have to get on the same page. It won't be easy, but your humble narrator has a few suggestions.
MUST READ: The Top 55 Moneymakers in NBA History
First and foremost, Brown is going to need to develop some sort of offensive savvy, and he's going to need to do so very quickly. Kobe is a very good defender, and he should have no trouble buying into Brown's defense-first style, but he is nothing if not a scorer. If Brown can't find a way to get Kobe points on a regular basis, heads will roll.
This is a bigger danger than you might think. When they were both with the Cavaliers, LeBron James apparently had issues with Brown's lack of offensive creativity. The difference between LeBron and Kobe is that LeBron is probably a better improviser at this stage in his career. Thanks in large part to his aging legs, Kobe is going to need plays in order to make plays.
To do himself a big favor in this regard, Brown would do well to get down on his hands and knees and beg Brian Shaw to stick around. Shaw, an assistant under Jackson for the last several years, was Kobe's choice to be the Lakers next head coach, in no small part because he knows the Lakers and what they can do. If Shaw sticks around, Brown can go to him for help with the offense. Having him around for the sake of continuity will also help.
Regardless, one hopes that Brown and Bryant can find a way to coexist. They are, after all, professionals.
If they can't, the Lakers are doomed. Fact.
Most recent updates:
This article is
What is the duplicate article?
Why is this article offensive?
Where is this article plagiarized from?
Why is this article poorly edited?