Danica Patrick: Is Signing with Tony Stewart Patrick's Only Door to Sprint Cup?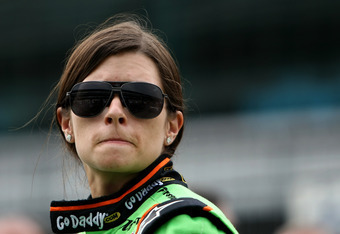 Tony Stewart Thinks Danica Patrick Is a Great Talent
This is a big week as far as Danica Patrick's IndyCar career is concerned. The 100th running of the Indianapolis 500 is on Sunday, and Patrick would no doubt love to win it for the first time in her career.
However, this Indianapolis 500 is also important because it might be Patrick's last. Her IndyCar contract expires at the end of the season, leading to no end of the speculation whether or not she will switch to NASCAR full time.
If Patrick, who has been racing part-time in the Nationwide Series since last February, does decide to spend the rest of her career in a stock car, one man that might be interested is none other than two-time Sprint Cup champion Tony Stewart.
On Wednesday, Stewart expressed interested in signing Patrick to Stewart-Haas Racing.
Courtesy of the USA Today:
Anybody that has a Cup team that has the availability would jump at the chance to do something with her. She's a great talent. There's no doubt in my mind that she's putting 100% into it...

She's asking very smart questions. You can tell she's not doing this just to do it. She's putting 100% behind it and wants to be successful at it. She doesn't want to just be somebody.
Right now, Stewart-Haas has two teams, one for Stewart and one for Ryan Newman, in the Sprint Cup Series. However, Stewart has said in the past that he wants to bring in a third team, maybe even a fourth. If nothing else, that means there is an opening for Patrick.
Of course, Stewart insisted that he's not the only one who will have an interest in signing Patrick, saying, "Anybody who has an availability would definitely jump at a chance to have her in a car."
Maybe so, but it's certainly hard to picture a better avenue to the Sprint Cup for Patrick. Stewart himself made the IndyCar-NASCAR transition back in 1999, which is probably why Patrick already sees him as a kind of mentor.
That's what makes this potential partnership seem so realistic. Stewart is right when he says there will be other suitors, but you get the feeling that Stewart's interest extends beyond just business. To put it bluntly, he might be the one guy that sees Patrick as more than a mere sideshow meant to rake in easy dollars.
Either way, Patrick is going to have to make a concrete decision. And Stewart is very much aware of that.
"You have to think about what's going to be best long term," said Stewart. "I had to give up Indy for a bigger purpose, for more than just the month of May. She's the only one who knows what she wants to do. Whatever decision she makes, she's going to have a reason for it."
Alas, Patrick seems to be in no hurry in this regard. Like the rest of us, Stewart will have to be patient.
Most recent updates:
This article is
What is the duplicate article?
Why is this article offensive?
Where is this article plagiarized from?
Why is this article poorly edited?