Buster Posey: Will Posey's Injury Force the Giants to Change His Position?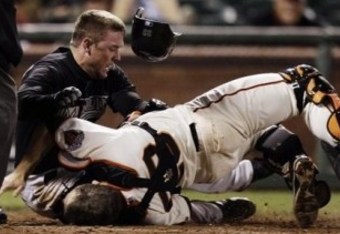 Are Buster Posey's Catching Days Over?
The San Francisco Giants' quest to repeat as World Series champions was dealt a crushing blow late Wednesday night. Reigning National League Rookie of the Year Buster Posey was badly injured in a collision with Florida Marlins outfielder Scott Cousins at home plate in the 12th inning.
Posey would have to be helped off the field, and the word coming out on Thursday is not good.
According to MLB.com, Posey has a left ankle fracture and torn ligaments. The 24-year-old catcher is likely done for the year.
For the Giants, news like this is right up there at the top of the list as far as worst case scenarios go. The only thing that could possibly be worse would be a career-threatening injury to Tim Lincecum.
Exactly how the Giants will cope with Posey's loss is going to be a major issue for the rest of the season. But Posey's injury is more than just a one-year dilemma. The Giants have every reason to be concerned about his future.
That's why they should consider a rather drastic change: moving Posey out from behind the plate.
MUST READ: 25 MLB Superstars Who Changed Positions Late in Their Careers
Obviously, there are plenty of arguments against the idea. First and foremost, it would be easy to move Posey if he was a better hitter than he was a defender, but he is a truly excellent catcher. As evidenced by last night's collision, he knows how to protect the plate, and he is very good at cutting down would-be base stealers.
Moreover, Posey has quite the rapport with the Giants' loaded pitching staff. Lincecum, Matt Cain, and the rest of San Francisco's pitchers trust him and work well with him. Removing Posey from the equation could have a negative effect on the Giants staff as a whole.
Lastly, Posey is one of the better hitting catchers in the league, but it would be a stretch to say he's one of the better hitters at any position. He has more value as a catcher.
All of this is true, but the only thing that should concern the Giants moving forward is keeping Posey healthy. Catching in and of itself is an injury risk to begin with, and a situation like Posey's is about as bad as it gets. In fact, who knows if his ankle is going to allow him to crouch day in and day out anymore?
This is not to say that Posey's career is already in jeopardy, of course. But moving him to first base or the outfield could end that discussion even before it gets going. Posey will still hit, and he will have a much easier time staying healthy.
The Giants had a plan for Posey when they drafted him fifth overall in 2008. He was going to come up, he was going to rake, he was going to lead the pitching staff, and the Giants were going to win. With a bit of luck, the process was going to repeat each year for the rest of Posey's tenure with that club.
Things went perfectly according to plan in 2010, but the situation has changed. The Giants need to adapt accordingly.
Most recent updates:
This article is
What is the duplicate article?
Why is this article offensive?
Where is this article plagiarized from?
Why is this article poorly edited?