Russell Westbrook or Kevin Durant:Who Is the Best Player in OKC
May 26, 2011
Ronald Martinez/Getty Images
"I'd rather have a guy whose volume is on 10 and you have to pull it to eight, then a guy whose volume is at six and you are trying to get it to eight. Russell Westbrook is a 10." – Kenny Smith, TNT Analyst and two-time NBA champion
Let us first get this established: The Oklahoma City Thunder should not have been playing in the Western Conference Finals. The Thunder were the fourth-best team in the Western Conference based solely on their record, and they managed to make the most of the opportunity presented to them. They defeated the eighth-seeded Memphis Grizzles in the second round after playing a just-happy-to-be-there bunch in the Denver Nuggets.
Nevertheless, they sat on the cusp of playing for an NBA title. While the world marvels at the scoring precision of Kevin Durant and Thunder fans continue to lie to themselves about the relevance of Kendrick Perkins, the value of Russell Westbrook continues to go unnoticed.
Since Westbrook was inserted into the starting lineup in the 2008-2009 season, the Thunder have gone 127-102. Some will say the firing of P.J. Carlesimo and subsequent hiring of Scott Brooks would have more to do with the Thunder's success than Westbrook. While Brooks has been a part of the Thunder's success, you cannot ignore an 0-4 start to his coaching career highlighted, or lowlighted, by a 35-point thrashing at the hands of the Cleveland Cavaliers.
Coincidentally, Brooks inserted Westbrook into the starting lineup the very next game and was rewarded with his first win as an NBA head coach, a 111-103 victory against, of all teams, the Memphis Grizzles.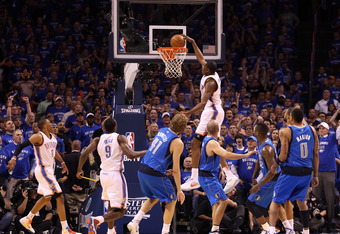 Christian Petersen/Getty Images
The next comment sure to be posted would probably read something like this: "Well, he is playing alongside Kevin Durant, and that's why they team wins. It has nothing to do with Westbrook. You are a moron." This is a valid point, excluding the moron comment and grammar error of course, but their numbers and the categories in which they have grown as players make a different point.
Durant, in his four years as an NBA player, has scored over 2,000 points twice and will more than likely go down as the greatest scorer in NBA history. Now that we have gotten that out of the way, here are some very telling numbers for OKC fans.
In four years Durant has more turnovers than assists, 946 to 842. In comparison, Westbrook has 858 turnovers to 1,757 assists. Aside from the startling assist and turnover statistic, there is the rebounding factor. Durant averages 6.3 rebounds a game for his career, while Westbrook gives the Thunder 4.8 rebounds a night.
On the surface that is a big difference; however, those numbers hide an almost full offensive rebound difference between the two. Durant averages 1.0 offensive rebound a game and Westbrook gives the Thunder 1.8. The value of rebounding varies based on position, meaning a rebounding point guard is a luxury while a rebounding forward is a necessity. Durant's rebounding is decent from the forward position but Westbrook's is exceptional from the guard position.   
It is without deliberation that Durant is a better scorer, but it deserves at least some consideration that Westbrook is the better player of the two. If those numbers do not at least make you think about on the subject matter, then get a gander of the two during this year's playoff run.
To some Westbrook has struggled and Durant has suffered from Westbrook's shot selection. These same individuals thrust the prolific scorer in company he should not be keeping. If you rank Durant as a top-five player in this league, ask yourself: Would the other four players have gone nine minutes without taking a shot? If you rank him as a top-10 player, then ask yourself the very same question.
Westbrook is cut from a different cloth—as Kenny Smith stated, he is a dominant player with a dominant personality.
So there are going to be moments where Westbrook is going too fast or times when his desire to seize the moment may not result in a made shot. Yet, it is that desire that separates him from his counterpart and teammate.
This notion that the best player on any roster is always the team's best scorer is ridiculous and absurd. It is this logic that has many Oklahomans screaming that Westbrook needs to defer to Durant. The All-Star small forward's engaging personality and desire to be liked has masked his shortcomings as a player. Conversely Westbrook is being crucified for everything from shot selection to playing "too aggressive."
The criticism directed at Westbrook has been unwarranted and unfathomable. The same individuals who have chastised Westbrook continue to celebrate Durant. Westbrook's aggressive mentality, which is always on display, is to attack, while Durant's mentality is to score.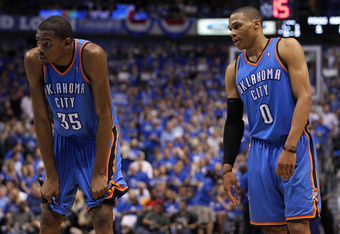 Ronald Martinez/Getty Images
Players' careers are defined by how they perform in Game 7s, and in the Thunder's first Game 7, the difference between the two players was on display from the start.
With the Western Conference Finals on the line, it was the Thunder guard who provided the team with a shot of confidence necessary for a Game 7 win. When the mercurial guard was pulled with 1:13 left in the first quarter, his contribution at that point were six points (on 3-for-6), two assists, three rebounds (two offensive) and one block.  
While Durant played the entire first quarter, his line read eight points (on 2-for-9 shooting), three rebounds, zero assists and one turnover. Four of Durant's eight points came from the charity stripe.
Still have doubt Westbrook is the more complete player?
The final box score for that Game 7 read Durant 39 points, nine rebounds, two assists and two turnovers, which is a typical line for the forward. The nine rebounds do deserve praise but are more of an aberration then the norm for the All-Star. His line for Game 1 of the Western Conference finals was similar: 40 points, eight rebounds, five assists and three turnovers and the Thunder lost. So again, his impact on the game outside of scoring was minimal.
Meanwhile, Westbrook's line in Game 7 read 14 points, 14 assists and 10 rebounds. His Game 7 triple-double put him in the company of Larry Bird and Scottie Pippen.
There have been articles written stating Westbrook is stealing Durant's thunder or that Westbrook should be traded. What true great competitor would allow another player to "steal" their shine? What great player has to be told to step up and go get the ball?
Westbrook's Game 7 triple-double was understated throughout the media and Thunder fans again celebrated Durant's 39 points. The importance of Westbrook and his play in particular did not get lost on Thunder head coach Scott Brooks after the game who, when asked about the guard's performance, said, "He is the leader of this team."
Some will try to misconstrue that answer and change the context in attempt to again build one player up and knock the other down. The question was specific: "Can you talk about Westbrook's performance tonight?" The answer was direct: "He is the leader of this team and we need him."
So as Thunder fans look to play the blame game and choose to ignore Kendrick Perkins' obvious shortcomings or ignore Serge Ibaka's inability to do anything other than be in Dirk Nowitzki's highlight reel, think about this.
One player has the ability to dominate on both ends of the court and never shies away from the moment. If his shot is not falling, he will get other people involved, or he will hit the offensive glass or he will get you extra possessions.
The second player can score on anyone and can also disappear for nine minutes. The second player has been taken out of games by defenders, and if his shot is not falling he is virtually nonexistent.