15 Best Dressed Head Coaches in NFL History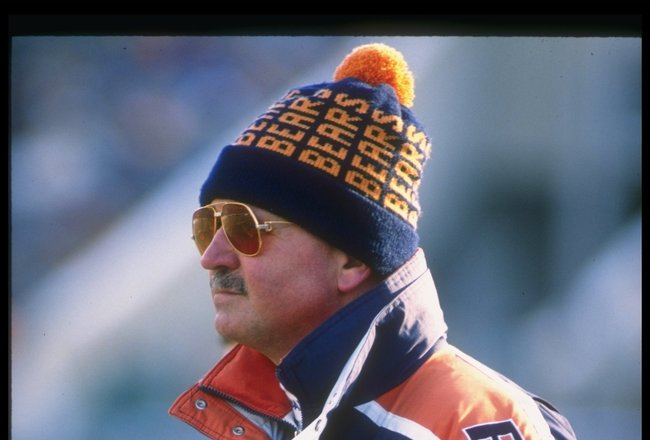 Jonathan Daniel/Getty Images
If you were playing Pictionary (as one might to kill time on what would have been a very different Sunday afternoon in September of 2011) and you drew a card that read "NFL Head Coach" you'd undoubtedly draw a little stick figure (it's OK, I'm not much of an artist either) wearing a polo shirt and a headset, masking his face while he calls plays. And, every one of your jersey clad, giant-sandwich eating, Bud Light drinking, supplanted Football Sunday buddies would guess it instantly.
This is the image most NFL head coaches embrace. There are a few, though, that have chosen to exhibit a higher standard of attire, setting an unreachable bar for their colleagues.

The following are some of the best-dressed coaches to ever grace an NFL sideline.
—Biographical information provided by Wikipedia
Gene Stallings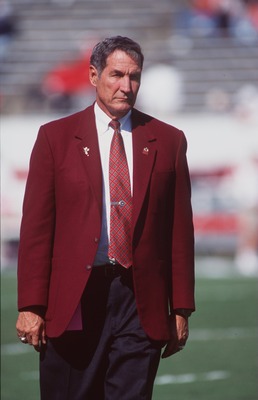 Craig Jones/Getty Images
Gene Stallings spent most of his career as the secondary coach for the Dallas Cowboys, but he was granted the opportunity to lead the St. Louis Cardinals from 1986 through their move to Arizona. He had nearly no success with the team (23–34–1 record) and was fired during the 1989 season.
But just look at that festive red jacket.
Chuck Noll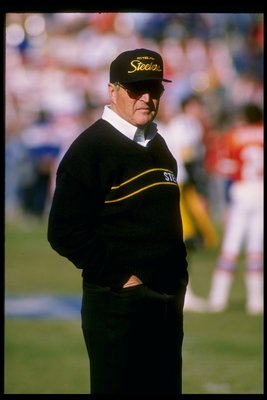 Tim DeFrisco/Getty Images
Chuck Noll was as adept at picking out sweaters and impeccably-starched collars as he was at selecting talented players.

Noll is responsible for the Pittsburgh Steelers' "Steel Curtain" defense and the Steelers' 1974 draft class in which they selected four future Hall of Famers.



Tom Flores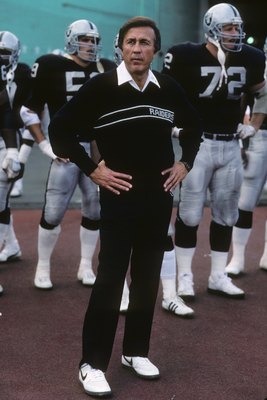 George Rose/Getty Images
Flores, another sweater-clad, wide-collared coach was the first Hispanic head coach in NFL history and the first minority coach to win a Super Bowl.
His mostly black ensemble is enhanced by some retro white Nikes.
John McKay
A. Messerschmidt/Getty Images
John McKay was the first head coach of the Tampa Bay Buccaneers and certainly looked the part, color-coordinating his attire with the team's jerseys and accessorizing with a jaunty, little canvas hat.
Though a saucy dresser, McKay wasn't much of an NFL coach—the Buccaneers lost their first 26 games and only made three playoff appearances under McKay.
Hank Stram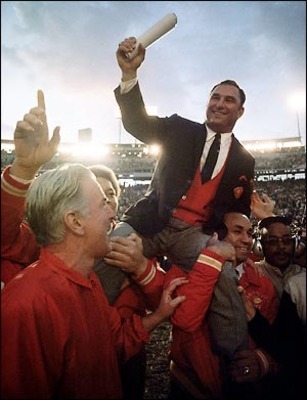 Who doesn't love a good sweater vest?

Hank Stram was one of the inaugural coaches of the new American Football League. In 1960, he started his head-coaching career with the immediately-successful Dallas Texans, winning the AFL championship in 1962 and then as the Kansas City Chiefs in 1966, 1969 (they went on to win the Super Bowl that year) and a division championship in 1971.

Stram had less success with the New Orleans Saints in 1976 and 1977, coaching the first team to lose to the Tampa Bay Buccaneers.
Weeb Ewbank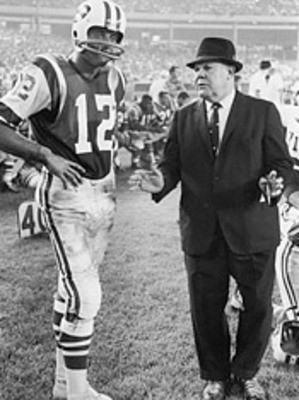 Weeb Ewbank is responsible for the New York Jets' signing of Joe Namath and the team's initial relevance.

He always appeared strong and professional on the sidelines, donning suits and fedoras. His best accessory, though, is his exceptionally excellent name.
George Halas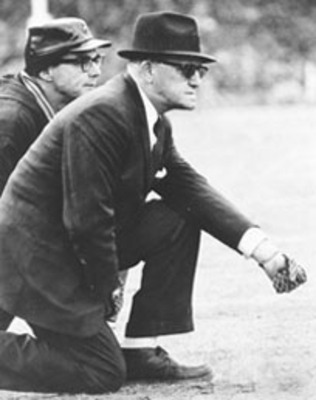 George Halas spent much of his football career acting simultaneously as the Chicago Bears' owner, manager, receiver and coach. He was a representative at the 1920 meeting that formed what would eventually become the NFL. He retired most of his titles in 1930, maintaining only his owner status.
In 1933, he would return as the team's iconic head coach through 1967 (excepting an hiatus during World War II).
All that plus his sideline attire make him deserving of his "Mr. Everything" nickname.
Blanton Collier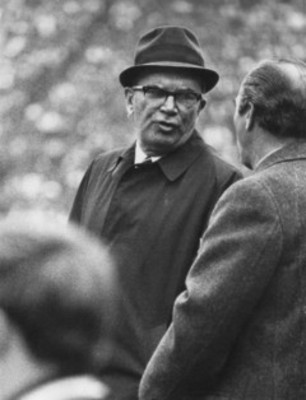 Blanton Collier was the Cleveland Browns' head coach during what was considered to be the team's golden age.

He went almost deaf during his career in Cleveland, ending his coaching career, but the professional dress code he maintained indicated his eyesight was just fine despite his glasses.
Vince Lombardi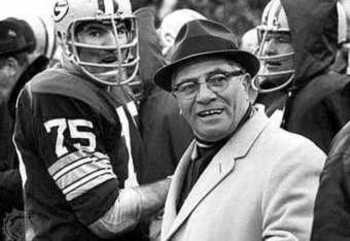 Vince Lombardi's legacy is unmatched and well known. It has led to a TV drama in 1973, a Broadway play in New York City and an ESPN film chronicling Lombardi's tenure in Green Bay.

The coat and fedora seen are so specific to Lombardi that his likeness at Lambeau Field wears the same thing.
Sid Gillman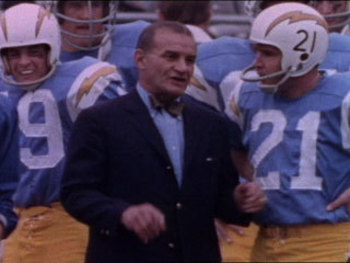 Sid Gillman was the first-ever coach of the Chargers, now in San Diego, and led them to their only league championship in 1963.

Gillman was often referred to as a genius, and I can see why: It's definitely that awesome bow tie.
Jimmy Conzelman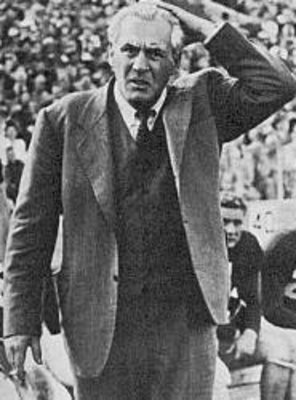 Conzelman was head coach of a number of the NFL's first teams, including the Rock Island Independence, the Milwaukee Badgers and the Chicago Cardinals (one of the longest-standing franchises in the NFL).
He's shown here, classy in a three-piece suit.
Mike Nolan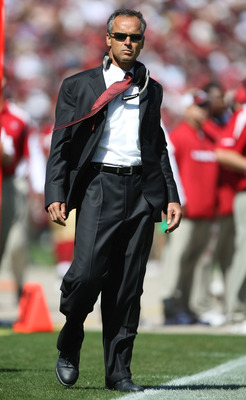 Jed Jacobsohn/Getty Images
A defensive coordinator with the Miami Dolphins now, he was the head coach of the San Francisco 49ers from 2005-2007.
His power suit and tie are merely a facade as Nolan's tenure as head coach resulted in an 18–37–0 record and Alex Smith being selected first overall in 2005's draft.
Tom Landry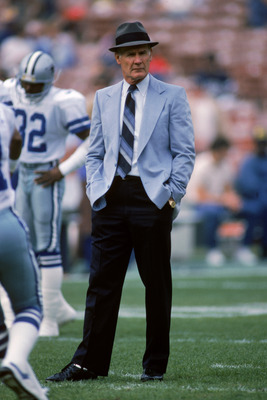 Stephen Dunn/Getty Images
Tom Landry's innovations led him to be the third-winningest coach in NFL history with a 270-178-6 record. He was the coach of the Dallas Cowboys and led them to 20-consecutive winning seasons from 1966 to 1985.
He was also a snappy dresser, if you ignore the white socks.
Mike Ditka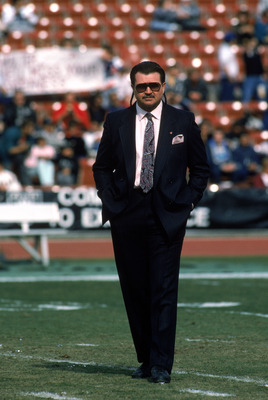 George Rose/Getty Images
Mike Ditka, the Chicago Bears founder's handpicked selection to turn the team, had the sort of personality that always led him to the limelight. Luckily he was always dressed for it, walking the sidelines in suits complete with pocket squares and colorful Bears-themed shirts and sweaters.
Bum Phillips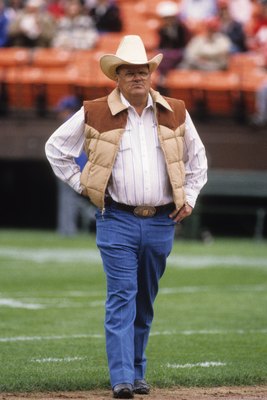 George Rose/Getty Images
With a 59-38 record, Bud Phillips was the winningest coach in Houston Oilers history.
His signature Stetson, which he dresses up with colorful quotes, a weighty belt buckle and a sheepskin jacket in the cold, make him the best-dressed coach in the history of the NFL.
Keep Reading