2011 SEC Baseball Tournament: Live Blog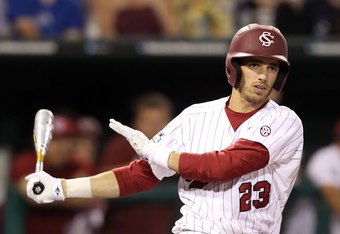 Christian Petersen/Getty Images
The SEC baseball tournament starts today in Hoover, Alabama. Three of the top-four rated teams in the country, Florida, South Carolina and Vanderbilt, will be in action today. All three are in great shape to be one of the eight national seeds for the NCAA tournament.
The winner will receive an automatic bid into the NCAAs, which start next week.
For Auburn, Alabama and Mississippi State, this may be their only shot. It may be for Georgia, too. Georgia must win at least two games in this tournament to be eligible for the NCAA tournament because to be eligible a team must be at least .500.
UGA's strength of schedule makes them a strong possibility if they can qualify.
LSU has likely played its way into the tournament even though they don't play this weekend. They are going into the postseason hot.
Auburn, Alabama and Mississippi State are all above .500 overall but under .550 in the SEC. Auburn is in the most precarious position at 39-27 overall. But it would not be good for either of these teams to go 0-2 this weekend.
Mississippi State is 34-21 and Alabama is 32-24. All three are 14-16 in the SEC.
Florida, Vanderbilt and South Carolina want to avoid an 0-2 this weekend also. They are trying to get a national seed, and a quick exit would not be a good thing. Especially with two other SEC teams in the mix.
So Wednesday's action should be good. This may be the biggest day of the tournament. Win, and you avoid the dreaded "0-2 and BBQ." Lose, and you could be in bad shape tomorrow.
So the Florida Gators have won the SEC Tournament for the first time since 1991. Alex Panteliodis pitched a great game going 5.1 of shutout ball. The bullpen did the rest as the Gators shut Vanderbilt out 5-0. The Gators took advantage of sloppy fielding by Vandy and played a lot of "small ball" to take the victory.
Still have to say that I do not like the way the SEC did these brackets. Vandy only lost one game in the tournament. Everybody else that got knocked out lost two. That does not seem fair.But congratulations to the 2011 SEC Tournament Champions. The Florida Gators!!
Half of the Championship Game is set. Vanderbilt is in. They are still waiting for their opponent. Georgia clinched an NCAA berth today by beating Florida 4-3 in the first game.
The second game is tied 2-2 going into the bottom of the fifth. The winner of this game plays Vandy tomorrow. Vandy got there by beating Arkansas 3-2 this morning.
Even if the Dawgs lose, they are clearly the big winner in this tournament. They came in needing three wins to qualify for the NCAAs and they got them. They first had to beat a desperate Auburn team who needed that win to qualify themselves. Then they had to beat #1 ranked South Carolina which they did. And then had to beat #5 ranked Florida which they did. Hats off to the Georgia Bulldogs.
Georgia is one out away now. The bullpen has done a fantastic job. Wingo the batter. And he STRIKES OUT!! UGA WINS!! 4-2. One more win and the Dawgs are eligible.
Bottom of the seventh now. Still 4-2 Georgia. Georgia's bullpen will be called upon to save this one. Dietrich went 6.1 before being lifted. He had thrown a lot of pitches due to USC putting a lot of men on all night. But he kept getting out of trouble. UGA now has two on with one out. They could use a big hit here.
After the Cocks go down in the sixth on a double play grounder, UGA still has a 4-2 lead. If they can get nine more outs they will be one win away from NCAA eligibilty.
Carolina gets one in the top of third to make it 4-2. Carolina has left a lot of men on so far. Gotta feel like they will break through eventually. UGA needs to keep scoring runs. I don't think four will be enough.
Georgia leads South Carolina 3-1 in the bottom of the second. They have a runner on second and two out. Farmer draws a walk. Two on two out. Cone with a base hit to score a run. UGA up 4-1 going to the third.
Final score. Hogs win 4-1. Bama goes home to await the Selection Show on Monday. Arkansas moves on to meet Vandy on Saturday.
Bottom 8 now. Still 3-1 Hogs. They would play Vanderbilt tomorrow if they get three more outs. They would need to beat them twice.
Georgia faces South Carolina next. It is a must win for UGA not only for their SEC hopes but also their NCAA hopes as well. If they can win, they can assure themselves a spot in the NCAAs by beating Florida once tomorrow. With a SOS of 1 and an RPI of 22 at one game over they should be a lock.
To advance to the SEC Final they would need to beat UF twice.
Arkansas and Alabama are locked in a tight one. The loser will be going home after this one.
It is 2-1 Arkansas in the bottom of the sixth. Picociello just drove in a run for the Hogs. It is now 3-1. One out. Runner on first.
Vandy wins by a final score of 7-2. They move on to Saturday when they will have two chances to win one game. If they can do that they will be in Sunday's Championship Game.
Florida is in that same situation.
Tomorrow Arkansas plays Alabama and Georgia takes on South Carolina. The losers go home and the winners will have to win twice on Saturday.
Vandy is putting on a clinic in the ninth. They have scored on two perfectly executed squeeze bunts and a hit and run. It is 6-2 Vandy now in the top of the ninth. Looks like Carolina will be playing tomorrow against Georgia.
Vandy and South Carolina have not disappointed. This has been a good one. Both teams get runners on and then the pitchers make bid pitches and get out of trouble.
Vandy leads 3-2 in the bottom of the eighth. Carolina has runners at first and second with two outs. Marzilli at bat. And he flies to center to end the threat. Going to the ninth, 3-2 Vanderbilt.
Checking the bracket, it seems to get a little weird on Saturday.
Tomorrow, Alabama plays Arkansas and Georgia plays the loser of this game. Then you would think the winner of the Bama-Ark game would play Florida on Saturday and the Georgia/ loser would the the winner on Saturday. But it looks like they swap for some odd reason and Florida will get the winner of the Georgia game tomorrow and the Game 8 winner gets the winner of Arkansas and Alabama.
Then it really gets weird from there. If Florida or the winner of Game 8 wins the first game on Saturday they go to the Championship Game on Sunday. If they lose on Sunday, they lose the tournament. So it is possible to lose this tournament without losing twice. Weird. I could see it if they separated these into two four team mini brackets, but why switch them in the semifinals?
I don't get it.
Vandy jumps out to a 2-0 lead on South Carolina in the first inning thanks to some sloppy play from the Gamecocks. The Cocks bobbled a grounder at second base that should have been routine and also had a wild pitch in the inning.
Vandy sailed through the bottom half 1-2-3 and lead 2-0 after one.
Florida has beaten Alabama 6-0 in Game Seven of the SEC Tournament. Hudson Randall pitched eight shutout innings for the Gators.
Alabama will now face Arkansas in an elimination game tomorrow.
Next up we have two top five teams facing off in South Carolina and Vanderbilt. If you don't have it on TV where you are you may want to go to espn3.com and watch it. This will be a good one.
Ninth inning now in Hoover. Auburn down to three outs to extend their season. They need at least one run here to stay alive.
Alex Wood going for a complete game for the Dawgs. Patterson up for Auburn. He strikes out on three pitches. Fly ball to center. Two down. Auburn down to the last out. Beisner pinch hitting. Base hit.
Auburn still alive with the tying run aboard. Hargett the batter. AND STRIKE THREE! UGA WINS! Auburn is done for the year.
An Auburn loss here will likely open a spot up for someone else in the NCAA Tournament. Auburn has a strong RPI and SOS and would likely get a bid if eligible. They go down 1-2-3 in the seventh.
Georgia most likely still won't make the Big Dance even if they win today. They still need to win two more. They would be at 29-29 and 30-30 won't do it. You have to be one game over.500. So somewhere there is a bubble team who is cheering for the Dawgs here. One of them is Mississippi State.Although the Dogs are likely in good shape anyway.
UGA leads the seventh off with a single. Hyams flies to center. Welton singles. First and second one out. Pitching change.
And a BAD THROW on a routine grounder and UGA scores two on the play. Georgia now leads 3-2. One run would have scored anyway but McElroy's errant throw plates a freebie for the Dawgs. A fly to right for out number two. That would have ended the inning. But now another single and UGA again has two on.
A pop up ends it. The pressure now shifts over to Auburn. At the end of six it is now 3-2 Georgia.
Georgia has runners at first and third here in the sixth with one out. They are in desperate need of a bit hit. And Cone hits one DEEP down the left field line, FAIR BALL! Double for Zach Cone! One run in, runners at second and third ! One Out! 2-1 now.
A double play quickly snuffs out UGA's fifth.
Auburn coming up in the sixth leading it 2-0.
UGA is down to the last 12 outs to do something if they want to make the NCAA Tournament. Georgia has the #1 strength of schedule in the country and are #36 in the RPI. AU is #22 RPI and SOS of #5. However the NCAA rule stating that a team must be above .500 is likely going to keep the Dawgs home. Not that it's a bad rule. But there will be teams not as good as UGA playing next weekend.
Georgia had better get the bats going. They are running out of time. Their scoreless innings streak now at 11. They have been outscored 12-0 at the tournament. Bottom of the fifth now. Auburn leads it 2-0.
Jonathan Hester flies to right to lead off the inning. One out. Powell hits a rope past the diving first baseman for a single. That is UGA's third hit of the game and only the fourth in the tournament. Stephens the batter. And he loops one into left for a hit. Back to back singles and the Dawgs have a little something cooking here in the fifth.
Auburn still up 1-0. Top of the fifth. Two outs with runners at first and second for the Tigers. Georgia still has not scored since they arrived in Hoover. Caldwell up and he gets a BASE HIT! Run scores. Runners now at first and third.
Auburn 2 Georgia 0
Caldwell now hits it deep to left center and a DIVING ATTEMPT by the Dawg centerfielder but he short hops it for a double.
AU sac bunting now. Throw to first WAY HIGH! Everybody safe! First and third nobody out!
Casey McElroy leads off the inning for Auburn. He HITS ONE DEEP TO CENTER...GONE!!! 1-0 Auburn!
This article is
What is the duplicate article?
Why is this article offensive?
Where is this article plagiarized from?
Why is this article poorly edited?