Tomas Kopecky Not Worth the Markup for the Chicago Blackhawks
May 25, 2011
Dale MacMillan/Getty Images
The Chicago Blackhawks signing of Marian Hossa in the summer of 2009 came with a much smaller contract for a player with much lower expectations. 
Tomas Kopecky has been a name often associated with Hossa over the last two seasons since the two Slovaks were brought into the organization.
Now it's time to see how closely the two players are linked.
Kopecky is a unrestricted free agent and is coming off his best statistical season as a pro in 2010-11. He is 29 years old and has set himself up for as big a payday as he could expect.
That raise shouldn't come from the 'Hawks.
Kopecky doubled his point total of a season ago with 15 goals and 27 assists. Credit has to be given here: The man played when and where he was asked to all season.
The Blackhawks just asked him to play too much and too far up in the lineup.
Kopecky's success this year should not be overlooked. However, this is clearly a case of the pond (Chicago's depth) getting smaller as opposed to the fish (Kopecky) getting bigger.
Let's look at Kopecky's time on the ice. In 2009-10, he averaged 9:28 a contest. That was up to 15:19 this last season, about a 40 percent increase.
Instead of playing fourth-line minutes, as was his role with the Stanley Cup champions, Kopecky was used as a top-six forward much of the season. He played more minutes with far more talented line mates.
The increased numbers should not come as a surprise.
This theory bears out on the power play, where Kopecky's "improvement" is most drastic.
In 2009-10, Kopecky played an average of 51 seconds per game on the power play. He had one goal and one assist. In 2010-11, Kopecky played an average of 2:32 per game on the power play. He had three goals and 10 assists.
Kopecky had well over twice the time on one of the best power-plays in the NHL. 
Surprise, surprise, his numbers went up.
Again, Kopecky has to get his due. He had a hand in his offensive numbers spiking this season.  It's just that he had more time to post these stats, as well as better quality players around him to help achieve them.
Kopecky is pretty much the player the 'Hawks signed two years ago. He is a very serviceable NHL forward, as long as he plays on the wing and on your fourth line. 
He is not the most responsible defender, as he took some head-scratching penalties this season and was a disaster when Joel Quenneville decided to use him at center.
Aside from being a nice addition to the club at $1.2 million a year, what else did Kopecky have going for him?
Hossa.
I can understand the desire for a player to have a compatriot from his homeland at his side. If that was part of Kopecky's job description, so be it. At just over a million per, the chemistry he provides is a nice fringe benefit.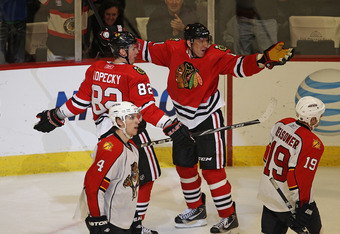 Jonathan Daniel/Getty Images
At a marked-up price, however, it's just not going to fly.
The Blackhawks cannot afford to give top-six money to a fourth-line talent just because Marian Hossa likes having him around. If money isn't an issue with Kopecky, let him accept slightly more than he's making now and keep him on the fourth line where he is best suited.
The 'Hawks should fill the wing opposite Hossa with Troy Brouwer or possibly Jeremy Morin if the team feels he's ready.
Tomas Kopecky can be a valuable skater for the Blackhawks on the fourth line and at a similar price tag.
If the markup on the 2011-12 Kopecky is anything substantial, Chicago should pass.