UEFA Champions League Final: 5 Ways Manchester United Can Beat Barcelona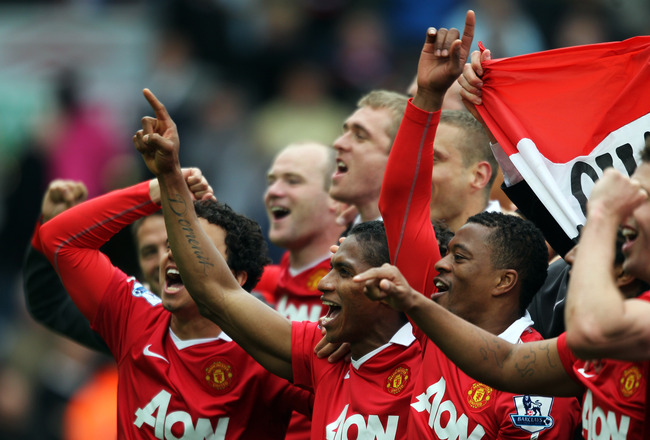 Dean Mouhtaropoulos/Getty Images
With the UEFA Champions League Final only a few days away, all eyes are on Manchester United and Barcelona.
The Red Devils have been put under the microscope in recent weeks, with memories of their poor performance in the 2009 Final still lingering. Manager Sir Alex Ferguson will have his team well organized and prepared for Saturday's showdown with the best club in European football.
A fresh and rested Barcelona will be looking to win their second Champions League title in three seasons, cementing themselves as one of the greatest club sides in history.
Although Barcelona enter the Final as favorites to lift the trophy, the Red Devils will be looking to finish the season with a historic win. After supplanting Liverpool as the most successful English club in league history, Ferguson's men will be seeking United's fourth Champions League title. This will put the club only one behind Liverpool's tally of five, as the manager looks to "knock Liverpool off their bloody perch."
While United will enjoy the overwhelming English support at Wembley Stadium, it will be the club's toughest match of the season.
Barcelona has emerged as the team to beat in recent seasons and the Red Devils will have to be at their best to win on Saturday.
With Ferguson likely to use his standard 4-4-2 formation and Barcelona manager Pep Guardiola employing his fluid 4-3-3 system, the match will be both a technical and tactical battle.
While Barcelona boast some of the elite footballers at their respective positions, United have the quality to pull out a stunning victory.
The following are five ways that United can beat the great Barcelona.
Defend with Physicality and Intelligence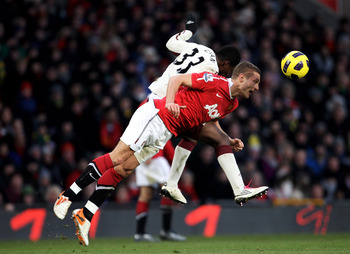 Alex Livesey/Getty Images
United must be physical and intelligent in defense if they are to beat Barcelona on Saturday.
There is no club in the world that can play a free-flowing match against La Blaugrana—and leave victorious. Barca are the best attacking side in football. They will win comfortably if United look to play an open game, much like the first El Clasico of the season in which Real Madrid was humiliated in a 5-0 thrashing at the Camp Nou.
Ferguson will have emphasized team defense in this week's training. His talismanic captain, Nemanja Vidic, cannot be the only player using his physicality to out-muscle the opposition. With the likes of Xavi and Iniesta floating around and drifting into pockets of space, Carrick will have to make his presence felt in the middle of the park.
Although United will set out in their traditional 4-4-2, expect the Red Devils to drop 10 men behind the ball when Barcelona are in possession. Rooney will drop into the midfield and provide high pressure on Busquets.
Park, Evra and Vidic will be key in United's efforts to contain Messi. Although the little magician starts as the centerforward in Barcelona's front three, he often drifts out to the right to isolate defenders. Park will have to frequently track back in support of Evra and Vidic will be responsible for providing cover when Messi makes his incisive runs from right to left.
While United will have to play a physical match, the key to thwarting Barcelona is anticipation and positioning.
The success of Barcelona's 4-3-3 has been their diagonal runs. Villa is one of the best at breaking the offside trap and timing his runs to perfection. In order to stop the front three from slicing through the backline, United's defenders will need to play a firm line and avoid getting split by Xavi and Iniesta's through-balls.
In addition to playing as a compact defensive unit, United must be able to identify the second and third runners. After Messi releases the ball, he is always looking to get it back. The Red Devils will have to stick with their runners, and pay close attention to Messi when he is not in possession.
The Red Devils must stay tight to their markers and rotate defensively to beat Barcelona at Wembley.
Dominate Set-Pieces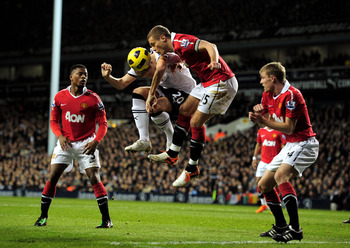 Shaun Botterill/Getty Images
United will have to use their height advantage to dominate all set-pieces. Vidic, Ferdinand, O'Shea and Chicharito are serious threats from dead-ball situations.
Barcelona are a much smaller side and they will struggle to win aerial duels with the taller United players. Other than Busquets, Pique and Puyol, La Blaugrana lack genuine size and leaping ability.
Ferguson will emphasize the importance of delivery to his set-piece takers. United have the overwhelming advantage in the air, but it all hinges on good service.
Vidic will be the target in most dead-ball scenarios, as Barca lack a player with comparable size, strength and determination. United will be anticipating Vidic to win the initial header and poachers such as Chicharito will be looking to latch on to any re-direction or spill.
Guardiola will have stressed the importance of not conceding corners or free-kicks around the box. United have the players to dominate set-pieces, and with good delivery the Red Devils will be dangerous.
Play Through Antonio Valencia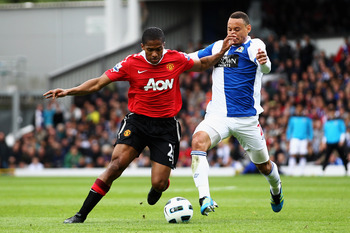 Dean Mouhtaropoulos/Getty Images
United will likely try to absorb pressure, and look to catch Barcelona on the break. In order to transition from defense to attack, Antonio Valencia must be the outlet.
The Red Devils' winger has lightning pace and an excellent right foot. Valencia will be essential in relieving pressure on United's backline and central midfielders.
With Puyol or the recovering Abidal set to start at left-back for La Blaugrana, Valencia can beat either player for pace.
In Barcelona's 4-3-3, former Valencia striker David Villa plays on the left-wing. The Spaniard does not track back like Pedro on the opposing flank, which means that the United winger will be one-on-one on the left-back.
Valencia gives world-class delivery from the right flank, which could cause problems for the Barcelona defense.
Chicharito has emerged as a true goal-scoring poacher in his first season with United. The Mexican feeds off good service from wide players and will be looking to latch onto Valencia's dangerous crosses into the box.
The winger's pace and likely matchup with Puyol makes him the key player in Saturday's clash. The United winger will be looking to get in behind the Barca captain and deliver quality crosses.
Counter with Pace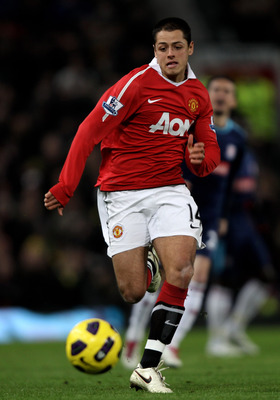 Clive Brunskill/Getty Images
With Barcelona likely to dominate possession, counter-attacks will be crucial for United. With players such as Giggs, Valencia and Chicharito, Ferguson's first-team was built to play on the break.
The ageless Giggs has flourished in his new playmaking role, using an excellent range of passing to spread the play. United's living legend will be instrumental in launching counter-attacks and releasing Valencia down the right-flank.
United's wingers will look to run at Barca's backline with pace before the midfielders can retain their defensive shape. Guardiola likes to use a high defensive line, which will invite incisive runs from United's quicker players.
Chicharito has been a key piece of the Red Devil's counter-attacking style of play. The Mexican is one of the fastest footballers on the planet and his sheer pace makes him a one-man threat on the break.
Giggs and Carrick will be looking to play long balls in behind Barca. Chicharito makes intelligent diagonal runs and has the pace to create separation from defenders.
Barcelona's high line is a large part of their success in recovering possession, however Chicharito and Valencia could be the players to exploit the space behind Pique and company.
Mourinho's Real Madrid showed that Barcelona are vulnerable on the break. With quick, incisive passing, they were able to get numbers in transition and create goal-scoring opportunities from great delivery into the box.
United will have learned from Madrid's Copa del Rey success and look to catch Barcelona on the counter.
The Red Devils have great individual players, but it is the quickness and pace of their transitional play that will be instrumental to their success.
Capitalize on Chicharito and Rooney's 2v3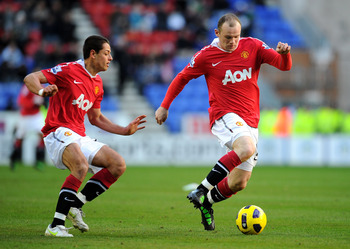 Mike Hewitt/Getty Images
Ferguson will have done extensive research on Barcelona's style of play and team shape. The United manager will have noticed that his striking duo will have an occasional two-on-three against Barca's backline.
Although Guardiola sets out with the standard for defenders, Barcelona's backline rarely functions as a true flat four.
While Dani Alves plays at right-back, he operates as a defensive-minded right midfielder. When in possession, the Brazilian pushes up into the midfield line and into the final third. However, when Barca lose the ball, Alves is often caught up-field and forced to sprint back.
As a team, Barcelona shifts to cover for their marauding right-back when in possession. Busquets drops into a central defensive role, making a back-three with Pique to his right and Puyol to his left.
With Barcelona dominating possession, the team plays the majority of the match with this makeshift backline. Whether it is Mascherano pairing with Pique in the middle and Puyol shifting to left-back, or the captain partnering Pique with Abidal out on the left, Barca will naturally revert to this back-three.
Chicharito and Rooney will be looking to capitalize on any mistake or interception, and take on Barca's makeshift back-three. The United duo's pace makes the two-on-three a favorable matchup.
The two strikers will relish the opportunity to take on the slower Busquets, Pique and Puyol. Barca does a good job of applying immediate pressure and tracking back after losing possession. However, Chicharito and Rooney have the pace to create major problems and exploit the two-on-three situations.
United's first-choice strikers have both been in excellent form in recent months and any sight of goal could see the Red Devils upset the world-class Barcelona.
Keep Reading

Manchester United: Like this team?