2011 NHL Playoffs: San Jose Sharks Didn't Choke; the Canucks Were Just Better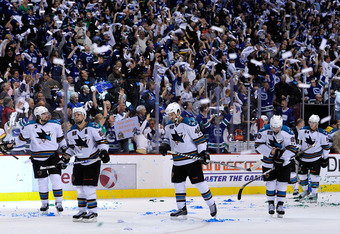 The San Jose Sharks again find themselves losing in the Western Conference Finals, this time to the Vancouver Canucks.
Rich Lam/Getty Images
For the second year in a row, the San Jose Sharks will have to watch a team that eliminated them in the Western Conference Finals advance to play for the Stanley Cup.
Last year it was the Chicago Blackhawks. This year it is the Vancouver Canucks. The Canucks finished off the Sharks in the best-of-seven series, taking it four games to one with a thrilling double-overtime win, 3-2.
The game itself is worthy of note. San Jose finally started playing like the team that most everyone expected coming into this series. The Sharks held the Canucks to only 20 shots on net through regulation. They also bombarded Canucks netminder Roberto Luongo with 56 shots on goal (36 in regulation) and got great performances out of their top players as well.
Patrick Marleau scored his eighth goal of the playoffs on a power play by redirecting a shot from Dan Boyle that went past Luongo that gave the Sharks a 2-1 lead in the second period.
The game play went back in forth in the third period, with both sides trading scoring chances. But the big difference-maker was Ryan Kesler, who, despite being injured earlier in the game, came through with a huge game-tying goal with 13 seconds left in regulation.
Kesler's goal was not without some controversy, however. Just before, the Sharks Dan Boyle had made a clearing attempt that bounced off Canucks forward Daniel Sedin's shoulder.
Rich Lam/Getty Images
However, icing was called against the Sharks, bringing the faceoff back into San Jose's own zone. A Vancouver faceoff win, followed by a shot from Henrik Sedin, which Kesler deflected past Antii Niemi, tied the score, sending the Vancouver crowd into a frenzy.
Both overtime periods were filled with tremendous excitement and scoring chances from both sides. Luongo was brilliant, stopping an additional 20 shots on goal during the overtime frames. Finally, Kevin Bieska slapped a shot through the point at a moment where, seemingly, only he knew where the puck was on the ice.
For the Canucks, they advance to play for Lord Stanley's Cup. For the Sharks, it will mean yet another disappointing end to a tremendous season and playoff run.
Despite being heralded as perennial playoff underachievers, the Sharks simply lost to the better team. The Canucks were clearly more rested heading into this round while the Sharks, weary from the seven-game conference semifinals with the Detroit Red Wings, could not get off to a good start.
Losing the first two games in Vancouver to start the conference finals not only put them in a hole, but it set the tone for the remainder of the series. Even San Jose's lone win in Game 3 had its questionable moments, with the Sharks nearly squandering their 4-1 lead in the third period.
In short, Vancouver got more production from its top players, namely Daniel and Henrik Sedin. And while Joe Thornton, Marleau and Boyle all had a strong series from the Sharks' perspective, their performance was not enough to be a legitimate difference-maker.
Luongo also outplayed Niemi throughout the series and put an exclamation point on his performance with his efforts during the two overtime periods of Game 5. Vancouver also used their superior speed and excellent puck handling to thwart San Jose's usually dynamic offensive attack.
San Jose really did not show up to play the type of game expected of them until Game 5. By that point, it was far too late.
The upcoming Sharks offseason will force plenty of questions. Thornton and Marleau should not be part of that discussion, as each finally seemed to showcase playoff grit and talent.
However, the Sharks' defense, rounded out by players like Nick Wallin and Ian White, could clearly use an upgrade. Shea Weber may look nice in teal.
One question that should not be asked, however, is how the Sharks choked. They did not choke. Vancouver was just better.
This article is
What is the duplicate article?
Why is this article offensive?
Where is this article plagiarized from?
Why is this article poorly edited?

San Jose Sharks: Like this team?