Kyrie Irving: Advice, Become Chris Paul Not Derrick Rose/Russell Westbrook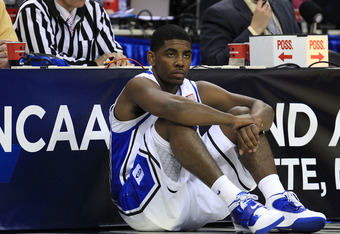 I'm going to make a case against the MVP of the NBA and one of the best scorers in the Western Conference.
Kyrie Irving has said that he idolizes Chris Paul. Good. This is who he needs to try and become.
When watching the two conference finals, I've noticed the flaw in having an attacking, scoring point guard who plays more like a shooting guard than floor general.
Yes, Derrick Rose is a tremendous player and he will lead the Chicago Bulls to several 60 win seasons. Yes, Russell Westbrook is amazing and his ability to still score 30 points with the scoring champion on his team is worth spending big money to keep him around.
However, will either of these styles be able to beat the Miami Heat?
For the next five or six years, the question is not how do you beat the Boston Celtics or Los Angeles Lakers, it's how do you beat the Heat. In the same way that teams tried to fill their roster with big men to stop Shaquille O'Neal in his prime, teams need to be crafting their team to be able to expose the Heat.
The problem with a point guard like Rose or Westbrook against the Heat, is they make their living off getting to the basket. When the Heat put that lineup out there of Dwyane Wade, LeBron James, Mike Miller, Chris Bosh and Udonis Haslem, they become so long, so athletic and are able to completely clog the middle. Sometimes Rose can maneuver through and land an emphatic slam, but more often than not, possessions result in a turnover.
With a Chris Paul, there's an ability to run a pick and roll, he sets guys up in position to hit easy shots and he exposes the Heat's lack of point guard. If Irving can turn into this type of player, he will give Cleveland a lot of hope in one day beating the Heat.
Obviously if Rose or Westbrook were in this draft, I would take them at No. 1, but I don't think either one of those guys is the secret in beating the Heat. A point guard who does not turn the ball over and can break a defense down with his passing, not just driving ability, is the key to success against Miami.
Once, LeBron James brought hope to Cleveland. Now, being the secret weapon to beating him will inspire the Cavs nation even more.
Most recent updates:
This article is
What is the duplicate article?
Why is this article offensive?
Where is this article plagiarized from?
Why is this article poorly edited?