UFC 130 Fight Card: MMA's Problem with the Ten Point Must System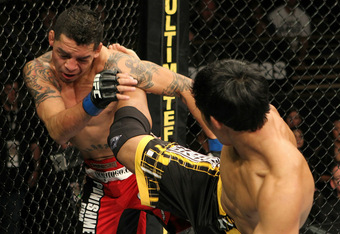 After watching MMA as a dedicated fan for six years now, a pattern has emerged time and time again that frustrates both the fighters and the fans.
A series of bad decisions by judges have finally left me fed up with the ten point must system in mixed martial arts. For the most part, the system works in boxing when there are only punches to consider, but in mixed martial arts it causes problems, confusion and sometimes anger.
There have been several MMA results in the last year that led me to this position. The most glaring instance was the matchup between Nam Phan and Leonard Garcia at the Ultimate Fighter 12 finale in December. Phan clearly won the fight, yet somehow lost on a split decision. There have been other results where the unfairness of the ten point system was even more apparent. Joe Warren's fight with Marco Galvao could easily have gone to Galvao. Diego Sanchez probably should have lost his last bout to Martin Kampmann, and Kampmann was also snubbed of a potential win last October when he lost via decision to Jake Shields.
UFC President Dana White always says to never leave it in the hands of the judges. It is true that the finish makes mixed martial arts more exciting, but why should guys fear the scorecards? The system should work, but it no longer does. Some have suggested changes such as a decimal system or a half point system, but nothing has happened.
I see there being two major problems. The first major problem is the ten point must system itself, which needs to be changed to prevent unnecessary bad decisions and draws. The second major problem is with the judges themselves.
The ten point must system needs to be changed, and no one seems to have the "right" answer. Why not let a council of mixed martial arts professionals decide? I propose starting a council of maybe 1,000 or so individuals, a group of trainers, fighters, writers and executives.
We can call it the MMA World Council, and call a yearly meeting similar to the UFC fighter summit where these informed individuals vote on rule changes to the unified rules of MMA. They could find a better solution to scoring bouts than the ten point must system that mixed martial arts adopted from boxing years ago.
The group of MMA experts and advocates could use democratic principles to propose changes, and vote on those changes. The democratic approach of letting everyone vote is not only fair, but could breed partnership between MMA organizations. Rather than competing against one another, the members could work together to help further the sport as a whole.
The second major problem is with the judges. As it stands, judges are simply not informed well enough on the ins and outs of MMA fighting. The UFC is bringing in monitors for UFC 130 and beyond, but the judge can choose to use them or to ignore them entirely. I think the real problem is that the judges need to know more about MMA, its multi-faceted game and how to decide who is really winning.
Either the existing judges must be better educated about the sport, or the UFC, Strikeforce, Bellator and others must find new judges. These groups need to hire former fighters and referees to judge until the average judges learn that a takedown means nothing when the other guy pops right back up and delivers a punch, or that a guy rushing ahead and getting picked apart shouldn't be awarded points just for moving forward.
Monitors are a baby step in the right direction, but the sport can't always hide behind the mantra of "never leave it in the hands of the judges." At some point we have to start making these people accountable for what they put on their cards, and possibly monitor them to make sure they're competent enough in MMA to be a judge in the first place. I hope that the use of monitors is the first step of many to improving the ten point must problem that's currently hurting mixed martial arts all across the board.
This article is
What is the duplicate article?
Why is this article offensive?
Where is this article plagiarized from?
Why is this article poorly edited?