Peyton Manning: Indianapolis Colts QB Has Neck Surgery, Second in Two Offseasons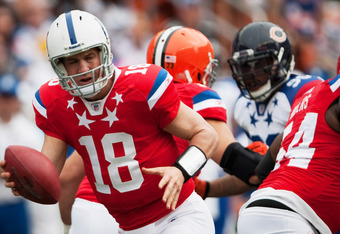 Kent Nishimura/Getty Images
Indianapolis Colts quarterback Peyton Manning is recovering from "minimally-invasive" neck surgery, his second such surgery in two offseasons, according to Mike Chappell of the Indianapolis Star.
Manning, 35, missed two weeks recovering from similar surgery during the 2010 offseason. According to the Star, Manning "anticipates a quick recovery" this time around, and insists this procedure was intended to correct a different problem than his first neck surgery.
The situation is worth watching for numerous reasons. For one, Manning, who was slapped with the franchise tag prior to the lockout, still needs to negotiate a long-term contract with the Colts once the lockout is lifted. It's worth asking how his health—considering his age and the likelihood of this being the last contract Manning signs for his NFL career—will factor into Colts owner Jim Irsay's decision to fork over the record-setting deal Manning will surely be asking for.
My guess: it won't affect it at all. Manning will command top dollar regardless.
It's also worth watching because Brad Wells (aka BigBlueShoe) of Stampede Blue passed along a rumor last September that Manning was injured and the injury stemmed from the neck surgery he had received that past offseason. A stinger supposedly resulting from this injury seemed to plague Manning during a stretch of the 2010 season which saw him throw 11 interceptions in just three weeks—something Wells also traced back to the September injury rumor.
Does Manning have a more serious injury than anyone is letting on, or was this simply a coincidental corrective procedure? Difficult to say, but certainly the speculation is worth noting.
According to Indianapolis Colts owner Jim Irsay, Peyton Manning is recovering from neck surgery for a bulging disk. The surgery was performed in Chicago and the recovery time, according to Irsay, should be around eight weeks:
Peyton's doing fine,he's on the mend from neck surgery yesterday in Chicago. Recovery time 8 weeks,he'll b ready 2 go for preseason
That is, of course, if there is a preseason.
This article is
What is the duplicate article?
Why is this article offensive?
Where is this article plagiarized from?
Why is this article poorly edited?
As reaction from Indianapolis Colts writers begins to pour in following the announcement that Peyton Manning had a second neck surgery, 18to88 writer Nate Dunlevy fails to see anything spectacular about the procedure.
"Pretty routine stuff at his age" writes Dunlevy.
Dunlevy's assertion is interesting in light of the counter-argument he published in response to Brad Wells' article speculating on a potentially noteworthy injury to Manning. If you've been following this "Manning injury story" for the past year, Dunlevy and Wells are essentially on opposite corners of the argument, with Dunlevy supporting Manning's and the Colts' claims that the surgery was successfully routine and Wells suggesting that the effects were still lingering into the 2010 season.
Which writer do you all think is correct? Is either?
This article is
What is the duplicate article?
Why is this article offensive?
Where is this article plagiarized from?
Why is this article poorly edited?

Indianapolis Colts: Like this team?