LeBron James, Randy Savage, Tiger Woods and Tuesday's Sports News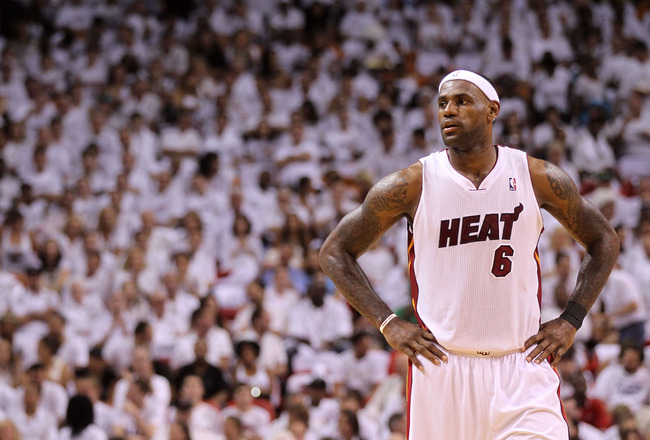 Mike Ehrmann/Getty Images
LeBron James has played in big games before, but nothing like the game he's going to play in tonight.
A Game 4 win against the Chicago Bulls and the Miami Heat will have a commanding series lead at 3-1. If the Bulls manage to find a way to punch through the suffocating Miami Heat defense, the series goes back to tied and the Heat would have to win two out of the next three games against the No. 1 seed and without home-court advantage.
LeBron knows that this game means more than just the outcome of the series. For LeBron James and Dwyane Wade, it's a step closer to silencing the critics and a step closer to grabbing that which has alluded him for years—an NBA championship belt.
LeBron has had a rebirth of sorts in the playoffs. Not only have his Heat started to play the kind of inspired hoops that many envisioned when the Heatles touched down in South Beach, but LeBron has also worked to shed the image that he, the greatest player in the NBA, is not a closer.
The Heat have remained humble and focused and they will need to remain so. Chicago will present a big challenge. Yet, Miami is up to the task.
They know what tonight means. They don't intend to blow it.
For more on Game 4 as well as the rest of today's late-breaking sports news, stay right here.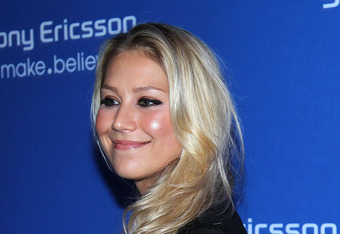 Anna Kournikova is a foolish replacement for Michaels
Anna Kournikova is a pretty fit woman. You don't have to know much about her to know that. Just look at her spreads in magazines throughout the years and you'll see that she knows how to take care of herself.
If that were the sole factor for picking a replacement for Jillian Michaels you'd have to be happy with the choice, but there should be so much more to it than that.
HOT Athletes Who Don't Crave Attention
Jillian Michaels was in amazing shape as well, easy on the eyes, but brought something that will be hard for Kournikova to replace: an intense passion for fitness and a determination to push everyone on The Biggest Loser.
Kournikova will be committed to the process, but there is a difference between commitment and dedication. I am dedicated to my family. I am committed to serving jury duty.
Michaels pushed and also brought a bit of a flare to the job that no one else on the show has. Her aggressive nature and her take no crap attitude were trademarks of the show. Although The Biggest Loser had no Simon Cowell, Jillian Michaels was the closest thing to it.
If the Biggest Loser is going to succeed they need someone who cares more than the contestant. I'm not sure that Anna Kournikova is that person.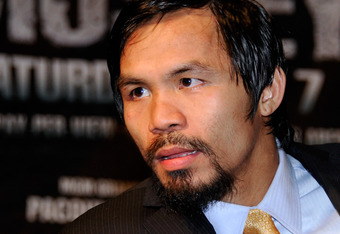 Manny Pacquiao must play nice with Golden Boy
If Manny Pacquiao is interested in growing his legend further he's going to have to do a little more than fight a broken down Shane Mosley and scrap with Juan Marquez for the third time. He must start taking on some better fighters, or at least fighters with a bigger buzz.
We'll forget about Floyd Mayweather for the moment. It's unlikely that "Money" is willing to fight Pacquiao so that only leaves the stable of fighters in Oscar De La Hoya's Golden Boy Promotions. However, there is only one problem with that crop of talent: they are not available to the best boxer in the world.
The 20 Best Knockouts in Sports History
Golden Boy and Top Rank promotions have been feuding for some time. It's not a question of when will they end their feud, but rather, if ever they are going to end it.
For the sake of boxing they should. Look, neither side benefits from this. De La Hoya is smart enough to know that the biggest money draw in the sport is Manny Pacquiao. It would be foolish to close the door on that. Manny knows that in order to continue to build his legend he must fight real competitors.
NBA Rumors won't find Brian Shaw at the top of Lakers list
Jerry Buss may have spilled the beans about the possibility of the Lakers hiring current assistant Brian Shaw.
Answer: not likely.
According to a report from the L.A Times the Lakers owner had this to say about the players publicly endorsing Shaw for the position:
To ask a direct player to select a particular coach, that's general manager territory. That's out of the player domain.
Buss is politely saying that it's not the players place to pick replacements.
NBA Draft 2011: Prospect Profiles and Bios for the Top 30 Big Board Players
Though Shaw's likely pass over for the job won't be because Kobe Bryant liked him, it will be because Kobe Bryant has been the only one. I don't say that to disrespect Shaw in anyway. There are reasons for hiring him, but not in L.A.
The Lakers are looking for a buzz coach. They want someone who the Laker faithful can get excited about. They are in a win now mode with Kobe Bryant on his last legs. They don't have time to watch Shaw go through the pains of being a rookie head coach. They can't have him take the long road to greatness.
They want a coach like Jackson was: an established entity who was looking for the right collection of players to work with. None of the coaches on the short list like Mike Dunleavy and Rick Adelman are on the same level with Jackson, but the semi-casual fan knows who they are.
Shaw will get his shot someday, but it just won't be in L.A
Derrick Rose learns life lessons from the Heatles
Win or lose this will be a series that changes Derrick Rose forever.
The Heat have taught the reigning MVP a thing or two about what it takes to get to the next level. Rose, a student of the game and constantly working to get better, must be taking notes.
For starters, Rose has learned that no matter how talented he is he cannot do it alone. It's a lesson that seems simple enough, as if it requires no teaching, but rather that a young superstar pay attention to the past. But it takes every superstar to feel the full effects of having a supporting cast that is good, but might not be good enough to win. The Bulls will need to get Rose a better second fiddle or they will pay the price for years as they watch Miami skate by them for NBA titles.
NBA Draft 2011: Prospect Profiles and Bios for the Top 30 Big Board Players
Rose has learned that his game must improve. No matter what anyone thinks of his game it's nowhere near complete. While Rose has taken great strides on defense as well as worked hard to become a solid jump shooter he must be better.
Michael Jordan, the man who built the United Center that Rose plays in, had to learn the hard way that the only way a league will fully respect you is when your game is fully respectable.
No, this is not an epitaph on a 2-1 series deficit. It's a wake up call to Rose. Even if the Bulls manage to make it past the Heat, and even to win an NBA title the writing is on the wall. Either the Bulls, and Rose, will continue to get better or the rest of the league will.
It's up to them.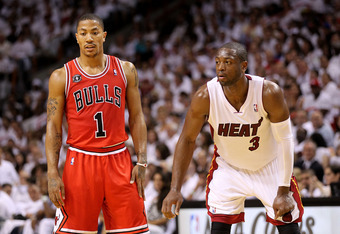 Miami Heat in no position to panic
The Miami Heat have been calling their Game 4 against Chicago a "must-win," but make no mistake, it's only a must-win for the Bulls.
Miami is aware of just how talented a team the Bulls are, and the last thing the Heat want to do is restore the confidence of a team that has still beaten them four out of the last six games.
Nonetheless, there is no must-win for the Heat. They are firing on all cylinders and a Game 4 win for the Bulls would still leave Miami a best-two-out-of-three.
NBA Power Rankings: The 25 Greatest Minnesota Timberwolves of All Time
The issue for the Bulls wouldn't be getting to Miami for one night. It would be doing it over a two- or three-game stretch. The Bulls have proven they can stretch Miami's D and that they can be effective against the big three of Miami, but the Bulls have not shown consistency in the series.
There is not a thing that will happen tonight (minus a key injury to the Heat) that will destroy the confidence or momentum of the Heat. That doesn't mean they are guaranteed to win the series, but they aren't scared anymore.
The Heat believe they can beat the Bulls. A 2-2 series won't change that at all.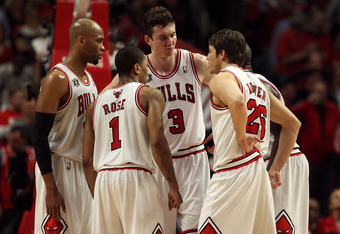 Chicago Bulls will need smaller lineup to survive
Derrick Rose has no time to feel sorry for himself. His utter ineffectiveness in Games 2 and 3 must be ignored. The Bulls are facing their biggest game in a decade, and without complete commitment by their MVP they don't stand a chance.
It's not all Derrick's fault either. The Miami Heat deserve credit for successfully completing a mission that other teams have only been able to do in stretches: double-team Rose to let someone else beat you.
No one on the Bulls has.
NBA Power Rankings: The 25 Greatest Minnesota Timberwolves of All Time
If the Bulls are going to win Game 4 they need maximum production from Rose. This means that Rose must find a way around the double-team and get to the rim.
But Rose isn't the only key to a Chicago victory. If Chicago is going to win tonight they will need the help of Taj Gibson. Gibson has been one of the bright spots in this series but was used too little in Game 3.
When Gibson is on the floor he has done a great job of containing Bosh. So whether the Bulls try and go with Gibson and Boozer to increase the offensive possibilities, or if they go with Gibson and Noah to increase the defense, there is no question that Gibson must be on the floor as much as humanly possible.
The Bulls must win tonight. Failure is just not an option.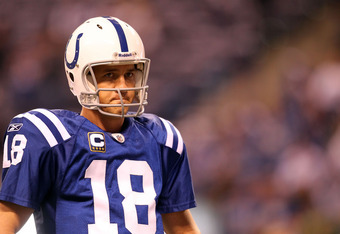 Peyton Manning may have to face reality of his own health
The last thing you want to hear about is your star quarterback having his second neck surgery in the last 15 months.
Welcome to the reality of Indianapolis Colts legend Peyton Manning.
The Colts franchise quarterback had what is being reported as "minimally invasive" neck surgery. My opinion is that's attempting to put a smiley face on disaster. I'm not sure that's easy to do.
Manning has proven himself to be one of the more durable athletes in the NFL. He's the only one who is even near the discussion of Brett Favre's ironman streak (an achievement in itself, though it's likely he'll never break it).
But the Colts must be thinking about more than just a minimally invasive procedure. They have to be worried about the albatross contract they are going to give Manning. Sure, a small procedure is not reason enough to deny a once in a lifetime player his contract, but it is reason enough to give them pause.
NFL 2011: Try Topping These Top 20 Catches of the 2010 Regular Season
What's the risk if Manning goes down? How will that impact them on the field and on their balance sheet?
While the Colts are taking steps to provide Manning with far more protection than he has had, there is nothing anyone can do about his neck now. Pinched nerves, disk issues, there is nothing good about these things.
Let's hope it doesn't linger long-term.
Something tells me that it's not going away.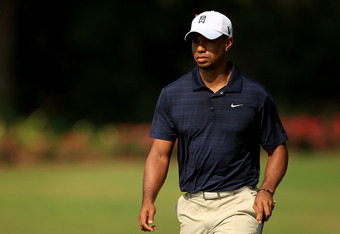 Tiger Woods won't stay away from major opportunity
Crutches, bad knees, bad swing, hell, there is literally nothing that Tiger Woods won't do to keep cracking at the record for major championships.
Reports are out now that Tiger Woods will play in the U.S Open, despite the fact that he's currently hobbling on crutches and a walking boot.
Some people will never learn. It appears that Tiger has allowed his competitive drive to cloud the good judgment he has long exhibited as a golfer. Playing to win, which is what everyone will tell you Tiger is all about, is not going out there with less than your best and hoping that you'll miraculously play well throughout.
Payne Stewart and the 25 Best Dressed Golfers of All Time
Clearly Tiger's knee, and his Achilles, might heal in time for the U.S. Open. It might allow him to swing a golf club without issue for four days, but it won't fix a broken swing, and it won't withstand the pressure of Tiger's traditional swing.
Tiger will have to make adjustments just to survive. But the expectation that he can win a major under those kind of circumstances borders on delusional.
I want Tiger to win as much as anyone. He's great for golf and makes me really care on Sunday. I just want him to give himself the best chance to win.
This will not be it.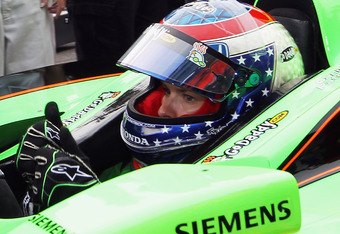 Danica Patrick could be heading to NASCAR
Danica Patrick will look for her first ever Indy 500 win. If she gets it then it could very well be her last.
According to a report on ESPN.com, Patrick is likely to make a jump to NASCAR full-time next year.
ESPN writes:
Patrick hopes to finalize a deal soon that would have her race full-time in the NASCAR Nationwide Series next season. She would also race a few Sprint Cup events in 2012 before going full-time to Cup in 2013.

The plan includes Patrick continuing to compete in the Indianapolis 500 next year. Patrick is the only woman ever to lead a lap in the Indy 500. She will compete in her seventh Indy 500 on Sunday.
HOT Athletes Who Don't Crave Attention
Patrick is one of those transcendent celebrities in the world of sports. She knows that cracking the NASCAR team could put her in a position to earn even more money.
As for these rumors that she would race in the Indy 500 after this year…I find that hard to believe. The Indy people have their pride, too, and the last thing they want to see is someone making a token appearance in their race.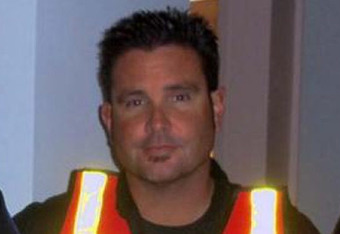 Bryan Stow's family planning to make Dodgers pay
The Dodgers could be paying dearly for the horrible beating that took place during the opening week of the season.
Bryan Stow is still a long way from recovery and may never get back to the way that he was. While wearing a Giants jersey at Dodger Stadium, the 42-year-old man was beaten nearly half to death.
Now, the Stow family is filing a lawsuit against the Dodgers for not having enough security in the stadium parking lot.
MLB: Top 20 Most Disappointing Starts to the 2011 Season
Normally I feel a little odd about lawsuits, but in the case of Bryan Stow it is more than just. It's appropriate. The Dodgers made the fatal mistake of dragging their feet on increased security for their ballpark. Perhaps McCourts' financial troubles were to blame, but truthfully it's neither here nor there. The Dodgers had a responsibility to do everything they can to protect the fans.
Sure, the Dodgers feel bad about the incident both from a professional and personal perspective, but for the Dodgers they must be held accountable. The safety of the players and the fans at the ballpark must be priority number one.
The Dodgers failed to do that.
They must pay the price.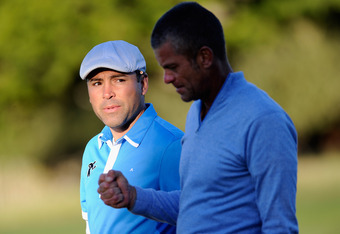 Oscar De La Hoya checks in to rehab
The road to sobriety will be a tougher task than Oscar De La Hoya ever faced inside a boxing ring. The owner of Golden Boy Promotions, and one of the most decorated and popular boxers in the world, has checked himself into rehab after a long battle with cocaine and alcohol.
After doing an honest evaluation of myself, I recognize that there are certain issues that I need to work on. Like everyone, I have my flaws, and I do not want to be one of those people that is afraid to admit and address those flaws.

Throughout my career and my life, I have always met all challenges head-on, and this is no different. I am confident that with the support of my family and friends, I will become a stronger, healthier person.
The 20 Best Knockouts in Sports History
Of course all anyone wants is for De La Hoya to get better, but anyone who knows about addiction should know just what a difficult battle he's about to embark on.
If I can use another tired boxing metaphor: Addiction isn't the fighter with a glass jaw. It's the boxer who takes a punch and keeps punching back. De La Hoya is going to have to go the distance.
Plenty of men like him have been knocked out by it. Hopefully De La Hoya will show that trademark toughness that made him a champion.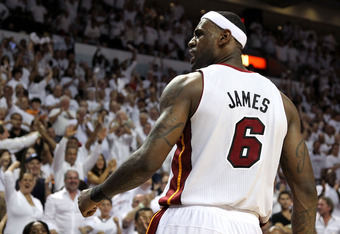 LeBron James must think defense first
The game plan for the Chicago Bulls won't change in Game 4, but the intensity to carry it out must be taken up a notch.
The Heat have found the elixir to cure them of their Chicago Bulls troubles: shut down Derrick Rose with a wall of tall double teams. The Heat, for all the press did to focus on the defense of Chicago, did a number on Chicago and their MVP point guard.
But Game 4 will be different. James and Wade are certain that Chicago isn't interested in going back home down 3-1. They will likely come out and play with a surge of confidence and a renewed energy. The Heat will have to continue to be aggressive defensively.
NBA Power Rankings: The 25 Greatest Minnesota Timberwolves of All Time
Make no mistake: If Derrick Rose gets to the rim with regularity in this game the Miami Heat will lose. They must continue to make him settle for jumpers and take their chances.
But the Heat will also need to continue to get production out of their bench unit and Chris Bosh. Both have been a beacon of light for the first time all season, but the Heat know that with a Bulls bench that is the deepest in the league and a smaller lineup likely for tonight (with Taj Gibson and Carlos Boozer in action) the Heat won't come by anything easy.
Game 4 is in their control. They cannot take their foot off the gas now.
Closers know how to take a team out when they need to. LeBron James must be able to do that tonight.