Tiger Woods: Why Tiger's Fall from Top 10 Doesn't Matter One Bit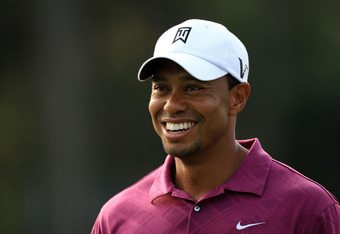 Tiger Woods Doesn't Need World Rankings
For an athlete with his competitive fire falling out of the Top 10 in the world rankings probably stings Tiger Woods. Not only does it show his colleagues that he's still far from bullet proof, but it gives all his critics even more validation.
But I would imagine that deep down, Tiger really couldn't care less about his world ranking. Sure he'd like to be number one, but that's never been his chief goal on the golf course. All he cares about is winning majors.
Obviously, it's a lot harder for him to win those majors if he doesn't play well in the regular Tour stops like the Memorial, the Colonial, the Players, etc. And wins or near-wins there would have him back in the top three or so.
But lets be honest here. Tiger could go into seclusion for every week of the year minus the Masters, US Open, British Open, and PGA and still emerge from hibernation to win.
That's basically where he's been heading for the last few years anyway, playing fewer and fewer regular Tour stops.
Yes, the more tournament golf he plays the sharper he'll be, especially on the greens, but we all know that Tiger's biggest competitor and chief rival is himself, not Ian Poulter, Lee Westwood, Bubba Watson, or even Phil Mickelson.
READ MORE Payne Stewart and the 25 Best Dressed Golfers of All Time
And although the World Rankings have some bearing on earning an entry into those majors, given what he's already achieved, his spot on the list--first, 10th, or 150th--won't have much effect on him. He has a lifetime exemption at the Masters and PGA, automatically qualifies for the US Open through 2018, and the British Open through 2035.
Barring injury, expect to see Eldrick on the course at each major for a long time. And that's what truly matters to him.
Most recent updates:
This article is
What is the duplicate article?
Why is this article offensive?
Where is this article plagiarized from?
Why is this article poorly edited?