Could Donovan McNabb Be an Eagle Again in 2011? It's Not as Crazy as You Think
June 23, 2011
Ronald Martinez/Getty Images
There are several names being rumored to be in Philadelphia in 2011.  Plaxico Burress, Reggie Bush, Albert Haynesworth, Nnamdi Asomugha, Charles Johnson and many others have all been talked about in Eagles green in 2011. 
My last article featured my thoughts on whether the Eagles should look into Plaxico Burress, which the answer was basically, if the price was right, then they have nothing to lose.
One name that has not been thought about much is Donovan McNabb.  A year ago, if I told you McNabb would be back in Philadelphia in 2011, you would have thought I was insane.  You would have told me I was completely out of mind and you would have written me nasty comments and e-mails. 
It's okay. A year ago, I would have thought the same thing.   Maybe you still think I'm nuts, but I disagree.  I started telling people at the end of last year that McNabb could be an Eagle again soon.
I know there are many things that have to happen in order for McNabb to be an Eagle.  I know it's still unlikely, but it's not impossible. 
First, it is almost a foregone conclusion that Kevin Kolb will be traded.  If Kolb stays here, then obviously there is no chance McNabb is an Eagle in 2011.  However, if Kolb is traded, that leaves the Eagles in the market for a backup quarterback.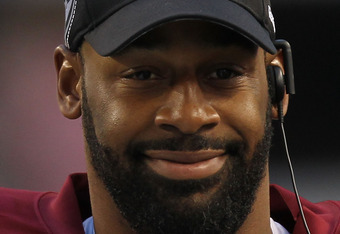 Ronald Martinez/Getty Images
They would only have Michael Vick and Kafka on the roster, and I highly doubt they are comfortable with Kafka as their backup QB, given the injury propensity of Michael Vick.
Second, we have to look at McNabb's prospects.  It is almost  certainty he will not be a Redskin in 2011, so he will be traded or released.  Realistically, the Redskins ruined any chance they had to trade McNabb last year. 
Unless the Skins take an extremely late draft pick for him, McNabb has little trade value at this point.  He is due a lot of money and no team is going to give anything of value for an older QB who has shown signs of decline.  So the smart money is on McNabb being released and thus an unrestricted free agent.
So now we have an Eagles team needing a quarterback, and McNabb needing a team to sign him.  I know what you are thinking, Donovan wants to go someplace where he can play and start.  I agree, he will definitely want to do that, but let's examine that a bit closer. 
You definitely have teams that need quarterbacks, but one of them is trading for Kolb, which rules that team out.  McNabb will likely hold out for a large contract, paying him starter money, and I think there is a good chance he plays the waiting game, thinking he will get big bucks and then falls short. 
As McNabb holds out for a good offer, teams look elsewhere and fill their needs.  Then, with McNabb low on options, the Eagles reach out to McNabb.  They offer him an incentive-laden, one-year contract worth about $2 million guaranteed with incentives that could make him a few million more. 
So now McNabb considers his options and being a backup for a Super Bowl contending team may not sound so bad for a variety of reasons.   First, he knows the Eagles system very well, and it could be a great place to go to rebuild his career and image as a legitimate quarterback in the NFL.
Second, Michael Vick has not played a full 16-game season since 2006, which was the only season of his career that Vick did not miss at least one game, so McNabb would almost definitely get some playing time to show what he can do.
I know if I was McNabb and I had to take a backup QB deal somewhere, what better place would I want to be in than Philadelphia?  Besides, Andy Reid has a great reputation working with quarterbacks and already made McNabb a star once, so who says he couldn't do it again?
The truth is I would love to see McNabb as the Eagles backup quarterback in 2011 and would have full confidence in him if Vick went down.  Besides, he did get a standing ovation when he came back to Philadelphia last year, and he is still friends with many of the player, including Michael Vick. 
He also recently worked out with Eagles players. 
McNabb in Philly in 2011?  Likely?  Probably not.  Crazy or impossible?  I don't think so.