CM Punk: Why He's the Greatest Wrestler of This Generation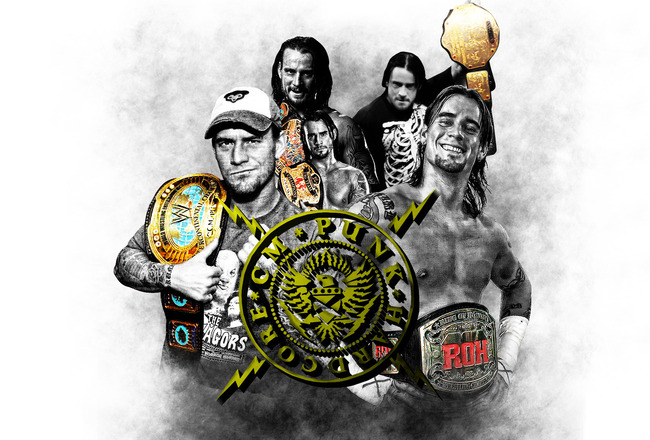 Oh, if you don't, you even dare try to say that CM Punk is not the greatest wrestler of this generation. We should all kiss the ground that he walks all. Be him permission to breath the very air that he breaths. We all should make him our children's official role model. We should take out a notepad and personally record every phenomenal word of our straight edge savior proclaims.
No, I have not become critically insane as I have became a believer, then soon a devoted follower of CM Punk. I have seen the evolution of this wrestling master piece from his humble Indy days to his rise as an international superstar in the WWE. The evidence is right in front of you to where you have either more blind than an eyeless roadkill or just plain stupid.
Luckily for you, I'm here to save you from your own pitiful ignorance, as I'll show you the light. It'll only take a dozen forceful amounts of a spoon full of medicine that is the truth. So allow me to be your savior and present to you the glory of CM Punk!
Simply Phenominal Indy Wrestling
CM Punk wrestling skills when seen on the WWE is pure awesome. Sadly, the WWE style of wrestling and banning of certain wrestling moves severely limits Punk to where he can't showcase his full potential as a wrestler. When Punk wrestled in independent wrestling promotions such as Ring of Honor, his wrestling skills were truly godlike in nature.
I'll use the critically acclaim CM Punk vs. Samoa Joe trilogy of matches to prove my point. The first two matches ended in a a draw as both reached the 60 minute time limit. The third ended around the 30 minute mark, which CM Punk Lost. He didn't lose via pinfall or submission, but by passing out of Joe's chokehold, as Punk was too much of a badass tap out, so he simply went unconscious.
I could simply go on and on with describing the moves Punk used in the match or by describing the fascinating storytelling that brought me tears of happiness as it was watching art in movement. Words won't do those three matches any justice, as it'll be a disservice if I fail to describe the nearly indescribably.
I'll simply let your eyes watch the second bout of the trilogy do the talking, as the video will show you Punk's phenomenal wrestling skills being fully shown in the Indy scene.
Promo Skills Without Restrictions
If you think Punk is marvelous on the mic generating heat from fans like the crowd is spewing fire upon him or generating cheers as if he was the reason that the Rapture didn't happen because he found time to save the world at 6 p m. in all time zones. If you've only heard Punk speak within a WWE ring shackled to the realities of PG, then you are seriously missing out.
Without any restrictions, Punk can belittle pathetic druggies, alcoholics and sex addicts posing as good nature fans to no end. He has a mouth of a sailor, but that mouth is attached to his brilliant mind that rivals the greatest thinkers in history. He's just like Midas, except his touch does not make all objects golden as everything he says is gold!
Oh, I foam at the mouth at the promo battles he could have had against Stone Cold Steve Austin back during the Attitude Era.
First Impression in the WWE Part One
When CM Punk decided to join the WWE, he had a long uphill battle to fight in terms of making it big in the WWE. He had to get used to the WWE system, which included agonizing limitations such as tweaking his move-set, which was still awesome but was not as epic as the one he had during his Indy days. While adjusting in his new home, he wrestled at the WWE's former developmental territory.
I occasionally used to catch a few of the OVW shows via the internet if I was lucky, as it was not as easy back in the early 2000's as it is nowadays. The first time I ever saw CM Punk was when the Spirit Squad tried to recruit Punk to be one of them. The priceless expression on Punk's face can only be described as "wtfable?".
He humored the male cheerleaders by actually considering joining him but said no. It was a hilarious exchange of words, and of course made me think CM Punk was not too shabby on the mic. Now remember, I was as naive and foolish as you are now, as I realize that I was witnessing a master of his craft cutting a promo like he was painting the Mona Lisa.
The next time I saw Punk would be when he called to the main roster where he already outshined the likes of Shawn Micheals, Ric Flair and other sub-par wrestlers.
First Impression in the WWE Part Two
Remember when Vince made ECW a brand the lovely honeymoon period where it was sucking worse than a promo by John Morrison? ECW legends were bringing out the hardcore marks in us all, but the new blood were generally hit and miss. Punk was one of the new wrestlers who were trying to catch the imagination of the fans.
The first time a wrestler opens their mouth to WWE fans, it either makes them or breaks them as that's an indication of how much the crowd will be into you. Punk was a face when he made his debut promo, and he basically established his straight edge lifestyle and how his addiction is wrestling.
He stood out and made people raise their eyebrows, as most never even heard of the straight edge sub-culture much less seen a wrestler who was one. Punk cemented himself in the minds of fans, as they were curious enough to want to hear and see how he does in the ring.
First Impression in the WWE Part Three
It is freaking common knowledge that wrestlers who wrestle in the Indy Scene work for promotions in Mexico, Japan and other parts of the world. That makes a wrestler pretty darn worldly, but the only downside is that if one was to decide to work for the WWE, all the freedom they had in their matches and the moves that are used severally limits a wrestler.
Take Sin Cara, for example, as he was Mexico's golden boy and a self-made intonational star. The WWE hyped the dude up to the point where we expected him to do something that was on the level of curing the world of diseases! All we saw was that he botched in the majority of his matches and did not look as phenomenal as the WWE claimed.
I don't blame Cara, as the WWE made a him skip the FCW development territory where he could have gotten used to the new style. I've looked at his past matches, and my jaw dropped. I shook my head on how mental the WWE is with their limitations.
When CM Punk had his first match, he was fortunate to have gone through a development territory, and he had a good crowd who knew of him, as they've seen him in the ROH. His first match was a success, as he showed how he is a magician in the ring, but sadly, his move-set was sub-par to the one he had in ROH.
Regardless, this was the start of a beautiful career for Punk within the WWE.
Money in the Bank Matches
CM Punk won two Money in the Bank matches for two straight years in a row at Wrestlemania 24 and 25. He utilized every ounce of his agility; he manipulated the ladders to collide into the flesh of his opponents. I know Punk would have won his world titles the hard way, but he's a man who takes every opportunity that is presented, and the Money in the Bank match was one he achieved greatness in.
The first match that Punk won gave him a chance to prove that he's better the then us all. He proved to his fans and to his pathetic haters how he is indeed fit to be a world champion. The second match where he won and awhile later cashed it in on Jeff Hardy jump started his evolution into the CM Punk that we see today.
Those two Money in the Bank matches were key victories in Punk's WWE run.
He's Awesome as a Face
When CM Punk was a face, I could not picture him as a heel, as he was great in drawing in cheers from all demographics, which is a lot harder to do, as it is common sense that earning cheers is harder as you can make anyone hate you. Punk has that likeable quality about himself and gives off the energy like he's one of the guys. People also loved the fact how he has morals, which he stands by regardless what anyone says to him.
The most memorable moment for me was the drinking challenge that JBL offered to Punk. Punk, being more of a man than any of us, said no, where the average weakling that many of us are would have weakly said yes. Punk even played along at the end, acting like he changed his mind but only to just splash the poison into JBL face.
He's Awesome as a Heel
We all know Punk is also awesome as a heel. He can makes delusional drugged up wasted fans boo him relentlessly, and the people who still cheer him (like me) are the ones who got with the program and also understood the evils that Punk stands against. It's pretty awesome how he manipulates the crown by just a smirk or by a single word. If everyone was not getting wasted by drinking poison, he would still be loved by all.
When he feuded with Jeff Hardy, he tried to save us all but decided to save only the few and worthy, which Jeff Hardy was not. Once Punk retired Jeff "junkie" Hardy, he went out to the ring on the next Smackdown as Hardy. The kids cheered, but when they realized it was not their flawed, drugged up hero, they booed while tears streaked down their pathetic faces. That was classic CM Punk.
Dressing up as Jeff Hardy generated so much hate to the point where The Miz tried the same thing as dressing up as The Rock. Punk is so awesome as a heel that other heels must borrow his own heat generating materials.
Promo Skills with Restrictions
CM Punk is the Promo king within the current roster of wrestlers. He talks intelligently for a man his age by not stooping to lame childish promos like a certain fruity pebble does. Nor does he recycle the same like a certain Hollywood reject does. Untill Jericho returns to the WWE, CM Punk has no rival when it comes to cutting a promo.
Even when being stuck with PG rules, he still can speak amazing words of truth that bring a smile to my face. The Straight Edge promos he would cut before shaving someone's head were inspirational. His time on commentary through short but sweet showed he can be funny, serious and very insightful, but just don't you dare knock down his diet soda.
My personal favorite promo from CM Punk was his epic Royal Rumble. In-between eliminations, he would preach his gospel for all to hear. It was hilarious how he would at first try to recruit Zach Ryder to his cause, but then in mid-sentence, he whacked that broski in the head with the mic then preceded to eliminate him. Punk preaching was the highlight of the match!
He's a Natrual Born Stable Leader
He was the leader of The Straight Edge Society and is the current leader of the New Nexus. He can lead, as he does not get distracted with drinking poison, as Triple H was when he went partying with his then stable mates Evolution. He has clarity to lead and has the courage to give orders to others even when the consequences were dire.
If you say that the SES imploded while he was leader or that the New Nexus is a dying table while leading the group, well, you're wrong, as Serena was fired by the WWE and Joey Mercury got injured which left Punk and Gallows around. As we know, Gallows was released shortly after the stable closed shop. The Nexus was already flat-lining till Punk became its leader to make it last up to the present point. Events outside of his control forced the stables to fail or continue failing.
The simple fact is that he's a better leader than Alexander the Great, The Pope and better than all the American presidents.
Phenominal Wrestling Skills Within the WWE
His skills in wrestling rank right up there with Bret Hart and Mr. Perfect. Punks makes every wrestler he wrestles with look better than they are. He can wrestle any style without any issues, as he can adjust himself in order to show he's better than everyone else. Yes, he's somewhat limited, as the WWE would not allow him to utilize his moves he used in ROH, but that didn't stop him from putting on amazing matches.
There are so many awesome matches from Punk that it's impossible to even find an awful one, as there are none. His Wrestlemania match against Orton was one of the only two good matches that this Wrestlemania had. His matches with Jeff Hardy were one great match after another, and Punk made Jeff Hardy look like a main eventer then a junkie who going to jail.
He continues to master his craft and put on epic showings inside the ring, which is a rarity with other wrestlers in the WWE.
He's an Awesome Individual
CM Punk will gives his all to entertain the crowd, as he wrestled for small crowds to Wrestlemania size crowds, and he always gives 1,000 percent of his energy to please his fans. He works hard for people to hate him. If he plays a heel or if he's a face, he works hard to earn their cheers. Dedicated passion for the wrestling business is something that Punk has on a level that few can match.
With the passing of Randy Savage, Punk dress in pink trunks and yellow boots in respects to the Macho Man. On Twitter, he is active with his account, as he simply acts as he would if you were to meet him and is the kind of guy you would want as a neighbor. He is a role model, as with so many wrestlers dying from drug use and alcohol consummation, it's nice to see someone who will prove that not all wrestlers do that.
He's a good wrestler but an even better human being!
CM Punk Is Better Than Us All
So you see, CM Punk is the greatest wrestler of this generation. He's a better man then Randy "career ender" Ortain, Jeff "Junkie father" Hardy and Triple "I slept my way through to the top" H. He does not pander to the weak like John Cena does. He better than all those never-wheres and has-beens that call TNA their home. He's better than me, and he's certainly better then you all.
He can cut a promo like he's speaking to world, he can wrestle with his eyes closed and he certainly is more world champion material then the rest of the jokes that reside on the roster. He's our hero, role model and savior from the vile addictions that we all have within us.
I hope this has been an educational experience and that you've been enlightened to the greatness that is CM Punk. If you disagree or think some other wrestler is better, then you're just a delusional loser, a loser who is not deserving of being a fan of punk. Disregard Punk's greatness just proves that he is better then you.
So for the rest of you who agree with me and see the light, then take your right hand off your mouse. Raise that very right hand high and proud, then declare yourself being naive and forever becoming a follower of CM Punk. You may lower your hand, but remember this.....Punk is better then you all!
Keep Reading