NFL: All 4 AFC West Teams at a Glance
May 23, 2011
Doug Pensinger/Getty Images
Draft
The Chargers addressed most of their needs, although question marks linger as to the wisdom of some of the picks and whether they might have picked up a few disposables here.
Corey Liuget, the much-heralded first-round pick, will be expected to step in and perform right away, which could easily mean the difference between success and failure for the Chargers' upcoming season.
The defensive backfield added depth with the draft of both Marcus Gilchrist and Shareece Wright, which could also substantially fortify the needs of the special teams. 
Role players like Jordan Todman remain unknowns, although they could very well turn out to be X-factors and contribute to an overall roster that is as talented as it is deep.
Offense
If anything, this unit probably improved from last year's, which could spell bad news for the AFC West competition.
Vincent Brown was added from SDSU and should add depth to the receiving corps.
Philip Rivers remains a Pro Bowl-caliber quarterback who alone can enable the Chargers to compete.
Although Darren Sproles is a free agent, the Chargers should have enough depth at running back to keep opposing defenses honest and chew up possession time when required.
The offensive line remains stable now that LT Marcus McNeil has received the contract extension he'd asked for.
Defense
Considering that this group ranked No. 1 in overall defense last season, you wouldn't think it would need much tweaking.
The picks in the draft clearly confirmed it did, meaning that the defense, too, might have improved considerably.
All-Pro performances are hardly required from the new batch of players. If they can complement the current roster, this could be a group that could decide more than its fair share of games.
Special Teams
Although the subpar performance of the kicking teams was well documented last year, the Chargers made some adjustments in the second half of the season that would enable them to remain competitive and not flush games down the toilet in the opening minutes.
With the new additions, this could be more of a playmaking unit that could make a difference in both field position and points scored.
Nate Kaeding remains a solid placekicker, his postseason failures notwithstanding. Mike Scifres had a formidable 46.7 yards per punt, yet four of his punts were blocked, meaning that opposing teams spent as much time in his backfield as the football.
This is a unit that must improve decisively if the Bolts are to return to the postseason.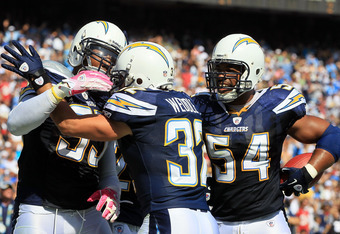 Jeff Gross/Getty Images
Summary
Regardless of the Bolts' 2010 season hiccup, San Diego still remains the team to beat in the AFC West.
The questions that need to be addressed will be how the new players can fit in, how the defense under a new coordinator will respond, whether special team woes have been adequately addressed and if head coach Norv Turner can maximize the performance of a talented roster.
Repeated failure might mean an early swan song for the Bolts season, but also a final one for Turner's tenure in San Diego.
Draft
With WR Chris Chambers clearly on his way out, it became obvious that Cassell would need a go-to guy capable of moving the chains and stretching the opposing defense.
Jonathan Baldwin can do both of these things with his game-breaking ability, although it remains to be seen what exactly his role will be in his rookie season.
The defense was also upgraded with additions Justin Houston at OLB and Allen Bailey at DE, and could again be required to carry this team. Late-round selection NT Jerrell Powe could prove to be a superb pick and will not be expected to contribute to the Chiefs' overall scheme right away, which should help the kid.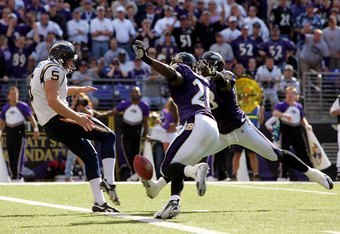 Jamie Squire/Getty Images
I still wonder how QB Ricky Stanzi wasn't picked until No. 135 overall, although this might just prove to be an added chip on his shoulder in his bid to succeed in the league. This was a very solid draft that addressed most of their needs and added room for a few gambles if some players didn't pan out.
Offense
The two-headed RB tandem of Jones and Charles was exquisite in delivering what the Chiefs required offensively.
The game plan was simple: Run the ball between the tackles with Jones and spring Charles for the big play while QB Matt Cassell protected the ball, which worked to perfection.
Time will tell just what is in store for Charles in 2011, who might be required to carry the rock more consistently than last year.
It is mind-boggling when you look at his stats: 1,467 yards on only 230 carries spell instant troubles for opposing defenses on a Playstation game, let alone on the actual gridiron. Jamaal Charles could have an MVP season, barring any injury.
Defense
Even with all-world back Jamaal Charles spearheading the offense, the Chiefs will live and die with the defense.
This was a unit that was asked to contribute last season, keep them in the game and give the offense a chance in their battles for field position.
In 2011, they might be asked to do much more.
In 2010, the proof was in the pudding: In 10 victories, the Chiefs gave up more than 20 points just once, in a 42-24 victory at Seattle.
In their losses, the defense displayed some marvelous disappearing acts that might have proven to be entertaining for their toddler fans but must have had red lights flashing in the front office.
The 30-7 drubbing at the hands of the Ravens in their only playoff game—at home, no less—showed their weaknesses and hinted that the 49-29 thrashing they had received at the hands of the Broncos earlier in the season might not have been so much a fluke as a preview for the playoffs.
Special Teams
This was also a unit that seemed capable of holding its own in 2010.
Javier Arenas and Dexter McCluster performed well as a one-two punch on kick and punt returns, although the Chiefs still lack that game-breaker to complement the playmakers on defense.
Dustin Colquitt ranked in the top 10 for punting average, which certainly helped. Ryan Succop missed six field goals for the season and might need to repeat that ratio for the 2011 season if the Chiefs are to repeat atop the AFC West.
Overall a solid but not great unit. 
Summary
For the Chiefs to repeat as AFC West champions, all units must click together the way they did in 2010.
Defense, offense and special teams must all contribute, while the coaching staff must remain true to their philosophy of both controlling and protecting the ball.
This should be a telling season for the Chiefs. Can Cassell repeat his 27-7 touchdown to interception ratio?
Can they continue their superb ground game?
How will the draft picks fit in?
How will head coach Haley perform in his sophomore season?
How will the Chiefs do with a tougher schedule?
Getting to the top of the AFC West is one thing; remaining there is another—and if there is an NFL season, we'll see just how solid this team really is.
Draft
You can't blame Al Davis for returning to his time-tried philosophy, which is drafting big offensive linemen (Wisniewski, Barksdale) and speedy defensive backs (DeMarcus Van Dyke, Chimdi Chekwa).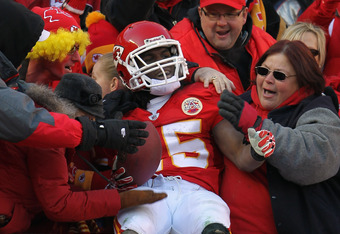 Jamie Squire/Getty Images
The draft actually fulfilled their needs, although I would still rank theirs as the weakest and most questionable in the AFC West.
You can't help but wonder if the Raiders might have whiffed on a few picks in this draft class.
Whereas the offensive linemen look good, the defensive backs picked appear to be a reach, at best. Underrated are the picks that were needed to improve the receiving corps, an absolute must if Jason Campbell is to bust out as a top-notch QB.
Offense
Zach Miller leading all receivers with 685 yards indicates where the problems might be on offense.
Of course, with runners like McFadden and Bush carrying the rock, you could afford subpar numbers in the air.
With the offensive line shored up in the draft, the Raiders now must address their needs in the air game.
This is "put up or shut up" time for QB Jason Campbell in 2011. That means he will become a bona fide starter or a career backup. While an 84.5 rating for the season is certainly nothing to sneeze at, Campbell will have to at least duplicate those numbers—or improve on them—if the Raiders are to finish anywhere near .500 again.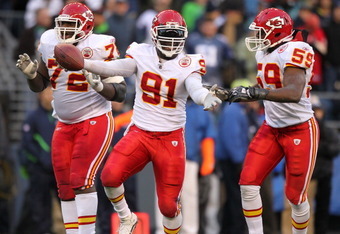 Otto Greule Jr/Getty Images
Defense
Claiming that Nnamdi Asomugha can be replaced is as hilarious as claiming that anything can substitute sugar in the Classic Coke formula.
Asomugha dictated how entire offenses operated. With him out of the picture, it's literally back to the drawing board.
It's not that this defensive unit is lacking for playmakers and leadership—with Seymour, Wimbley and Shaughnessy, there are plenty of candidates ready to man up and lead the Raiders.
That's not to say they didn't have their share of meltdowns last year: Six times (all losses), the Raiders allowed more than 30 points.
Think this unit can pull that off again without their franchise player covering one half of the field? It can't hurt to hope.            
Special Teams
These guys have been a mixed bag.
Just which unit is it exactly?
Was it the special teams that single-handedly destroyed San Diego at Alameda or the train wreck that kissed the playoffs good-bye with a 38-31 loss at Jacksonville?
The special teams have the propensity for the big play—either in scoring it or allowing it.
That inconsistency doesn't bode too well for an 8-8 team seeking to do better.
Credit where credit is due, though. Sebastian Janikowski led the league with 33 made field goals, a healthy fraction of them long ones that helped ice games. Shane Lechler, with a 47.0 yard per punt average, can still kick the ball across the bay, which should give the defense that extra skip in their step when they take the field, not to mention superb field position.
Summary
The Raiders are truly the box of chocolate Forrest Gump talked about, in that you simply don't know what you'll get with them.
Here's a team that took years to rebuild, appeared to have finally clicked on all cylinders, only to watch what amounted to a sacking of both their all-world cornerback and their head coach at the end of a respectable .500 season.
To simply state that the Raiders have the talent to compensate for any player defection is true in some cases, but an outright act of ludicrous self-denial in Asomugha's case, one that rivals the doomsday prediction on a certain preacher's Family Radio show.
This season should clearly indicate what path the Raiders are on.
The fans shouldn't be surprised if the silver on their players' helmets fades to grey, in which case they can include many more years to what we all thought was merely a rebuilding effort.
Draft
Not surprisingly, the Broncos drafted heavily for the last-ranked defense, figuring a complete overhaul was long overdue. Von Miller should be an excellent complement to returning Elvis Dumervil while Rahim Moore, Quinton Carter and Nate Irving should contribute to a slow and aging secondary.   
Offense
John Elway's statement was telling and left little room for interpretation: The quarterback must win on the field, not on the stat sheet.
This was more than just a sublime dig at QB Kyle Orton. Whereas the 87.5 rating might have looked plausible, as well as the 3,653 yards passing, the Broncos are traditionally not in the business of losing and don't intend to be in the long run.
There is little time for Denver to platoon quarterbacks or even experiment further. Orton must either add to the win column or make room for somebody who can. Of course, shoring up their 26th-rated running attack might be a good start.
The Broncos, long a haven for cranking out first-rate tailbacks, were led by Knowshon Moreno's 779 yards and five TDs—decent stats for a part-time running back, but hardly for a starter, much less in Denver.
Tim Umphrey/Getty Images
Defense
Another underachieving unit, the Broncos D allowed 471 points, 29.4 PPG and 390 YPG, all figures that put them at or near the bottom in the NFL.
Their playmakers totaled a mere 23 sacks and 10 interceptions.
This all translated to one thing in the Mile High City: a new head coach, somebody who knows a thing or two about defense. With John Fox, that mission is more than accomplished. With Elvis Dumervil returning and new faces who will instantly join this new-look defense, look for this D to surprise many people.
Special Teams
What is it with overachieving punters in the AFC West?
Britton Colquitt placed in the top 10 for punting with a solid 44.6 yards per punt average, which only gave the wretched defensive unit more opportunities to give up more yards.
The Broncos placekickers, too, converted on a combined 22 of 24 field goals, a percentage that should have had fans slobbering well into the postseason.
Hard to believe this team could only win four games 
Summary
With the hiring of John Elway, the Broncos made the first step towards the climb back to respectability.
Elway's mission is unequivocal: Retain the winning culture the Broncos had maintained for so long and witness firsthand the metamorphosis from mule back to thoroughbred.
The first step was accomplished with the hiring of John Fox, who made due with little during his reign as head coach of the Panthers.
With the solid backing of Elway and the front office behind him, he should do just fine.
Though the Broncos may be the dark horse of the AFC West in 2011, this is the team I fear the most.