Danica Patrick, Nikki Hoopz Alexander, Anna Kournikova and Today's Swagger Buzz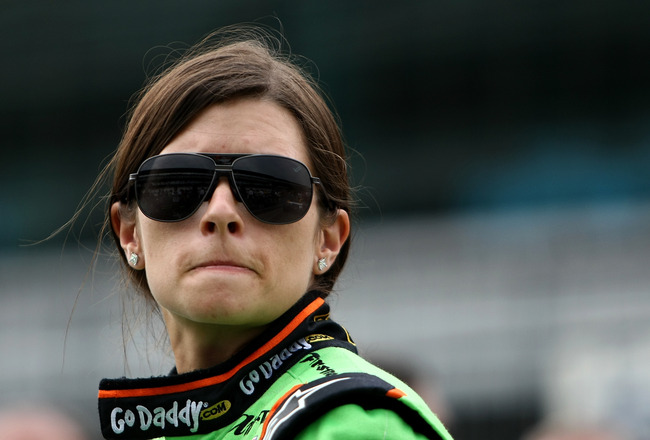 Jonathan Ferrey/Getty Images
Danica Patrick, Nikki Hoopz Alexander and Anna Kournikova are the top sports-related names making news news today.
Danica Patrick has officially qualified for the Indy 500 this weekend, and as she gets ready for the the big race, she was apparently spotted atop the Empire State Building showing a lot of fear.
What was she doing?
You can find out in the updates.
Also, Nikki Hoopz Alexander has reportedly saved boyfriend Shaquille O'Neal's life while in the bedroom.
Then there's also news that Anna Kournikova will be joining The Biggest Loser as a trainer to rival Jillian Michaels' team.
It's been a busy weekend, so we've got plenty of great Swagger news. It's time to get you updated on what's been happening.
The updates start now!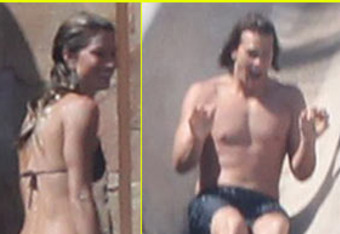 Tom Brady Keeps on Making News this Offseason
Guess what Tom Brady did now?
The future Hall of Fame quarterback went down a waterslide while vacationing in Mexico over the weekend with an extremely happy smile on his face.
It was a "kid in the candy store" kind of grin.
Wasn't it just a few weekend ago that he was spotted with an ugly hat at the Kentucky Derby? Then a month removed from showing off his dance moves in Rio de Janeiro?
Well, he's definitely making very good use of his time off and spending some quality time with his supermodel wife Gisele Bundchen.
Forget about the lockout talk. Brady, the lead plaintiff in the players lawsuit against the NFL has given us plenty of stuff to talk about this offseason.
Hopefully, Brady is planning on saving some of that energy for this upcoming season, once this lockout finally gets resolved.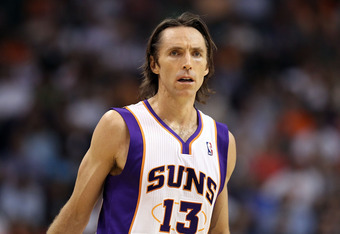 Steve Nash Follows in Sean Avery's Footsteps and Speaks Up For Gay Rights
Former two-time NBA MVP Steve Nash has never been shy about voicing out his opinions. Back in 2003, the native-Canadian made it clear that he was against the war in Iraq.
Now the future Hall of Famer point guard has gone on the record to support gay marriage in New York, just like New York Rangers hockey forward Sean Avery.
Nash says in the video:
I spend my summers in New York and I love playing in the Garden

A growing number of professional athletes are speaking out in support of gay and lesbian couples getting married. I'm proud to be one of them. Join me and the super-majority of New Yorkers who support marriage equality.
While some in the sporting community, lashed out at Avery's comments because they disagreed with his opinion, this Nash video adds more support for the gay rights movement.
Last week, former NBA star Charles Barkley said that he had no problems with having a gay teammate in the locker room. And Suns president Rick Welts came out of the closet as a gay NBA executive.
It's definitely a positive move in the direction of building awareness and tolerance for homosexuality.
In the world of sports, where athletes are associated with being macho and masculine having some high profile personalities speak up for gay rights speaks volumes of how far we've come as a society.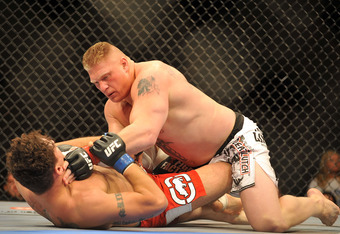 Brock Lesnar Talks About Tuesday Release of New Book
Now that the might Brock Lesnar appears to be reaching the end of his remarkable career with the UFC the next logical step for him is to release a book about how he got to where he is right now.
"Fans can expect the truth from this book," said Lesnar about his autobiography. "This is a tell-all book."
Lesnar says the books starts from his childhood and progresses to his rise up in the ranks of wrestling while in the University of Minnesota to the WWE, trying out for the Minnesota Vikings and ultimately making it big with the UFC.
Tuesday, May 24 is the release date for the Lesnar autobiography.
There's probably nothing that juicy in this book, considering how much of a straight shooter Lesnar has been in his career. All we can expect is to hear how his story is told with his own words.
If anyone wants to learn how to be a great professional fighter or wrestler, this has to be a very good read.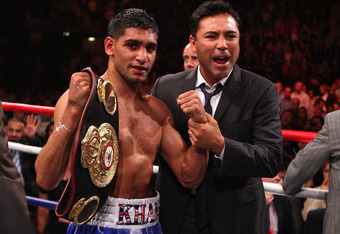 Oscar De La Hoya Reportedly Claims Drugs and Alcohol Caused Him To Be Unfaithful
A few weeks ago, TMZ broke the news that Oscar De La Hoya was hitting rehab because of a downward spiral that had to do with alcohol and drugs, specifically cocaine.
Now there are reports that the former boxing champ is saying that it was because of his substance abuse issues that he cheated on his wife.
Oscar De La Hoya began drinking and using cocaine, which then caused him to have infidelity problems in his marriage...Oscar voluntarily checked himself into a treatment facility in California for substance abuse issues a few weeks ago...Oscar has told friends he does not believe he hit bottom, but checked himself into rehab before things got totally out of control.
So, let's get this straight. De La Hoya blames his alcohol and drug use for being unfaithful to his wife Millie Corretjer.
Sounds like a cop out, in my opinion.
Drugs may have made him a bad person, but the blame should on himself and nothing else.
He was the one that was unfaithful and he was the one that did the drugs. It's a good thing that he's trying to get back on the right track.
But that should start by taking responsibility for his own actions.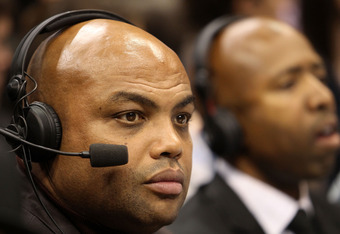 Charles Barkley Gets Feisty With Miami Heat Fans
Since the playoffs started, Charles Barkley has made it clear that he was picking the Chicago Bulls to go to the NBA Finals.
He has not reneged on that choice and has taken it a step further by criticizing the Miami basketball team and calling them a "whiny" bunch.
As a result, he's not exactly the most popular person in Miami. Fans let him have it on Sunday, jeering him from all directions and even reportedly throwing towels at him.
On Sunday for Game 3, chants were blaring: "F*** You Chuck, F*** You Chuck!" Then Barkley responded to the jeers by giving them an obscene gesture with both of his hands (see video).
The TNT NBA analyst told the South Florida Sun Sentinel that they will be moving Barkley indoors for Game 4, unlike this weekend where he was open to be attacked by fans.
"They were telling me I suck," Barkley told the Sun Sentinel. "They were telling me I never won a championship. Like, 'Come on, give me something better than that, dude.'

"I always laugh at that statement, 'You didn't get a ring. 'I'm like, dude, you work at McDonald's. My life's a lot better than yours. You relax.' "

It's fine for Barkley to run his mouth, that's what he gets paid to do. But I do have to call him out for responding with the double-handed salute, he should not have egged on the crowd like that.
As much as Miami fans feel a sense of entitlement, they got a sense of sick joy when Barkley responded in that manner because their cat calls and loud insults got the better of him.
Now fans are going to be even louder in Game 4, trying to get to his head once again.
Next time, Chuck. Just ignore them. Or, at least have Kenny do your dirty work for you.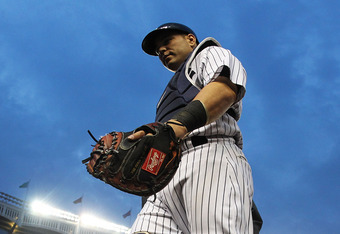 New York Yankees Catcher Dons New Yellow Nails
We all know that most major league pitchers maintain their fingernails and hands with frequent trips to the nail salon, in order to get the best grip on their most formidable pitches.
Apparently, Russell Martin of the Yankees doesn't let his pitchers have all the fun by getting manicures. The Yankees starting catcher wasn't shy about showing off his nicely done nail job on Twitter.
What's so interesting about Martin's new nails? They were bright yellow!
Here's a good look at Martin's new yellow fingernails.
Most of the time he'll either be wearing batting gloves or using his catcher's mitt for his nails to be seen on live television. But it's just straight up amusing to know that his nails are yellow.
Brian Wilson showed all of us to "Fear the Beard" last season. Now it's Russell Martin's turn to teach fans it's time to "Hail the Nails!"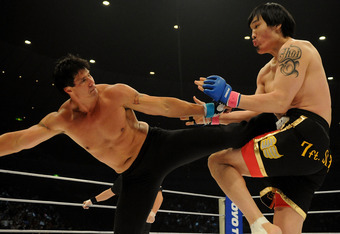 Jose Canseco Going Ga-Ga Over Lady Gaga
What's Jose Canseco up to these days?
Not sure if he's planning on getting back on the MMA ring, after losing to Korean Hong-man Choi via submission in his MMA debut. But apparently he's putting together an old timer's baseball team with at least five former MLBers.
On top of that he's getting all soft and mushy when it comes to love and music on his Twitter account.
"I love lady gaga wish I could meet her .would marry her in a second," Canseco tweeted (@JoseCanseco). "Lady gaga is the truth get use to it."
He adds:
Her song Judas is what we fight with everyday since we are born evil...

I am her night in baseball armor...

She is the queen
Interesting insight there, Jose, not sure if Lady Gaga feels the same way about you. But, then again, she strikes me as a nutty one too.
If this celebrity love affair does happen, can you just imagine how interesting their reality show would be.
Jose and Lady G will turn into our modern day Desi and Lucy show.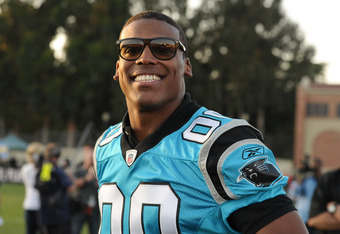 Cam Newton Shows Off Singing Prowess?
Cam Newton can throw the football, run with it, lead the Auburn Tigers to win the national championship and earn Heisman trophy honors all in the same season in college.
But as far as we're concerned he's still an unproven product in the NFL even though he was drafted first overall by the Carolina Panthers.
We can't expect magic to happen the first time Newton touches a football when the season resumes, the same way we can't expect him to be in perfect pitch when he sings into the microphone.
Call it rookie hazing.
Or, least that's what we hope it was.
For some reason the Camster was holding a mic and trying to sing at the Panini Rookie Card Shoot.
The moment Justin Bieber's Oh Baby went off, there was nothing else that Newton could do. He was trapped and he had to sing it.
For the Panthers' future, hopefully Cam can play football better than he can sing Justin Bieber.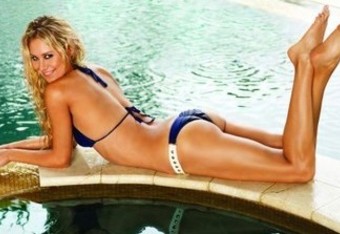 Anna Kournikova Expected to Be Named New "Biggest Loser" Trainer
Move over Jillian Michaels, Anna Kournikova is in the building.
OK! Magazine is reporting the former top-ranked tennis player and sex symbol will be joining the cast of The Biggest Loser next season. According to OK! magazine:
Anna Kournikova is gearing up for her new gig as a new trainer on The Biggest Loser! A big announcement is anticipated to be made [Tuesday] night after the season finale.
We knew Anna was up to something when she put her Miami Beach mansion up on sale earlier this month. But no one would have guessed she was planning on hitting the ranks of reality television full-time.
Current Biggest Loser trainer Jillian Michaels is reportedly planning on putting her focus on starting a family and will be leaving the show.
So who do we prefer?
My personal preference just goes to Anna. As much as Jillian Michaels has become a celebrity for all of her work in the show, I would much rather have Anna whipping me into tip-top shape.
No offense to Michaels but Anna just has that allure about her. She doesn't need to say anything, all she needs to stare me down and she can make me do anything.
And I mean anything.
Nikki Hoopz Alexander Makes Big Man Boyfriend Get Help for Sleep Apnea
Reality television star Nikki "Hoopz" Alexander, gives herself credit for saving her Shaquille O'Neal's life because he apparently suffers from sleep apnea.
In this video, Alexander says that the future Hall of Fame center snores loudly in sleep, takes a deep breath and sometimes forgets to breathe and if she doesn't hit hit him, he'll forget to catch his breath.
The 39-year-old big man may have played his last game in the NBA this year and it appears as though he's headed for retirement. Now with the insistence of his girlfriend, Alexander, he's trying to find treatment for his sleep apnea.
The ever-so-personable seven-footer just finds a way to bring hilarity into a somewhat serious disorder, telling doctors that the nasal sleep apnea mask would look good while going to a club.
All kidding aside, the sporting world lost retired football player Reggie White to sleep apnea not too long ago and it's a very good thing to see such a big name like O'Neal steeping up to advocate getting sleep apnea treatment.
There are plenty of athletes and regular people who need to get their condition treated. You have to hand it to "Hoopz" and Shaq for stepping up, speaking out and making this video.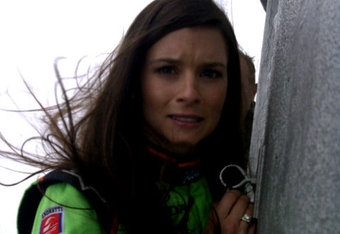 Danica Patrick Isn't Fearless After All?
Danica Patrick, one of the most successful female NASCAR drivers in history, may not be afraid to drive at speeds over 200 mph on the raceway. But apparently she's afraid of heights.
Or at least that's what this Twitpic photo suggests.
Patrick posted the following on her Twitter page: "@DanicaPatrick standing on the 103rd floor of the Empire State Building!"
It's uncertain what she was doing at the Empire State Building—she's probably celebrating the fact that she just qualified for the Indy 500.
Even though she looks like she's scared of being in high places, we know that Danica is one of the most fearless athletes around.
Cute photo, D, but I'm not buying it. You're just trying to play possum so you can take your Indy 500 opponents by surprise.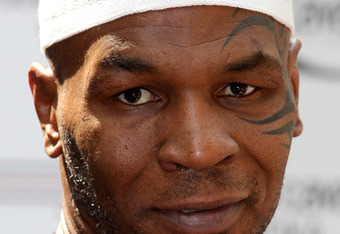 Tyson Tattoo Continues to Cause Trouble for Hangover Sequel
Mike Tyson's tattoo artist, S. Victor Whitmill, is reportedly unhappy with the use in the new movie The Hangover Part II of a face tattoo that he designed specifically for Mike Tyson. In the sequel, Ed Helms' character wakes up from another adventure with an exact replica of Tyson's tattoo on his face.
Whitmill is claiming that the "tribal tattoo" that he designed is copyrighted work, the New York Times writes:
[Whitmill] has gone to Federal District Court in St. Louis to ask a judge to stop Warner Brothers Entertainment from using the tattoo in its posters or in the movie, which would amount to stopping the film from being released, as well as to demand monetary damages for what he calls "reckless copyright infringement" by the studio.
According to the New York Times, Whitmill's legal representatives claim that he was never asked for permission or consented to use his original tattoo in the movie.
This lawsuit may ultimately set a precedent for what copyright holders can claim, even if it's on someone else's body.
Sounds like there's just going to be more talk leading up the premiere of Hangover sequel and it will generate even more buzz, which may actually be a good thing.
In Hollywood, any publicity good or bad just translates to even more money. Now, they're just going to have to settle this lawsuit outside the court and give that Tyson tattoo artist a small piece of the pie.
No big deal.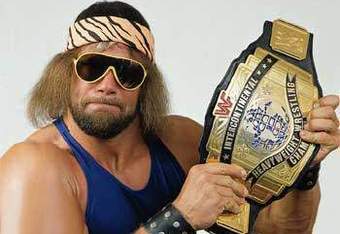 Randy Savage Autopsy Doesn't Provide Any Answers to Cause of Death
Randy "Macho Man" Savage, was pronounced dead at Largo Medical Center in Tampa after he reportedly lost control of his Jeep Wrangler on Friday morning, drove over the median and crashed into a tree.
Savage, who's real name is Randy Poffo, had his wife, Barbara Poffo, sitting in the passenger's seat of the vehicle, and she suffered only minor injuries, according to the Tampa Bay Times.
MUST READ: Randy Savage: 5 Reasons He's One of Wrestling's Most Beloved Stars Ever
The autopsy of Randy "Macho Man" Savage did not turn up enough clues to determine a specific cause of death, according to officials.
There were also reports that Savage may have suffered a "medical event" which led to the crash, however, the preliminary results from Saturday's autopsy remains inconclusive.
Savage was not believed to have been under the influence of drugs but histology and toxicology tests are also going to be conducted to shed more light on what happened.
The untimely death of Savage, 58, continues to reverberate throughout the sports community who once celebrated Savage as one of the top stars of wrestling during the '80s and early '90s.
Along with Hulk Hogan, the Macho Man played a big role in shaping the WWE that we know now.
R.I.P. Macho Man.