Fantasy Football 2011 Positional Rankings: Quarterbacks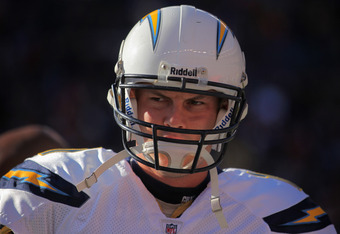 Doug Pensinger/Getty Images
| QB | RB | WR | TE | K | DEF |
The fantasy football season is quickly approaching and it is time to get your fantasy football cheat sheets together. Although there is still a lot of time before the NFL season kicks off (IF it kicks off) it is never too early to do your homework.
These are just the first round of fantasy football rankings and there will undoubtedly be some developments during the offseason that will shake up the rankings.
How the rankings work: Every year when we get together to make our fantasy football positional rankings, projections and cheat sheet we have to take a few variables in to mind.
We calculate fantasy football strength of schedules for certain players and teams, decide a realistic amount of games for injury-prone players, and take in to account the supporting cast for each player.
As the season progresses you will be able to see the change in rankings as we continue to tweak the projections.
Fantasy Football Positional Rankings: Quarterbacks 1.0
Chris Trotman/Getty Images
They say it's a quarterback's league. Well, quarterbacks are becoming more and more important to your success in fantasy football, too.
Michael Vick showed what he can do coming off the bench last season and transformed back into a franchise quarterback again. This time around, he is impressing with his arm just as much as he is with his athleticism.
Aaron Rodgers proved his critics wrong and won a championship, and a star was born in Josh Freeman.
It is still way too early to speculate on where any free agent quarterback could find themselves, so for now we can only rank the quarterbacks based on their current situations.
Carson Palmer would still be the starter for the Bengals in a world without holdouts and Vince Young would still be the starter in Nashville.
It is interesting to gauge the prowess of rookie starters like Cam Newton and Christian Ponder considering they are likely the best quarterbacks on their respective rosters.
1. Michael Vick, PHL
You may think this is just another ranking where the so called "gurus" are jumping on the Mike Vick bandwagon, but you're wrong.
It took some strong debate before Vick was crowned the top QB going in to 2011. When you look at the evidence for Vick though, you will change your mind, too.
Consider the fact that Vick went in to the season with an offense tailored to Kevin Kolb as its starter. The mere fact that Andy Reid and the Eagles' coaching staff will go in to the season knowing Vick is their starter will only improve his chances.
The Eagles' schedule is also on Vick's side. Vick will face the fourth easiest strength of schedule for fantasy quarterbacks in 2011. Bye: Week 7
2. Phillip Rivers, SD
Last season/ Rivers led the league in passing yards, ended with the second highest QB rating and had the fifth most touchdowns in football. He did all of that without a #1 receiver until basically week 14.
Sure, Antonio Gates is a great tight end, but the fact of the matter is that Phillip Rivers has arrived. This year, Rivers will face a schedule twice as easy as last season and will do so with Vincent Jackson playing the full season. Bye: Week 6
Chris Graythen/Getty Images
3. Aaron Rodgers, GB
Aaron Rodgers faced the fourth easiest strength of schedule for fantasy quarterbacks last season, and ended 2010 as the fantasy points leader.
This year. he won't have such an easy run of things, however. Rodgers and the Packers will face the seventh toughest fantasy schedule. That doesn't mean that Rodgers is going to be terrible, not by any means.
Last season, Tom Brady faced the sixth toughest fantasy schedule and he did just fine. Bye: Week 8
4. Tom Brady, NE
Speaking of Brady, he did face a tough schedule last season, and things won't be all that much easier this season, either. Brady will face the 13th toughest schedule but will face most of his tougher opponents at home.
That's looking at the bright side of things, but Brady is also an elite quarterback with a fantastic coach. I don't think were out of line with this pick. Bye: Week 7
5. Peyton Manning, IND
Last year, Peyton faced one of the easiest schedules in fantasy. This year, he will face one of the toughest. Does that mean Peyton will drop to the bottom of the rankings? Not even a little bit.
Last season, Brady, Roethlisberger and Matt Ryan all had tougher schedules and finished in the top-11. Good quarterbacks are good quarterbacks, and Peyton is elite. Bye: Week 11
6. Ben Roethlisberger, PIT
Ben's easy schedule makes him a safe pick as a fantasy quarterback this season. The Steelers are also starting to shift to a pass-first offense and feature a talented group of young receivers.
Last year Ben had the sixth most points per game so you can just imagine what that means over the whole 16, that is if he can keep his nose clean during what could be a long offseason. Bye: Week 11
7. Drew Brees, NO
Brees is a good quarterback but could take a drop this season as he faces a tougher schedule and has an ailing receiving corps.
The addition of Mark Ingram as a feature back to the Saints could hurt or help the Saints passing attack; but in fantasy it's all about production and any cut in to that is a bad thing. Bye: Week 11
8. Eli Manning, NYG
Eli won't get too much praise in reality, but in fantasy football he is a consistent top six to ten quarterback. Eli has now posted back to back 4000 yard seasons and upped his touchdown count for the third straight year.
Hakeem Nicks had a breakout year and Steve Smith will be back from injury. The down side is that after two consecutive seasons with fewer than 15 interceptions, Eli threw 25 picks last year.
If Eli can drop his interception rate but keep up production he could be a very valuable mid round draft pick. Bye: Week 7
9. Josh Freeman, TB
Freeman is the 2011 Fantasy Football King on paper. Everyone has jumped on the bandwagon and you can count us in too. Freeman was freakishly accurate last season throwing for 25 touchdowns and only six interceptions.
That could be a fluke year but Freeman has a quality group of young possession receivers so the interception count shouldn't get too high.
Freeman also rushed for over 350 yards last season, second only to Vick but never scored a touchdown. I don't expect that to continue. Bye: Week 8
10. Tony Romo, DAL
The proverbial boat was rocked in Big D last season when Tony Romo went out for the season. Expectations were high for Romo last season, as some thought he could surpass 4,500 yards and crack 30 touchdowns.
This year. the expectations aren't as high, which could pay dividends in your draft. Miles Austin and Jason Witten had quality seasons despite playing with Jon Kitna and Dez Bryant is a playmaker.
Romo has the upside to crack the top-5 again, if things don't fall apart... again. Bye: Week 5
11. Matt Ryan, ATL
Matty Ice got an early Christmas present with Julio Jones and will continue his rise in the fantasy ranks. Bye: Week 8
12. Matt Schaub, HOU
Schaub cracked the top-ten last season but will face the second toughest schedule for fantasy quarterbacks in 2010. Bye: Week 11
13. Ryan Fitzpatrick, BUF
Last year, Fitzpatrick had the 10th easiest schedule and finished 13th. This year, Fitzpatrick will have the sixth easiest schedule but hey, this is still one of the most generous rankings a Bills quarterback has had in more than a decade. Bye: Week 7
14. Sam Bradford, STL
Were a little hesitant to rate Bradford this high right now. The sophomore slump is real; I don't care what you say.
Bradford will also have a new offensive coordinator and new game plan to learn during an offseason where he can't speak to his coaches. Bye: Week 5
15. Joe Flacco, BAL
The Ravens don't have an identity on offense, they can't decide if they're a running team or a passing team. The tough upcoming passing schedule could tilt their favor. Bye: Week 5
16. Kerry Collins, TEN
All indications are that the Titans will start the season with a veteran quarterback and not Jake Locker.
Whether it's Collins, Locker or there is truth to the Hasselbeck rumors, the Titans QB will take advantage of the easiest schedule in 2011. Bye: Week 9
17. Mark Sanchez, NYJ
Sanchez will continue his climb up the leader boards in 2011 with the 10th easiest schedule in 2011. Bye: Week 8
18. Matt Cassel, KC
Adding Jonathan Baldwin in the first round may have been a reach, but it will add a weapon for Cassel. Bye: Week 6
19. David Garrard, JAX
His days are numbered in Jacksonville; could that propel Garrard to play his best season? Bye: Week 9
20. Jay Cutler, CHI
The Mike Martz experiment worked best when Matt Forte was the primary weapon, Cutler just makes too many mental mistakes. Bye: Week 8
21. Donovan McNabb, WAS
Will McNabb be the starter in Washington? Definitely not, but we feel better writing his name here than Rex Grossman. Bye: Week 5
22. Chad Henne, MIA
Henne was granted one more year when the Dolphins passed on drafting a quarterback. Bye: Week 5
23. Carson Palmer, CIN
We should say Andy Dalton here, but Palmer is still the best QB on the roster. Bye: Week 7
24. Kyle Orton, DEN
Orton could be shipped elsewhere by the start of the season in which case his value would almost zero with almost no time to learn the new system. Bye: Week 6
25. Colt McCoy, CLE
McCoy showed flashes of a star on occasion in 2010 and could surprise in 2011. His feet make him a real weapon, and he will need them since he will face Baltimore and Pittsburgh twice. Bye: Week 5
26. Jason Campbell, OAK
The Raiders allegedly were trying to draft Colin Kaepernick but couldn't make it happen. Instead they will look to Campbell, but don't be surprised to see him take the back seat to Bruce Gradkowski on occasion. Bye: Week 8
27. John Skelton, ARZ
When it is officially Kevin Kolb in Arizona, this will all just be a funny memory. Bye: Week 6
28. Alex Smith, SF
Jim Harbaugh thinks he can do it, does Smith? Bye: Week 7
29. Matthew Stafford, DET
If it weren't for bad luck, Stafford would have none at all. The Lions have the toughest schedule for fantasy quarterbacks. Bye: Week 9
30. Matt Hasselbeck, SEA
I'm starting to think Hasselbeck will still be in Seattle next year, but that doesn't mean anything good for Hasselbeck's fantasy value. Bye: Week 6
31. Cam Newton, CAR
In the end the Panthers will have shelled out more money to Newton and he will get the start over Jimmy Clausen. Bye: Week 9
32. Christian Ponder, MIN
Joe Webb isn't a true quarterback, making Ponder the only one on the Vikings' roster. Bye: Week 9
This article is
What is the duplicate article?
Why is this article offensive?
Where is this article plagiarized from?
Why is this article poorly edited?