Lance Armstrong: Does Lance Still Merit Benefit of the Doubt Regarding PED Use?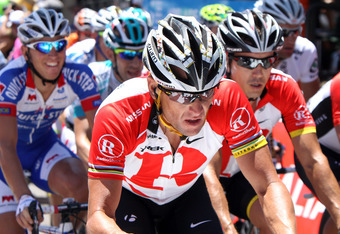 Lance Armstrong Sees More PED Charges Fly, But Does He Still Deserve Benefit Of the Doubt?
Lance Armstrong, formerly the biggest star in cycling and one of the greatest ever to ride a bike, had a rough week last week. First, former teammate Tyler Hamilton joined the ranks of former teammates and competitors who accused Armstrong of using performance enhancing drugs.
Then, over the weekend, another member of Armstrong's former inner circle, longtime wingman George Hincapie, was alleged to have testified to a federal grand jury that Armstrong used PEDs.
Armstrong's camp continues to deny all allegations against the seven time Tour de France champion, and even went so far as to claim that CBS, whose 60 Minutes news program ran the piece in which Hamilton claimed Armstrong used steroids and featured Hincapie's alleged testimony, was falsifying Hincapie's testimony.
Per their denial:
"CBS has also attacked the reputation of George Hincapie," the statement said. "We are confident that the statements attributed to Hincapie are inaccurate and that the reports of his testimony are unreliable."
While we have no way of knowing who's telling the truth, does Armstrong really deserve the benefit of the doubt in the court of public opinion anymore? It seems like more and more people from Armstrong's former team, as well as former competitors like Floyd Landis, keep coming forward, and most of their stories line up quite well.
They're not perfectly identical, but they all paint the same picture: of Armstrong using EPO, a blood-doping drug that increases the output of red blood cells in the body.
Legally, Armstrong isn't guilty of anything at this point. He's innocent until proven guilty. But, at the same time, with each new accuser, the case against him gets stronger, the doubt continues to seep in, and at some point, we'll hit the breaking point.
The key to Armstrong's hopes could be Hincapie. While CBS reported that the longtime wingman of Armstrong's told federal investigators that the seven-time Tour champ was doping, Hincapie denied talking to the network, while Armstrong's own lawyers released a statement saying that federal prosecutors confirmed the information in the report did not come from his testimony.
Hincapie remains an excellent racer on the cycling circuit. He's currently taking part in the Tour of California, and is still an upstanding member of the cycling community. If he did in fact say that Armstrong doped, there are no character issues for Armstrong's camp to go after.
Personally, I think we're quickly reaching the point where Armstrong's denials will start to fall on deaf ears. If Hincapie did say that Armstrong doped, Lance is in trouble. But, if he didn't, there's still an excellent chance all of this blows over and Hamilton's claims are discredited.
In other words, Lance still has the benefit of the doubt, but that doubt is running down swiftly.
Most recent updates:
This article is
What is the duplicate article?
Why is this article offensive?
Where is this article plagiarized from?
Why is this article poorly edited?