Anna Kournikova vs. Jillian Michaels: Who's the Hotter Biggest Loser Trainer?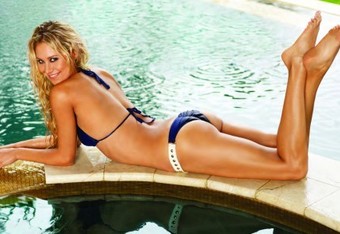 Anna Kournikova to Replace Jillian Michaels As Biggest Loser Trainer, But Who Brings Smolder Best?
Anna Kournikova, the former blonde bombshell tennis star who became more famous for her smoldering photo shoots than her play on the court, will be replacing Jillian Michaels as one of the trainers on NBC's hit show The Biggest Loser.
For those unfamiliar with the concept, it takes overweight Americans and helps them lose weight through diet and exercise, and both lovely ladies are capable of bringing the heat in a big way on the small screen helping people lose weight.
But, which one brings it best? Michaels is quite the brunette bombshell in her own right, with her washboard abs and piercing eyes. She's rocketed to stardom courtesy of the show, where she serves as one of the team captains. Jillian has certainly done an excellent job of bringing the smolder to the show in the past, where she's been the most recognizable figure on the show since it's inception.
Must Read: 25 Sexiest NASCAR Hotties.
Anyone who's seen Michaels knows she's capable of bringing the smolder in a big way thanks to that toned physique. But can she really stand up to Anna?
The blonde bombshell has been one of the hottest athletes in the world for more than a decade, maintaining her superstardom even after it became clear that she was never going to be the tennis star people thought she would be early in her career. She's still smoldering up the pages of magazines around the world, and remains one of the most recognizable figures in all of sports.
While Michaels certainly puts up a fight in this one, in the end, Anna's just got too much heat going for her. She makes a more than capable replacement for Jillian Michaels, and could wind up bringing the heat in a bigger way than Michaels could have ever hoped to do. She's got the star power and the sex appeal to get it done, and in the end, she wins this head to head clash of bombshell trainers.
Most recent updates:
This article is
What is the duplicate article?
Why is this article offensive?
Where is this article plagiarized from?
Why is this article poorly edited?