Danica Patrick, Andy Roddick, NFL Mediation and Monday's Top Sports News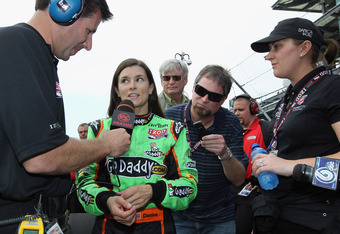 Jamie Squire/Getty Images
Danica Patrick managed to fight off some serious rain delay issues and score a position in the starting grid at the 2011 Indianapolis 500.
Patrick had the second-fastest four-lap average speed of the day and overcame a combination of technical issues and a lengthy rain delay to sit in Row 9, 26th overall in the field.
Patrick will be facing her worst starting position since she started racing Indy cars next Sunday, but don't expect that to keep her in the midst of the pack for long. She's fought her way through the field before, starting 23rd last season before winding through the pack for a sixth-place finish, and her results in the greatest spectacle in the sport have always been excellent.
Now, the question simply becomes: Will this be Danica's last Indy 500, or will she continue to race open-wheel cars in the future?
We all know Patrick has found more success behind the wheel of an Indy car than any female driver in history, but her results have slipped since she's started in NASCAR. Will she be able to deliver the win at Indianapolis we all know she wants to score?
If that's not enough to whet your sports appetite, the French Open got underway yesterday without top-ranked American Andy Roddick, leaving the U.S. without a true contender on the red clay of Roland Garros once again this season.
Roddick had made a habit out of crashing out early at the French Open, but at least we knew he would have a chance. With an uninspiring cast of characters behind him, there isn't an American in the field who has a true shot at winning.
On top of that, the NFL's owners and players sat back down at the bargaining table last week to resume mediation talks only to end the talks until June 7.
The decision to end talks comes as little surprise, as the money and power hungry owners want to wait until they find out just how much power they're bringing to the bargaining table. Hopefully they haven't completely destroyed their brand in the process of trying to get another billion dollars a year in their coffers.
In other words, it's shaping up to be a wild day in the sports world.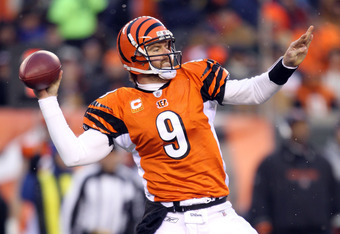 NFL Trade Rumors Ponder Likelihood of Carson Palmer Landing In Arizona
Despite the current transaction ban as part of the NFL's labor dispute, NFL trade rumors continue to rocket around the sports world like pinballs.
One of the biggest names popping up in those rumors is Cincinnati Bengals quarterback Carson Palmer. The former Pro Bowl quarterback has fallen on hard times in Cincinnati, and has demanded that the team trade him soon, or he'll retire before next season.
Naturally, this has caused plenty of speculation surrounding potential landing places, and of those destinations, Arizona might just be the best fit.
The Cardinals have plenty of pieces in place offensively for Palmer to shine. Larry Fitzgerald is a stellar wideout, one of the best in the sport, and something tells me Palmer would be thrilled by the upgrade from Chad Ochocinco and Terrell Owens to Fitzgerald and speedster Steve Breaston.
Must Read: The Top 50 Home Run Threats in NFL History.
On top of that, Arizona not only seems to need a quarterback (because John Skelton and Max Hall didn't inspire much confidence last season), they've got the pieces needed to pull off a deal to land Palmer. He's still got a strong arm, and many seem to think his issues in Cincinnati last season can be easily fixed by a change of scenery.
But, of course, there are plenty of red flags, too. Anyone who watched Palmer last season saw a quarterback who struggled for much of the season with his timing, and who seemed almost gun-shy about throwing the ball or standing in the pocket. He didn't look like the same quarterback he'd been in years past, and it remains to be seen whether a change of scenery will actually fix his issues.
On top of that, there's the Mike Brown factor to consider here. The Bengals owner and general manager is still convinced that he can convince Palmer to stay in Cincinnati (despite the fact that Brown might be the worst owner/general manager in football), and has no plans to trade him, or anyone else, for that matter.
In the end, if Cincinnati decides to deal Palmer, Arizona is a logical destination. But, given what we've heard from Brown about Palmer, that's a serious if at this point.
This article is
What is the duplicate article?
Why is this article offensive?
Where is this article plagiarized from?
Why is this article poorly edited?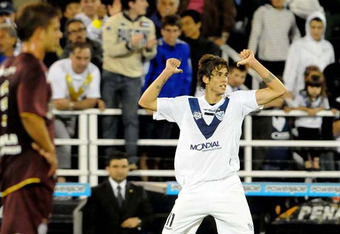 Arsenal Transfer News Sees Gunners Set to Land Argentine Midfielder Ricardo Alvarez
Arsenal are almost always at the center of the world's transfer news for one reason or another, and as the transfer window approaches this year, it's clear the Gunners will be movers and shakers once again.
In fact, according to a report from Metro Sport, the Gunners look set to sign promising Argentine midfielder Ricardo Alvarez from his home club of Velez Sarsfield.
Alvarez figures to be in line to replace Tomas Rosicky, Andey Arshavin or Carols Vela in the Gunners' midfield, as Arshavin failed to impress on a consistent basis once again this season. The 23-year-old Argentine scored just three goals in 25 appearances for Velez last season, but he's still drawn comparisons to Lionel Messi in terms of skill level, particularly with the ball at his feet.
If you're Arsene Wenger, this move could be a potential coup. Alvarez represents a fairly low-cost upgrade over any of the Gunners' current midfielders not named Jack Wilshere, and possesses the kind of ball-handling and passing skills to make the Frenchman swoon.
He has the versatility to play anywhere in the midfield, and has the size to even be a force on set pieces in the middle. Pairing him with Wilshere could immediately give Arsenal one of the best young midfield tandems in the sport, with the talent to run roughshod over the Premiership for years to come.
While the move certainly represents a win for Wenger and Arsenal, it does little to fix the team's biggest issues, in the back line and between the sticks. While Wenger has his sights set on several different defenders, but until he actually acquires one of them, this team will continue to let it's rabid fan base down in the hardware department.
That being said, Alvarez represents a major score for Wenger if the reports are proved to be correct. He's got the skills to star in Europe, and figures to be a valuable asset in the midfield at Emirates for quite some time.
This article is
What is the duplicate article?
Why is this article offensive?
Where is this article plagiarized from?
Why is this article poorly edited?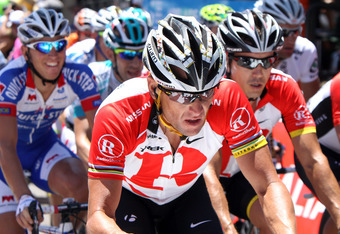 Lance Armstrong Sees More PED Charges Fly, But Does He Still Deserve Benefit Of the Doubt?
Lance Armstrong, formerly the biggest star in cycling and one of the greatest ever to ride a bike, had a rough week last week. First, former teammate Tyler Hamilton joined the ranks of former teammates and competitors who accused Armstrong of using performance enhancing drugs.
Then, over the weekend, another member of Armstrong's former inner circle, longtime wingman George Hincapie, was alleged to have testified to a federal grand jury that Armstrong used PEDs.
Armstrong's camp continues to deny all allegations against the seven time Tour de France champion, and even went so far as to claim that CBS, whose 60 Minutes news program ran the piece in which Hamilton claimed Armstrong used steroids and featured Hincapie's alleged testimony, was falsifying Hincapie's testimony.
Per their denial:
"CBS has also attacked the reputation of George Hincapie," the statement said. "We are confident that the statements attributed to Hincapie are inaccurate and that the reports of his testimony are unreliable."
While we have no way of knowing who's telling the truth, does Armstrong really deserve the benefit of the doubt in the court of public opinion anymore? It seems like more and more people from Armstrong's former team, as well as former competitors like Floyd Landis, keep coming forward, and most of their stories line up quite well.
They're not perfectly identical, but they all paint the same picture: of Armstrong using EPO, a blood-doping drug that increases the output of red blood cells in the body.
Legally, Armstrong isn't guilty of anything at this point. He's innocent until proven guilty. But, at the same time, with each new accuser, the case against him gets stronger, the doubt continues to seep in, and at some point, we'll hit the breaking point.
The key to Armstrong's hopes could be Hincapie. While CBS reported that the longtime wingman of Armstrong's told federal investigators that the seven-time Tour champ was doping, Hincapie denied talking to the network, while Armstrong's own lawyers released a statement saying that federal prosecutors confirmed the information in the report did not come from his testimony.
Hincapie remains an excellent racer on the cycling circuit. He's currently taking part in the Tour of California, and is still an upstanding member of the cycling community. If he did in fact say that Armstrong doped, there are no character issues for Armstrong's camp to go after.
Personally, I think we're quickly reaching the point where Armstrong's denials will start to fall on deaf ears. If Hincapie did say that Armstrong doped, Lance is in trouble. But, if he didn't, there's still an excellent chance all of this blows over and Hamilton's claims are discredited.
In other words, Lance still has the benefit of the doubt, but that doubt is running down swiftly.
This article is
What is the duplicate article?
Why is this article offensive?
Where is this article plagiarized from?
Why is this article poorly edited?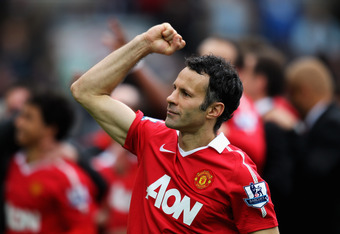 Ryan Giggs Named as Premier League Star at Epicenter Of Twitter Privacy Debate
Ryan Giggs, the longtime Manchester United star, has found himself at the center of a debate in English Parliament regarding violations of court-ordered privacy injunctions via Twitter, after he was outed as the English footballer named as having had an affair with former Big Brother cast member Imogen Thomas by a member of Parliament over the weekend.
John Hemming, the MP for Birmingham Yardley, named Giggs in a question to attorney general Dominic Grieve, as part of a larger debate regarding privacy injunctions and Twitter.
Giggs had been linked to Thomas by thousands of Twitter users earlier in the weekend, despite an injunction that forbid any media outlet from releasing his name to the public in relation to the scandal.
Per the Telegraph's report:
"With about 75,000 people having named Ryan Giggs on Twitter, it's obviously impractical to imprison them all," Hemming said.

He also went on to declare that Giles Coren, the Times columnist, was the journalist supposedly threatened with contempt of court proceedings in relation to another privacy injunction – although Grieve had previously told MPs that he was not planning legal proceedings against a journalist in relation to this case.
While Giggs' alleged affair is certainly newsworthy, the larger story here regards Twitter as a means to disseminate news. The way things stand in Britain right now, if an injunction is placed on using a player's name in regards to something like an affair, newspapers are forbidden from reporting on it. But, social media users can proceed as normal with little fear of retribution, because they publish in such massive numbers at once, making prosecution difficult, if not impossible.
This has the potential to turn into a fascinating debate about privacy issues and social media websites, as Giggs is hardly the first big-name athlete to have himself named in relation to an affair via Twitter. Obviously, it's impossible to stop people from posting about issues like this, so what sort of action can be taken? Could the injunctions be stopped, since the information will be disseminated no mater what?
Giggs surely couldn't have envisioned his injunction turning into something like this, but it should be quite interesting to see where his affair with Imogen Thomas will lead us going forward.
This article is
What is the duplicate article?
Why is this article offensive?
Where is this article plagiarized from?
Why is this article poorly edited?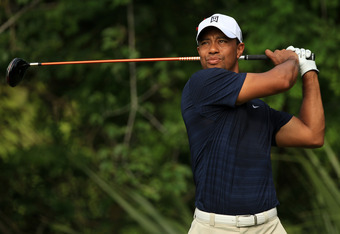 Tiger Woods Slips From World Golf Rankings Top 10, But Is He Really Not a Top 10 Golfer Anymore?
Tiger Woods has had a rough couple of weeks. First, he bombed through nine holes of The Players Championship, shooting six-over, and withdrew with nagging knee and ankle injuries. Then, after this weekend's tournament, Woods saw his place in the World Golf Rankings slip to 12th, the lowest it's been since before he won the 1997 Masters.
But, is Woods really no longer a top 10 golfer? Are there really 11 players in the world who are better than he is?
If you believe that, you're kidding yourself.
Look, I realize Tiger's in a rut right now, and that with his light tournament schedule, it was just a matter of time before he crashed out of the top 10. But to insinuate that, when he's healthy, he's not one of the top 10 golfers in the world is both ridiculous and flat-out wrong.
For proof, one need look no further than the Masters back in April. With a swing that looked better than ever, and a fully healthy body (at least until Sunday), Woods roared back from a significant deficit on Sunday and showed everyone why he remains one of the best golfers in the world.
Must Read: Payne Stewart and the 25 Best Dressed Golfers of All Time.
Tiger still has more teeth than people are giving him credit for. He's capable of making shots and doing things few others can do, and showed us at Augusta that he's still the golfer we all remember.
We all know the rankings aren't always the most accurate measure of a golfer's place in the world's best, and in Woods' case right now, that is certainly the case. Tiger has his roar back (even if he's still fighting his left knee and ankle), and once he's fully healthy, you can expect him to remind us why he was the most dominant golfer of our generation.
In terms of talent, it's hard to argue any of the 11 golfers above Woods are his superior. All of them have holes in their games, and none inspire much confidence. While Tiger hasn't exactly done much to slow his slide, once he's healthy, he's fully capable of climbing back into the top 10.
The rankings are based off of recent results, though, and Tiger's haven't been good. He deserved to fall, but you can expect him back among golf's elite once he's healthy again, and playing the way he showed us he could at Augusta in April.
This article is
What is the duplicate article?
Why is this article offensive?
Where is this article plagiarized from?
Why is this article poorly edited?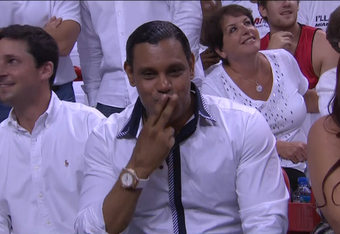 Sammy Sosa Appears at Heat-Bulls Game Rooting For Miami, But Is He the Biggest Traitor Fan In Chicago Sports History?
Sammy Sosa was the hero of Chicago in the late 1990s and early 2000s. The best hitter the Chicago Cubs had, Sosa was bashing baseballs a mile and helping save the game of baseball from the brink of irrelevance. Even as accusations of steroid use rained down, Sosa managed to keep the love of Chicago sports fans.
But, on Sunday night, whatever goodwill fans had left towards Sosa evaporated in an instant. Cameras at Game 3 between the Miami Heat and Chicago Bulls saw Sosa, dressed in the traditional white garb of Heat "fans", sitting courtside doing his trademark finger kiss for the camera. There was no word on whether he came in the second quarter and left before the end of the game like most of Miami's fans, though.
This wasn't a one-time thing, either; Sosa made appearances at Miami's games with the Boston Celtics in the Eastern Conference semifinals as well, marking him clearly as one of the myriad bandwagon Heat fans that have come out of the woodwork this season.
Must Read: The 20 Funniest Double-Entendres in Sports.
Given the resentment the rest of the NBA holds towards the Heat, Sosa's fandom marks him as a traitor on par with LeBron James during the Indians-Yankees first-round series back in 2006, when King James adorned his royal head with the Bronx Bombers' iconic cap, angering his city in the process.
Look, I get that you can root for whatever team you want to, and if Sosa wants to root for the Heat, that's his perogative. But in doing so, he's placed himself in the camp with the enemy to Chicago sports fans at this particular moment, including Cubs fans who defended him for years.
You'd think if there was a time when Sosa would keep his fondness for the biggest anti-heroes in the NBA quiet, it would be for this series. Maybe try to avoid the camera, or sell your tickets to the Eastern Conference Finals, only to reappear in the next round, assuming Miami advance.
Sure, it's not really that big of a deal, but remember that many of Sosa's remaining supporters came from the Cubs' fan base. Something tells me they won't be standing up for his antics, from the corked bat to the steroid charges to the time he tried to bleach himself anymore.
In the end, the fact that he's managed to completely alienate his previous fan base in such convincing fashion makes him one of the biggest traitors in Chicago sports history.
This article is
What is the duplicate article?
Why is this article offensive?
Where is this article plagiarized from?
Why is this article poorly edited?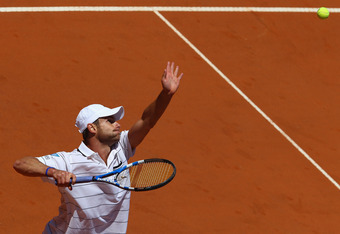 Andy Roddick Absent From French Open, But Has Anyone Even Noticed?
The 2011 French Open got underway Sunday at Roland Garros with one notable absence from the men's draw: Andy Roddick. The American withdrew from the clay court Grand Slam last week, after failing to sufficiently heal from a shoulder injury suffered at the Italian Open in Rome two weeks ago.
But, while the world's 11th-ranked player (and top-ranked American) seems to be a notable absence, the fact is that few have actually missed him so far this week. Why is that, you ask?
Simple: Andy Roddick never stuck around long enough at the French Open to make any semblance of an impact. His big, powerful serve is slowed significantly by the red clay at Roland Garros, as is his mighty forehand, thereby removing his two best weapons and rendering him a mere mortal on the surface.
Must Read: French Open 2011 Odds: The 15 Men Most Likely to Win on the Clay.
In fact, Roddick has never found success on clay; his best finish at the French Open was a fourth round exit, well below most people's expectations for a player who has been a fixture in the top 10 of the world rankings for most of the last decade.
It's not that Roddick isn't skilled; we know he's got an excellent serve-forehand combination, but he's just not suited to this surface. He's lost four times in the first round of the tournament, and has made it to the fourth round all of once, in 2009.
In the end, Andy's absence might spell trouble for the American hopes at any other Grand Slam, but at Roland Garros, it doesn't really impact their chances all that much anyway. He struggles on this surface, and has never found success at the French Open. Even if he'd showed, there's a good chance Roddick would have crashed out against a qualifier like he's done in the past, so it's hard to say he'd be missed at all.
This article is
What is the duplicate article?
Why is this article offensive?
Where is this article plagiarized from?
Why is this article poorly edited?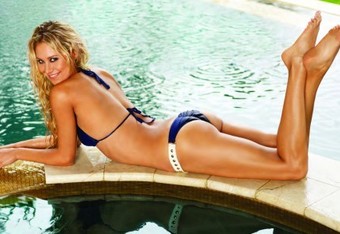 Anna Kournikova to Replace Jillian Michaels As Biggest Loser Trainer, But Who Brings Smolder Best?
Anna Kournikova, the former blonde bombshell tennis star who became more famous for her smoldering photo shoots than her play on the court, will be replacing Jillian Michaels as one of the trainers on NBC's hit show The Biggest Loser.
For those unfamiliar with the concept, it takes overweight Americans and helps them lose weight through diet and exercise, and both lovely ladies are capable of bringing the heat in a big way on the small screen helping people lose weight.
But, which one brings it best? Michaels is quite the brunette bombshell in her own right, with her washboard abs and piercing eyes. She's rocketed to stardom courtesy of the show, where she serves as one of the team captains. Jillian has certainly done an excellent job of bringing the smolder to the show in the past, where she's been the most recognizable figure on the show since it's inception.
Must Read: 25 Sexiest NASCAR Hotties.
Anyone who's seen Michaels knows she's capable of bringing the smolder in a big way thanks to that toned physique. But can she really stand up to Anna?
The blonde bombshell has been one of the hottest athletes in the world for more than a decade, maintaining her superstardom even after it became clear that she was never going to be the tennis star people thought she would be early in her career. She's still smoldering up the pages of magazines around the world, and remains one of the most recognizable figures in all of sports.
While Michaels certainly puts up a fight in this one, in the end, Anna's just got too much heat going for her. She makes a more than capable replacement for Jillian Michaels, and could wind up bringing the heat in a bigger way than Michaels could have ever hoped to do. She's got the star power and the sex appeal to get it done, and in the end, she wins this head to head clash of bombshell trainers.
This article is
What is the duplicate article?
Why is this article offensive?
Where is this article plagiarized from?
Why is this article poorly edited?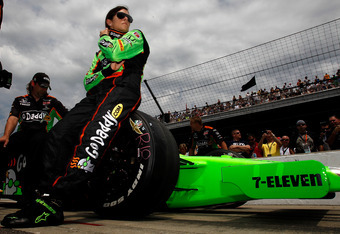 Danica Patrick Qualifies 26th For Indy 500, But Can She Rally to Score First Win at Brickyard?
Danica Patrick's week of qualifying for the 2011 Indianapolis 500 did not go according to plan. She had technical issues for a good portion of the week, and when her care failed to meet specifications, it remained to be seen whether Indy Car's most recognizable face and most marketable driver would even be allowed to qualify.
Fortunately for her (and for the sport), Patrick took advantage of a pause in Sunday's storms in Indianapolis to run the second-fastest average speed on Bump Day to grab the 26th spot on the board.
Of course, qualifying is only half the battle for Patrick this year, and with the worst starting spot of her career, many are wondering whether Danica can actually be a factor in this race. With 25 other cars to wind through to get to the front, can she actually pull out a victory, or is she too far back to be a factor?
There's plenty to like about Danica's chances. She was one of the fastest cars on Bump Day, and has always fared well in Indy. She's come painfully close to securing a win in years past, even leading 19 laps her rookie season, and is typically up near the leaders when the checkered flag flies.
On top of that, she showed last season that she can still be a factor when she's stuck near the back of the starting grid. In 2010, Patrick started 23rd, then her worst starting spot at Indy in her career. But, she weaved her way through traffic and managed to finish sixth on the day. We know she can get to the front of this pack in a hurry, and that she's fully capable of stealing the win if she gets up there.
But, at the same time, there are some warning flags. Danica's focus has seemed to be off this season, as she attempts to balance NASCAR and Indy Car schedules. She's posted just one top 10 finish in the season's early going, and is fresh off a disappointing 23rd place finish in Sao Paolo. If she's not focused in this one, she's going to be in big trouble.
In the end, I don't think focus will be an issue for Danica come next Sunday. She's shown herself capable of doing great things on this track, and seems fairly focused now that she's out on the track. As long as Danica avoids mechanical issues, she should be able to fight her way to the front once again.
I don't think Patrick would be considered my pick to win at Indy, but given her success in the past, you certainly can't discount her. Given that this could potentially be her final shot at taking the Indy 500 crown, expect her to do everything in her power to take home the title this time.
This article is
What is the duplicate article?
Why is this article offensive?
Where is this article plagiarized from?
Why is this article poorly edited?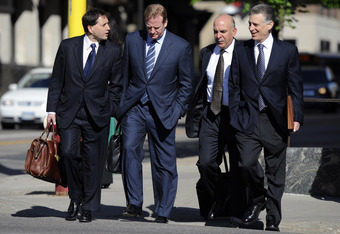 NFL Mediation Talks Break Off Once Again, But No One Should Be Surprised At This Point
The NFL's owners and players began a fresh round of mediation talks early last week, but by the end of the week, reports surfaced that the court-ordered talks had broken down once again by Tuesday.
Now, there won't be a new deal before June 7, at the earliest, and depending on the judges' ruling in the NFL's appeal of the lockout injunction, it could be quite a while after that before we actually get a deal done on a new collective bargaining agreement.
Of course, if you've been paying attention at all over the last three months, the fact that talks broke down again came as no surprise whatsoever.
The owners weren't entering mediation because they actually wanted to get a new CBA brokered through the talks, they were simply there because of the court order. We've known all along that the owners weren't in this to get a new, fair CBA in place; instead, they're trying to grab as much money as they can, by whatever means necessary.
Must Read: The Top 50 Home Run Threats in NFL History.
The owners haven't been trying to get a deal done at any point during the course of the labor dispute. Now, with a hearing date in sight, the last thing they're going to do is compromise when they could potentially score a trump card victory in court.
They're out to break the players union (or trade association, or whatever it is now) and get as big of a piece of the pie as they can, even if they hurt the league in the process.
If this was actually about fairness, don't you think the owners would have negotiated a new CBA after Judge Nelson's ruling? Instead, they're choosing to continue litigation, while claiming that they're trying to end the litigation.
The fact of the matter is that this thing is going to continue to drag on for quite some time. The owners aren't going to compromise on anything until the Appeals court rules, and even then, it could still be months before we get a deal done.
In other words, it's time to settle in, because if the NFL continues acting like this, we're going to be in for a long wait before the lockout ends.
This article is
What is the duplicate article?
Why is this article offensive?
Where is this article plagiarized from?
Why is this article poorly edited?