The Top 20 Summer Sports Hotties
As the summer heats up, we will be trading in our pencils and notebooks for baseball bats and swim suits. Summer time means time to go outdoors and play, and watch our favorite outdoor sports and athletes play under the summer sun.
The athletes are what make us come to the ballparks, courts, and arenas, but without the support of the fans, it would all mean nothing.
Here are the 20 summer sports hotties that you should be looking out for in 2011…
Begin Slideshow

»
Everyone knows Misty May from her playing days in the Olympics. Though she won't be going for Olympic gold this summer, she is sure to hit the beach and show off that incredible body.
Rafael Nadal's girlfriend is splashing around in the ocean, and she is looking good doing it. This is Nadal's time to shine, and with the support of this lovely lady, the rest of the field should look out.
What makes her even better is that she has a twin sister. She is one of the best female surfers in the world and certainly one of the hottest.
She has been riding waves since age five and competing since she was seven. This surfing prodigy has won dozens of awards and is the girl to keep an eye on going into the summer of 2011.
Doherty got on the surfboard at a young age and hasn't stopped doing what she loves since. The 18-year-old up-and-comer was on Team USA for the Quiksilver 2009 ISA World Games in 2009, making her known to the surfing world.
She will hopefully be a household name soon enough, so keep your eyes to the water.
There is no World Cup this summer, but soccer rages on with the English Premier League, among other international club competitions. She seems to be divided in her support, but I think we will forgive her.
Despite the slow start, it looks like Red Sox nation is alive and well. Take me out to whichever ball game she is going to be at.
There wouldn't be a rivalry without two competitive teams and equally hot fans. Ms. Yankee would not let herself be outdone by a Red Sox fan, and for that we thank her.
Petroni is a model, fashion designer, and surfer: talk about the full package. This is the kind of girl that you wish was your snorkeling instructor.
The sexy American beach volleyball star will be gracing us with her presence throughout the summer, as she hits the courts and shows us that beach volleyball is the sport of the summer.
This 21-year-old surfing goddess was voted one of the best and hottest surfers in the world. Talent, beauty, and a drop-dead gorgeous body…sign me up.
Milano is a die-hard California sports fan. With the way she looks in Dodger blue, they should consider signing her to a contract.
The 2011 Women's World Cup is being played this summer, and we pay homage to the woman who has to defend America's net and look damn good doing it.
Remember when you used to go down by the lake with your parents and go wakeboarding? Well, she has turned this great summer activity on its head.
Not only is she an incredible wakeboarder who flips in the air with ease, but she looks unbelievably good doing it.
She is married to tennis star Andy Roddick and presumably will be in the stands watching her man throughout the Grand Slam season. Roddick is banking that his opponents will peak over at his wife and lose focus.
They call the duo "Team Gorgeous" for a reason. Posing in Playboy does raise their stock, and while their play does not get as much recognition, we certainly want them to feel special.
This may not be the girl you are going to see at the county pool, but Beard will be doing her thing in the water somewhere. Swimming is one of the best ways to cool off in the summer heat, but seeing this hottie may make it difficult to get any relief.
She is a TV personality and sports reporter; talk about every man's dream girl. She will be spending her summer on the soccer field, reporting for her boyfriend Iker Casillas' Real Madrid squad, trying not to distract everyone.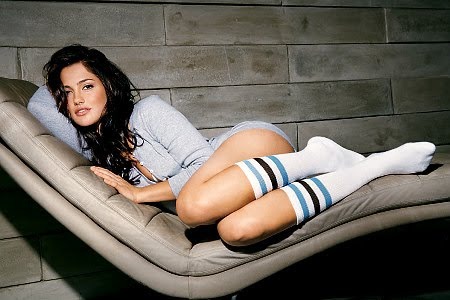 Kelly, the fiancée of Derek Jeter, will be watching a lot of baseball games this summer and rooting on Jeter as he closes in on 3,000 hits.
Yankees fans are hoping to see Kelly sitting in the stands throughout the season to make the best experience in sports that much better.
Surfing isn't just for the boys anymore. This hot Hawaiian, has been tearing up the surfing circuit and making a name for herself as both an incredible performer and one of the most attractive women on earth.
Look out for her this summer at your local beach.
Follow me on Twitter @ AustinSchindel and Bleacher Report Swagger @ BR Swagger