WWE Over the Limit 2011: John Cena Retains His Title Against Miz and Riley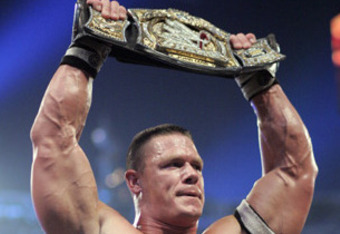 -Hype video sets up the main event.
I Quit Match for the WWE Title
John Cena vs. The Miz
I'm probably not going out on a limb here by saying I don't like the Miz's odds tonight. Jim Ross is announcing the main event, so at least we know the main announcer will try to get the match over and not himself. The Miz helpfully recaps the rules of an I Quit match for us but then announces this is essentially a handicap match since there are no DQs and Alex Riley can do whatever he wants.
Of course, our hero says no and cleans house on the heels to start. Gutwrench suplex leads to Cena locking in the STF on Miz but Riley breaks it up right away and the beatdown starts. Cena manages to dump Riley to the outside and the SOS Comeback on Miz sets up an Attitude Adjustment but Miz counters and hits a neckbreaker. Skull Crushing Finale is countered to an Attitude Adjustment but Riley returns and beats the hell out of him with the steel briefcase. Of course, John Cena WILL NOT DIE.
To the outside, Cena gets rammed into the ring barrier but even that colossal fall isn't enough to kill John Cena. Miz preps the announce table which isn't even fair because JR doesn't speak Spanish. The heels beat him down with the monitors which makes me think, why hasn't Vince moved on to the flatscreen monitors? Do we still need those giant ones that look like they weight 60 lbs. and have the picture quality of a 1988 camcorder?
Anyways, Cena makes a brief comeback but Miz stops him and DDTs him on the ring steps in a spot that should put a normal wrestler out for months. However, John Cena WILL NOT DIE! Miz offers him a chance to quit before Riley slams the ring steps on him but he says no both before and after the steps are dropped...MOVE OVER SUPERMAN, THERE'S A NEW SHERIFF IN TOWN!!!
Yet again, Miz offers Cena the chance to quit before he beats the hell out of him with a kendo stick, Cena responds by questioning the Miz's sexuality. Needless to say, the Miz does not hold back when beating him with the weapon and leaves Cena's chest and stomach covered with welts....holy hell.
The heels drag Cena up the aisle and slam him on the entrance ramp before Miz adds a suplex on the stage. Strangely enough, the crowd isn't even chanting for Cena or anything, they are just quiet and seemingly waiting for something to happen. Miz kicks Cena in the head, sending him tumbling off the stage and to the floor below. Cena is selling that he is delirious and starting to not realize where he is.
Miz grabs a belt from a crew member and again offers Cena the chance to save himself pain but Cena tells him to stick it. John does his best Kunta Kinte impression by refusing to cry out in pain while he's getting beaten and refuses to quit. Miz and Riley piddle around a bit, allowing Cena to make a brief comeback but a steel chair ends that.
Back in the ring, Cena again makes a comeback and the referee gets bumped (in an I Quit match!?!?) but Miz stops him with a DDT. Miz sets up a steel chair against the ropes and hits Cena with a Skull Crushing Finale, which had Cena landing awkwardly on the chair but (say it with me) JOHN CENA WILL...NOT...DIE!!
Since Cena won't quit, Miz goes and berates a 12 year old fan plant to try to convince Cena to quit but the 12 year old WILL NOT DIE!! The heels wedge Cena in some sort of ring barrier and Miz threatens to beat him in the head with a steel chair until he quits but again, he refuses.
Miz smacks him in the head with the chair and Cena is out cold. Since it's been more than 10 years, they rehash the angle from Royal Rumble 1999 and play a recording on Riley's cell phone of Cena screaming "I Quit!" This time though, the referee isn't a complete moron and he restarts the match. Talk about overbooked.
Of course, this is just the opening Cena needs and he gets rid of Riley by giving him an Attitude Adjustment through the announce table. It's also time for payback, as he takes off his belt and whips the Miz all the way up the entrance ramp. As soon as they get up there, Cena locks on the STF and Miz immediately quits to keep the title on Cena.
Winner and STILL Champion: John Cena
-I know what they were going for with the booking, wanting the crowd to get louder and louder as Cena got beat harder but it just didn't click for whatever reason. Plus, the false finish made the announcers look really stupid since they instantly bought it even though it was an obvious recording.
So what happens to the Miz from here? He just basically had a handicap match for the world title with no rules and blew it. I'd say he's about to get shunted down to the midcard for a bit and it's Alberto Del Rio's turn to take a crack at the champ. Call the whole thing **3/4.
Oh, and John Cena WILL...NOT...DIE!!!!
Most recent updates:
This article is
What is the duplicate article?
Why is this article offensive?
Where is this article plagiarized from?
Why is this article poorly edited?