WWE Over the Limit 2011: Bret Hart Appears, Cole Kisses Lawler's Foot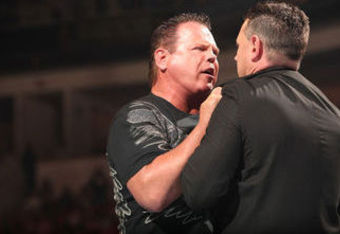 Kiss My Foot Match
Jerry Lawler vs. Michael Cole
Wow, the last time I watched a Kiss My Foot Match, I was 10 years old. You know, I was all about the Cole storyline in the beginning but this whole thing has gone on long enough.
Michael Cole hits the ring in a suit with a note from his "doctor" proclaiming that he is medically unfit to compete. The referee (who we are not allowed to name because Vince McMahon thinks referees shouldn't have names) tears up the note and rings the bell. Lawler kicks his ass and rips of his suit but this is not a Tuxedo Match, so the bout has to continue.
A dropkick sends Cole to the outside where he somehow manages to turns the tide and send Lawler weakly into the ring barrier. Cole tries to get Lawler to kiss his foot but gets tossed through the Cole Mine and appears to be dead. Back inside, Lawler PULLS DOWN THE STRAP and drops the fist from the top rope, which is obviously enough for the pin.
Winner: Jerry Lawler
-As JR would say, we never advertised a classic, DUD.
-Anyways, Lawler calls out Eve, who hits her moonsault on Cole as retribution for all the nasty things he said about women's wrestling. That's actually the one thing Cole did that I agreed with.
Speaking of Jim Ross, he also gets his revenge by dumping a bottle of BBQ sauce all over Cole's broken body. Cole heads for the hills and proclaims that he will NEVER kiss Lawler's foot.
Those are famous last words as BRET HART makes a surprise appearance to ensure that justice is done by applying a Sharpshooter to Cole and Lawler makes Cole kiss his foot.
Hopefully folks, that's your blowoff. I really don't want to sit through any more Cole vs. King "mat classics."
Most recent updates:
This article is
What is the duplicate article?
Why is this article offensive?
Where is this article plagiarized from?
Why is this article poorly edited?