WWE Over the Limit 2011: Big Show & Kane Retain Against CM Punk & Mason Ryan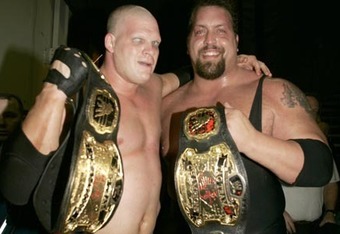 -Backstage, Christian and Randy Orton verbally spar over the benefits and negatives of Universal Health Care in a capitalistic society. Whoops, I mean they threaten to kick each other's asses and win the title.
-Alberto Del Rio decides to class up this broadcast a little bit and make his presence known. He declares that this country has a major immigration problem and it's all those filthy CANADIANS coming across the border illegally. Big heat for that one. How did the camera find two goofs in Vancouver jerseys AND a skank wearing only a bikini top to a WWE event...in SEATTLE?!?! The director must have thought he struck gold.
WWE Tag Team Titles
Kane & Big Show vs. CM Punk & Mason Ryan
Punk has "Macho" written on his wrist tape in a nice tribute to the legend. Ryan overpowers Kane to kick things off and slams him before bringing in Punk, who instantly gets destroyed. Big Show chops away in the corner and, in a cute spot, when Punk turns his back to Show, he gets chopped there as well. Finally, Punk goes low with a dropkick and tags in Ryan to save him briefly before tagging back in and getting trapped in a bearhug. Kane comes in with a big boot and a side slam gets two. Clothesline off the top has Kane looking to finish things but Ryan distracts the referee and that allows Punk to get a cheap shot and tag in Batista...I mean, Mason Ryan.
Kane plays the Ricky Morton role in this match and gets trapped in the heel corner while Punk shows off his awesome heel mannerisms. Ryan gets an Oklahoma Slam on Kane for two while Booker T confuses Kane with the Big Show...easy to do that, sure. Kane slips out of a slam attempt and gets a suplex for the double KO but Punk cuts off Kane before he can get to his partner.
Punk heads up top for another Macho Man tribute, a flying elbow, but takes too long and Kane gets the hot tag to the Big Show. He cleans house on Mason Ryan and Kane gets rid of CM Punk over the top rope. Ryan turns around, walks into a double chokeslam from the champions and that's all she wrote.
Winners and STILL Champions: Kane & Big Show
-You know, for supposedly being this big heel group, Nexus sure jobs an awful lot. Punk is being absolutely WASTED in his current role as he could easily be the #1 heel in the promotion if they would let him. But no, we need more Randy Orton and Miz. The match actually was energetic and fun, so call it **3/4 for some good stuff.

Most recent updates:
This article is
What is the duplicate article?
Why is this article offensive?
Where is this article plagiarized from?
Why is this article poorly edited?