UFC 130 Fight Card: Quinton "Rampage" Jackson's 10 Funniest YouTube Moments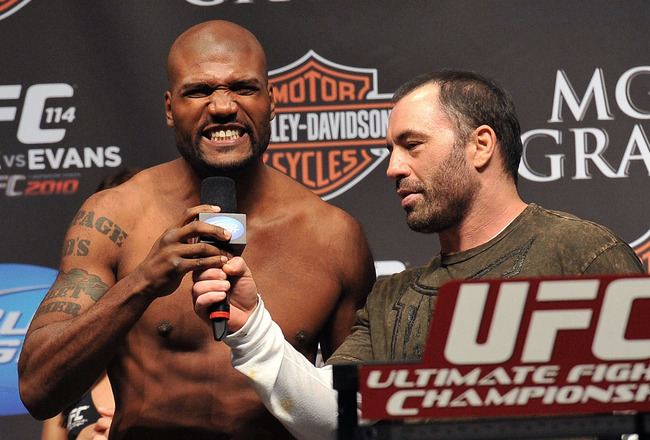 Jon Kopaloff/Getty Images
Former UFC light heavyweight champion Quinton "Rampage" Jackson will face Matt Hamill in the main event of UFC 130, which is scheduled to take place on May 28 at the MGM Grand Garden Arena in Las Vegas.
Jackson has long been known for his, outspoken ways. Some find Jackson funny, while other find him to be, well, to be kind, not so funny.
To help set your mood for UFC 130, either for or against "Rampage," Bleacher Report presents Jackson's 10 best moments from YouTube.
Rampage Loves Ketchup
Rampage in his kitchen professing his love for ketchup. Rampage reveals that he puts ketchup on pretty much everything.
Dancin' Rampage
This one can speak for itself...Rampage dancin' in the streets.
Rampage Asks Dan Henderson to Take His Teeth out
After defeating Chuck Liddell for the UFC light heavyweight championship at UFC 71, Rampage's next opponent, Dan Henderson, was brought into the Octagon and it didn't take long before Rampage was imploring Henderson to take his teeth out.
Rampage Gets a Face Full of Romie Adanza's Fight Shorts
Muay Thai fighter Romie Adanza interrupts Rampage's interview and draws the ire of Rampage.
Rampage Jackson Talks Rashad Evans vs. Lyoto Machida
In an interview with Ariel Helwani from the Versus Network, Rampage Jackson is told that then light heavyweight champion Rashad Evans said that Lyoto Machida was more deserving of a title shot than Jackson.
"I don't care nothing about that type of stuff. La Cheetah, did I say his name right? La Cheetah, cuz he runs all the time, La Cheetah."
"Whoever gets it (the UFC title), it don't matter, cuz when I get in the cage, I'm gonna make 'em splatter."
It gets a little more interesting when he covers the teammates not wanting to fight each other.
Rampage Before His UFC Debut
Rampage does an interview with BoxingScene.com before his first fight with the UFC.
Once again, there is a lot going on in this interview, but the highlight comes when he analyzes the size of Tito Ortiz's head,
"They were gonna make a bobblehead for Tito, but they said...they designed one, but it kept falling over, the head was so big."
Rampage Makes an Interviewer Nervous
The interviewer here is trying to get Rampage to do an ID for his Web site. Rampage seems to be getting a kick out of making the interviewer nervous.
Rampage eventually does the ID, but not before making the interviewer squirm a bit.
Rampage Appears on the Late Late Show Before UFC 123
Rampage Jackson appeared on the Late, Late Show hosted by Craig Ferguson prior to his fight with Lyoto Machida.
Plenty to hear in this one:
Jackson reviews the origin of the "Rampage" name.
Rampage recalls the one time he lost his temper in a fight.
Jackson calls Machida a boring fighter, but he also gives him credit for holding the record for "getting punched the least of MMA fighters."
A lot going on in this one.
Rampage Jackson Has Words for Chuck "The Iceman" Liddell
A top-10 list could easily be made just from this video where Rampage Jackson addresses Chuck Liddell prior to their bout at UFC 71.
"You're gonna make me a lot of money, and I'm thankful."
"All the horses and all the referees will not be able to put you back together again, Chuck."
"Now, you're gonna read my fist."
"Nobody likes excuses from a loser, I'm the only loser that can make excuses when I lose."
"Look at this face. I'm serious as a heart attack and a heart attack is serious."
Rampage Does an Impression of Chuck Liddell
You know it's good when Jason "Mayhem" Miller wants no part of the joke.
Keep Reading