Hot Athletes Who Don't Crave Attention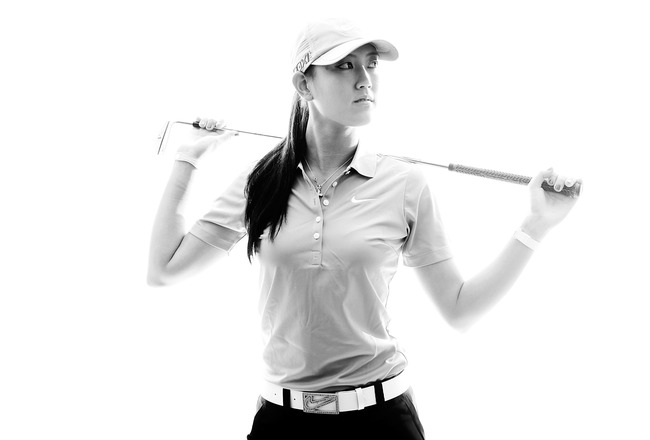 Jonathan Ferrey/Getty Images
I call these athletes nocturnal, because they never like to come out into the limelight. These ladies would much prefer to play the game, and then go home to their friends and families instead of basking in the glorious sunlight that is fame.
Some athletes may be hotter. Others may be better.
But these attractive athletes combine both talent and humbleness, creating a smorgasbord of awesome.
They are hot, but don't necessarily flaunt it. You won't see these girls taking a lot of time having fashion shoots, although they are very capable.
Join me as I throw on a drench coat and a fedora to find the hottest female athletes that prefer not to be found outside of the training facility.
Honorable Mention: Angela Phillips
Phillips is on here because I initially got all excited about finding what was seemingly a low profile basketball player who was hot.
Then I found out she is now a model, therefore crapping all over the point of this slide show.
But this is my slideshow so I will put her on here if I want, dammit.
This video is fun to watch, because I have never seen opposite day in its purest form.
No. 15: Deanna Nolan
Deanna Nolan plays for the Tulsa Shock.
She was actually involved in the brawl that Candace Parker was in. That was when they were known as the Detroit Shock.
She is the one that actually tackled Parker after a punch was thrown.
Deanna is also known for her 34-inch vertical leap.
This is usually the part where I make a tongue in cheek joke about the WNBA and their lack of athleticism.
But damn, 34 inches! Not bad!
No. 14: Ashlee Reynolds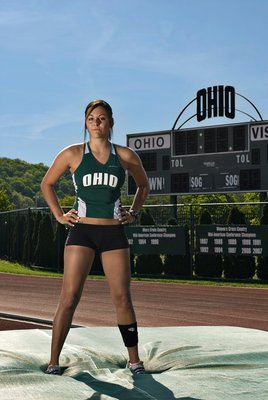 In 2009, Reynolds achieved her season-high of 5-03.75 three times. One was on a big stage when she cleared her season-best at the MAC Championships. She finished tied for 14th.
You won't find seductive pictures of Reynolds with her tongue hanging out, or any of that nonsense. Reynolds seems to be a good girl.
I may be wrong, but I haven't found any evidence.
That just means there is one less girl out there who isn't wearing a hiked up skirt with Uggs during the dead of winter in Ohio. Good for you Ashlee.
No. 13: Jennifer Mueller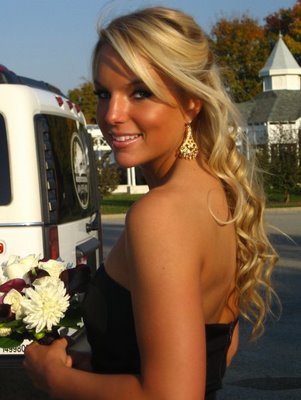 Mueller was a sprinter at USC.
I am sure when Mueller had this photograph taken of her, she probably didn't think it would be posted on the internet.
I have tried taking several showers to wash away the guilt I feel using this photograph of her for my slideshow.
One thousand apologies Jennifer.
And five thousand apologies to your father.
No. 12: Michelle Wie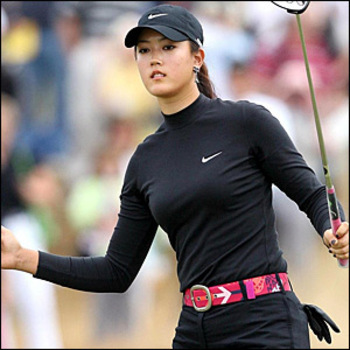 Shortly after turning pro at the age of 16, Wie received an incredible amount of endorsements, but also dealt with a high amount of scrutiny.
Many professionals saw her as the next Tiger. They believed she was someone who could be the next face of golf because she could get the interest of girls into the sport.
She has been known to have said that beating Tiger at the age of 20 was her life goal.
Unfortunately, Wie has to beat the other men first. She has only made one cut in a tournament and has made no cuts in a PGA tour event.
No. 11: Raquel Caulkins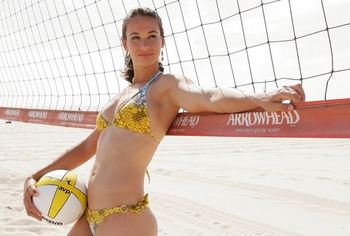 Calkins is originally from Minas Geras, Brazil.
She began her collegiate career at Barton Community College in Kansas, where she led the school to a NCJAA title.
She then transferred to Concordia University, where she won another national championship. She also won the 2004 AVCA NAIA Volleyball Player of the Year the same year.
Talented and attractive. Your move Misty May.
No. 10: Jessica Gysin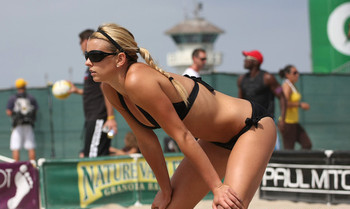 In her last year at USC, Gysin received an AVCA All-American honorable mention and was named to the All-Pac-10 Conference Team.
She played at USC for six seasons. The first two were marred by injury.
We get it, Jessica. You can lie all you want about injuries and obtaining master's degrees.
I know you were just pulling a Van Wilder and just want one more day of the college lifestyle.
No. 9: Sue Bird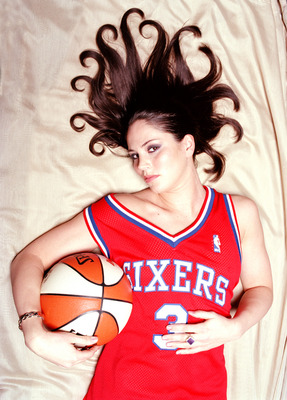 Sue Bird has been good at basketball pretty much her entire life.
She was the New York Daily News high school player of the year, a WBCA All-American and the New York State Player of the Year.
She won the Wade Trophy and the Naismith Award while going undefeated at UConn her senior year. She is also ranked first in three-point field goal percentage and free throw percentage
She is a four-time WNBA all star, an Olympic champion and has a WNBA championship under her belt.
Whenever Sue Bird comes to my mind, I visualize her exploding out of the womb and sinking a trey ball in a hoop somewhere.
If you're wondering how the hell that is possible in a hospital, I have no idea. Maybe a doctor with a sense of humor had a Play-Skool basket in the corner of the delivery room.
No. 8: Candace Parker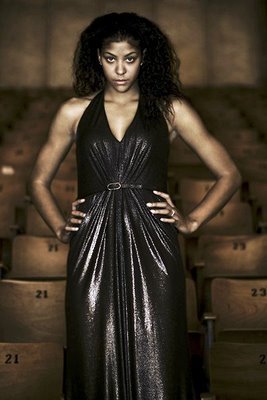 Candace Parker is known for being a two-time champion at Tennessee and the first woman to dunk a basketball in a NCAA tournament game.
While compiling the vast amounts of research I do for these slide shows, I stumbled upon the fact that Candace Parker was involved in a brawl. I had no idea since whenever I see a WNBA game on TV, I reject what I am seeing like a vampire who sees the sun.
But, "A brawl is a brawl" I told myself. "Let's see what the WNBA has to offer."
This "fight" is a disappointment and a comedy of errors. The cherry on top is when Cheryl Ford tears her ACL because she was trying to play peacemaker. The number of jokes I could make about this tussle is overwhelming me to the point where I am vomiting uncontrollably.
Is that weird?
No. 7: Svetlana Abrosimova
Abrosimova attended Petrogradskoi N86. If you're wondering what that random cluster of words means, it was her high school.
It sounds more like a prison where all the students are forced to take part in the workouts Ivan Drago used in Rocky IV.
Abrosimova is a WNBA champion and looks great in about 60 percent of her pictures.
That last sentence was an honest compliment. When it comes to the WNBA, she is a cut above. Most women in the WNBA are at about three percent.
No. 6: Skylar Diggins
The Notre Dame Fighting Irish were supposed to be going through a transition year during the 2010-2011 year.
But after being prepared with a tough regular season schedule and Diggins stellar play throughout the tournament, they went all the way to the National Championship.
They lost to Texas A&M, but Diggins did her best, finishing with 23 points, 3 rebounds, 3 assists, and 4 steals.
After that, the seedy side of fame reared its ugly head after there was a rumor that a nude photo of Diggins leaked on the internet. Diggins has denied the rumor.
Sometimes, I dream that I stumble upon these 300 pound losers, slap their inhalers out of their hands, and head butt them into oblivion, saving the world from another horrible person.
Then I wake up and write about hot girls on this site.
No. 5: Kristina Baskett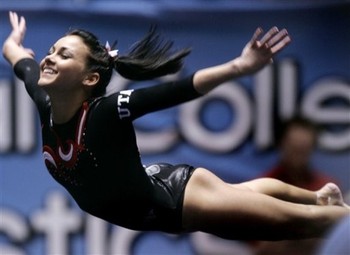 Baskett has won seven medals, one of which was a gold in the 2006 NCAA uneven bars championship.
She finished as a 12-time All-American at Utah.
She is listed at only 5'1.
Basically, what that means is I can't stop obsessing about rolling her up like a rolly polly bug and throwing her up in the air while giggling maniacally.
No. 4: Tamara Albade Diaz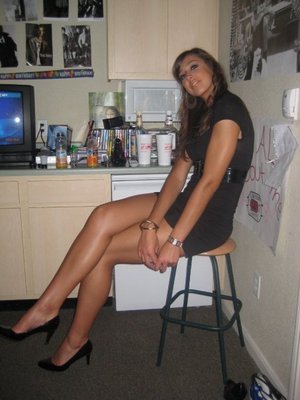 Diaz currently plays for Unión Navarra Basket Obenasa Navarra in Spain.
She played one year at Lamar University in Houston and is listed as 6'4.
I'm not sure how I would react to seeing an athletic and beautiful woman at eye level with me, but cowering in fear is not out of the question.
That is usually my go to move.
No. 3: Allison Stokke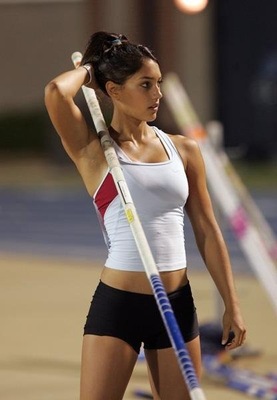 Ah, the famous picture that sent shock waves throughout the internet.
One moment, an innocent girl who happens to be attractive is preparing to vault with a pole.
In 2004 at the height of her popularity, she had 1,000 new messages on her MySpace and a three-minute video on YouTube that has 150,000 views. I am sure the number is astronomically higher at this point.
Hey all you weirdos out there who were stalking Stokke in 2004.
What's it like having a daughter now?
No. 2: Claudia Munoz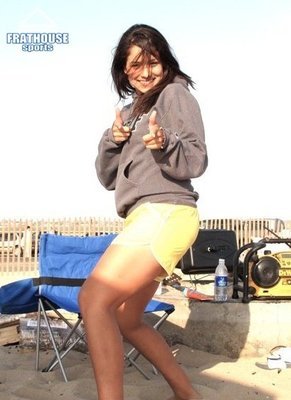 You know a girl doesn't want to be found when her player bio only describes her career up to her redshirt sophomore year and nothing else.
All I know is she scored her first goal against Cal State Northridge in 2008.
After that, who knows.
But what I do know is that I can party with Claudia because anyone who has the presence of mind to do a Fonzie around a music source is okay in my book.
No. 1: Meghan Gardler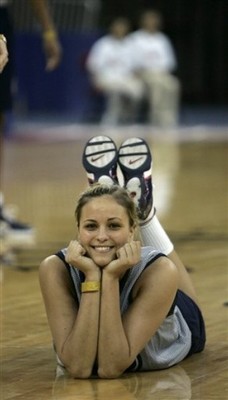 Gardler is a defensive stopper and has respectable three point range. She also seems like an absolute delight with all her "I am so goofy and love my teammates" photos.
There isn't a lot out there about Gardler, other than her UConn bio page and her pictures of her posing on Busted Coverage.
Other than those brief appearances, this girl is pretty much off the grid.
That is sad face for gentlemen everywhere.
Keep Reading