Johnny Giavotella Hits First Home Run for Kansas City Royals
August 8, 2011
Ed Zurga/Getty Images
It is a long journey from the days of little league to the stage of a Major League Baseball field. Johnny Giavotella has had to grind through every step. Through a 5A Louisiana state championship. Through three years at the University of New Orleans. Eventually becoming the second round draft pick by Kansas City in 2008. Since then he has spent his time crushing minor league pitching. Giavotella posted a career minor league average of .305 with a .375 on-base percentage in four years, and a OBP of .390 in triple-A Omaha for the 2011 season.
The whole Giavotella family was in attendance at Kauffman Stadium all weekend for the first series of Johnny's career, against the Detroit Tigers.
There were certainly times where it appeared impossible for the 5'8" Giavotella to make it this far. Even after winning the high school state championship, he was still overlooked by all of the scouts and recruiters.
In a great article about Giavotella from the Kansas City Star, Mike Moustakas said, "The kid's a grinder. He can do everything...He's shorter than other guys, but you put a bat in his hands and he might as well be 6'5"."
"You just have to gain that mentality of little man's syndrome, trying to prove everybody wrong," Giavotella said.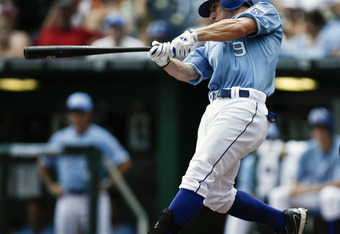 Ed Zurga/Getty Images
The weekend included many firsts for the Royals' rookie second baseman. In his first Major League game, Giavotella went 2-for-3 with a walk. He reached base for the first time, hit his first double as well as his first RBI, all in the first game of his Royals career. Saturday he went 1-for-4 with a strikeout and began Sunday hitting .429. It was Sunday that brought the first home run of Johnny Giavotella's career.
Giavotella appeared reminescent of his minor league days, hitting in his usual spot in the order for the first time as a Major League hitter. It is unlikely that he will remain second in the batting order regularly this season, but that could be his spot in future years.
In the fourth inning of the Sunday game, Giavotella ripped a pitch on the outside corner down the right-field line for his second double for the Royals. After a wild pitch by Tigers starter Max Scherzer, Giavotella reached third. Billy Butler grounded out for the second out of the inning but Giavotella still managed to score the first run of the game.
On the next at-bat, Scherzer tried to go inside with a fastball. Giavotella flashed his quick and powerful swing for a solo home run off the foul pole in left field. This moment was the highlight of Johnny Giavotella's debut weekend as a major league second baseman. The television cameras focused on the Giavotella family, where everybody appeared to have a cell phone in hand, already spreading the good news.
"This is a dream come true. I can't say how happy I am to have my family and friends here watching me play. This one's for you guys," Giavotella told Joel Goldberg of Fox Sports Kansas City after the game.
The Giavotella family has not been alone in dreaming of this moment. Baseball fans in Kansas City have waited a long time to see a winning team, for some it has been a life time of bad baseball by the hometown Royals. In the past 17 years the Royals have finished with a record of better than .500 only once. That was 2003 when the team won 83 games and finished third in the AL Central.
"It's been an unbelievable weekend. I can't say enough of how these fans of Kansas City have welcomed me with open arms and been behind me the whole time," Giavotella said.
Johnny Giavotella is the 10th rookie to make a Major League debut for the Royals this season. He is also the oldest member of the Royals' young infield at 24 years old and yet another sign that the Royals youth movement is succeeding. With a .338 average and a .390 on-base percentage, there was nothing left for Giavotella to prove in the minor leagues.
That's how it has gone for all of the Royals prospects this season. They have all achieved considerable success in the various levels of the minor league system. Giavotella has been the center piece of the winning ways that have spread through the Royals farm system. Now he, along with Eric Hosmer, Mike Moustakas and the rest of the Royals, have one stage left to conquer. On Sunday they reached the first step by defeating the Detroit Tigers, 4-3.
"We played very well and were able to get some runs on the board and got a win. It was awesome," Giavotella said after his first win in a Royals uniform. His lifetime dream, finally becoming reality.