WWE News: Why Jim Ross Supports the Theft of Wrestling Moves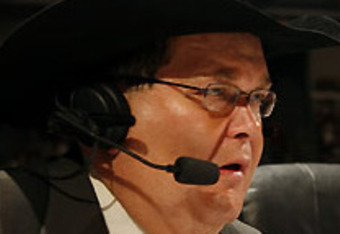 WWE News discusses Jim Ross's comments on theft of moves
For one reason or another the subject of stealing moves has been pretty popular these days. Jack Swagger and Randy Orton were chastised by Kurt Angle for taking finishing moves. CM Punk was called out on the indie circuit for stealing a move as well.
According to a recap of Jim Ross's blog posted on LordsofPain.net, the hall of fame announcer doesn't see what the big deal is.
Ross writes:
'Stealing wrestling moves' is so much to do about nothing in my opinion. If not, is Ed 'Stranger' Lewis spinning in his grave every time we see the occasional headlock utilized when an athlete actually applies logical, wrestling holds? Or what about circus trapeze artists when a wrestling match breaks down into not much more than a succession of flips, flops, and flies leading to an inside cradle for the eventual pin?
Ross is a bit confused between the idea of a simple wrestling move and a finisher, but I get his point.
15 NFL Stars We'd Like to See in the WWE
Do you think it's wrong that wrestlers use similar moves and finishers?
My thinking on it has always been that you try not to use a move as your finisher if it belong to someone else, or if it's so iconic that you can't pass it off as your own.
On the other hand, if you want to use a Rock Bottom as part of your arsenal than you should be able to. Orton use the Angle Slam as part of build to his finisher and since it's not his finishing move there is nothing wrong with that.
Wrestlers need to accept the fact that there are just a limited number of moves one can perform. There is going to be some overlap.
Most recent updates:
This article is
What is the duplicate article?
Why is this article offensive?
Where is this article plagiarized from?
Why is this article poorly edited?