WWE: Did the WWE Ignore Brock Lesnar's Health Concerns?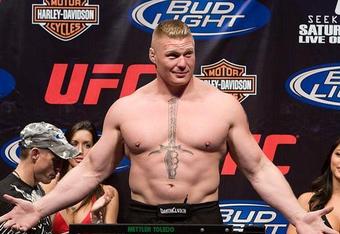 WWE may have not put Brock's health first
The life of a WWE champ is demanding, but so much so that his health concerns are ignored?
In Brock Lesnar's book DeathClutch, he discusses life as a UFC and WWE Superstar. While it's no shock that Brock Lesnar wasn't happy in the WWE, his book give the details of life after a concussion.
After his WrestleMania match with Kurt Angle, Lesnar was suffering from a severe concussion. Here is an excerpt, published on Wrestlezone.com, where he chronicles the events the morning after.
Lesnar writes:
The next morning, I was supposed to do a sponsor appearance, but I couldn't get out of my hotel bed. After I received a few phone calls to rouse me, I finally crawled out and made it down to the appearance. When the sponsor's people saw me throwing up from the aftereffects of the concussion, they sent me back to the hotel.

After you play in the Super Bowl or the World Series, you get some time to yourself, or to take your family on a vacation. Not in pro wrestling. You're right back to work the very next day, doing live TV for Raw the first night, or taping SmackDown! two nights after WrestleMania. Kurt made it through the match, and I was lucky to "only" have suffered a concussion. Kurt went in for the alternative surgery, and I was right back on the road as WWE
15 NFL Stars We'd Like to See in the WWE
Of course Brock makes it unclear if the WWE knew about his concussion. Still, this sort of "go-go-go" mentality has been a huge part of the wrestling business for years. It's why so many of these guys are tired out and susceptible to further injury.
The constant grind isn't for everyone. It clearly wasn't for Lesnar. It's no wonder he left and no wonder why he'll never come back full-time.
You have to love the business to allow yourself to be a part of the factory. Lesnar never loved the business.
Most recent updates:
This article is
What is the duplicate article?
Why is this article offensive?
Where is this article plagiarized from?
Why is this article poorly edited?