2011 NBA Draft Combine: Winners and Losers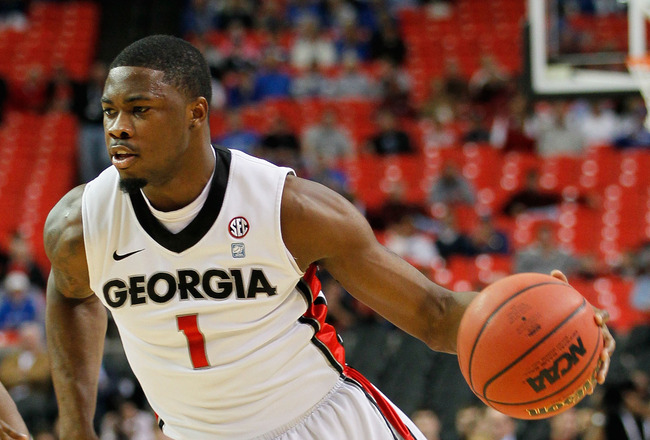 Kevin C. Cox/Getty Images
It's not too often that 54 of the top NBA prospects all gather together to show off their skills.
Granted, the NBA draft combine shows off physical skills with workouts and drills yet doesn't really simulate real, game-time situations, but it's still quite telling in terms of athletic ability.
Some people think that watching the combine is like watching paint dry, while others enjoy the event because of the tidbits of information they are able to glean from watching it.
For both of those types of people, this list can help summarize the event.
Because we don't gain too much information, even the littlest things can hurt and help players immensely.
Read on for the 10 winners and 10 losers from the combine.
WInner: Jeremy Tyler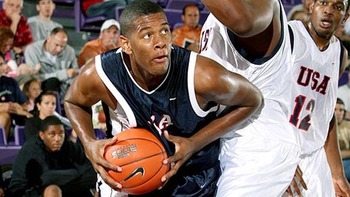 One of the more underrated prospects in this year's draft class may be slowly losing that title.
Jeremy Tyler was all over the court on Thursday and threw down quite a few impressive dunks while showcasing his impressive athletic ability.
Tyler is a very interesting prospect because he decided to bypass college and play professionally in Israel, so the level of competition he's faced is lower than other guys. But there's no denying the athleticism and 7'5" wingspan he registered.
Loser: Kemba Walker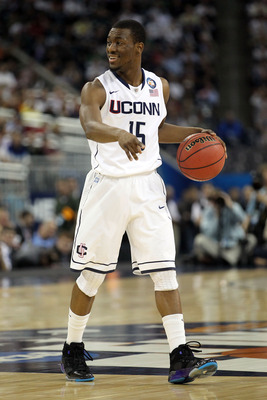 Ronald Martinez/Getty Images
One of the major concerns with Kemba Walker is his size, or lack thereof.
Walker measured in at just under 6'0" on Thursday, meaning that the concerns were validated and, if anything, heightened. His height is going to prevent him from ever really playing off the ball in the NBA.
Now this definitely doesn't mean he won't be successful, but his stock was lowered a bit because of his size.
Winner: Marshon Brooks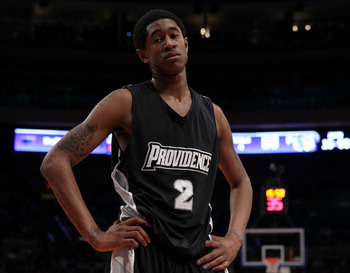 Jim McIsaac/Getty Images
Despite the fact that he plays shooting guard, Brooks registered a 7'1" wingspan, much longer than many prospects at non-guard positions.
Brooks is a great scorer and athlete, and he's showcased those skills in the combine so far.
Just like Jeremy Tyler before him, one of the biggest knocks on Brooks is his lack of play against elite competition because of the fact that he went to Providence. But the other prospects haven't proven to be too big a challenge for him yet.
Loser: Kyrie Irving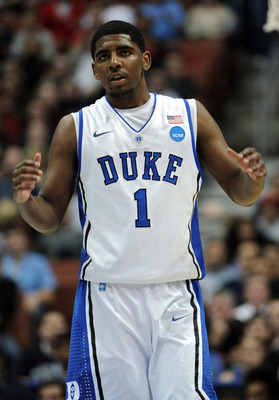 Harry How/Getty Images
It's become a trend for the projected top pick to sit out during the workouts, and that's a trend that Kyrie Irving continued this year, but this time, it wasn't a good decision.
People are concerned that Irving hasn't played enough recently because he only entered 11 games at the collegiate level. Then there's the potential injury-prone label that Irving has received because of a freak toe injury.
Irving did nothing to dispel those criticisms by sitting out. If anything, he just made people question what he had to hide.
Winner: Kenneth Faried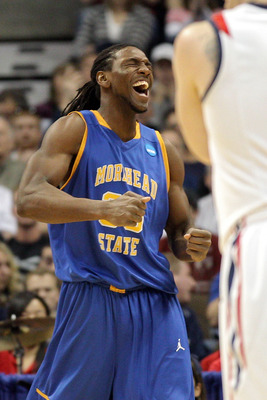 Justin Edmonds/Getty Images
Hailed as one of the most prolific rebounders to ever come out of college, Kenneth Faried has proven to be more than just a glass-cleaner so far.
The all-time leading rebounder at the collegiate level has shown off a tremendous drive and quickly picks up on what the coaches are asking him to do.
Despite his small stature, Faried's athleticism is quickly winning over those who didn't think the Morehead State little big man could make it at the next level.
Loser: Travis Leslie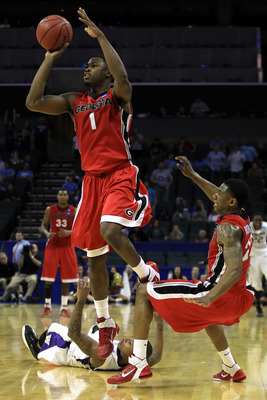 Streeter Lecka/Getty Images
Travis Leslie is arguably the best athlete in this year's draft class, but he didn't exactly give the best interview.
When people doubt your basketball skills, which they should because Leslie is still very raw and is really only getting by on pure athleticism, don't say that you're already better than current Memphis Grizzly Tony Allen.
Confidence is nice, but that's more cocky than confident.
Winner: Demetri McCamey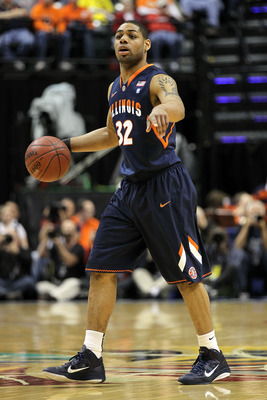 Andy Lyons/Getty Images
Going into the NBA draft combine, many viewed Demetri McCamey as a potential mid second-round pick. But after just one day, he's shot up the boards and is now a borderline first-rounder.
McCamey did everything right on the first day of the combine. He made his shots, he played good defense, he listened to the coaches and he showed that he had a good attitude.
If you could put together the ideal day at the combine, it would look a lot like what McCamey did.
Loser: Cory Joseph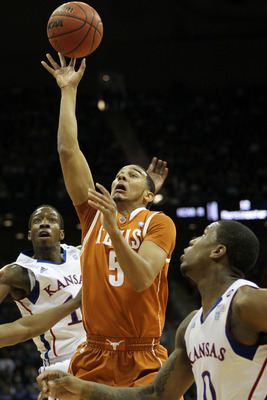 Jamie Squire/Getty Images
The point guard from Texas measured well but still didn't look like he belonged on the court with the other guards.
Cory Joseph could slow other players down with solid defensive skills, but he struggled with his shot and decision-making. He's not giving scouts confidence that he can eventually run a professional offense.
Joseph's draft stock is definitely slipping further and further down.
Winner: Enes Kanter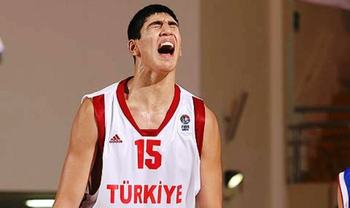 Another player who has done everything right is Turkish center Enes Kanter.
Kanter impressed many during the interviews, during which he was quite well-spoken and said all the right things. But beyond that, people were impressed that Kanter even decided to compete in the workouts.
After sitting out for a full year once he was ruled ineligible at Kentucky, Kanter didn't skip a beat and looked quite good against the other prospects despite not legitimately playing at a high level in quite some time.
Loser: Kyle Singler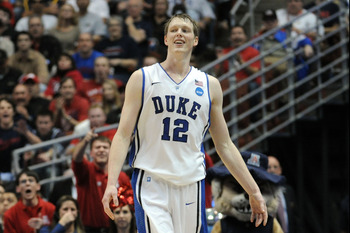 Harry How/Getty Images
Kyle Singler hustled his butt off during the combine, even taking a charge during a drill with no referee to call the foul.
But on a day where most players took it easy, Singler and Kenneth Faried appeared to be the two players working the hardest. Even then, Singler still looked significantly slower than many other players on the floor.
It doesn't appear as though Singler has the athleticism or the one standout skill to make it in the NBA at this point.
Winner: Tristan Thompson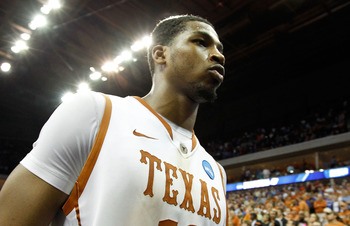 Tom Pennington/Getty Images
Tristan Thompson has been projected to play a little bit of small forward and a little bit of power forward in the NBA, but some were concerned that Thompson was too small to do the latter.
These concerns were based on the fact that Thompson was listed at just 6'8" by the University of Texas. However, Thompson measured 6'9" without his shoes on, meaning that he'll actually be at least 6'10" in NBA programs.
With that size, Thompson can absolutely play the 4 in the NBA.
Loser: Tyler Honeycutt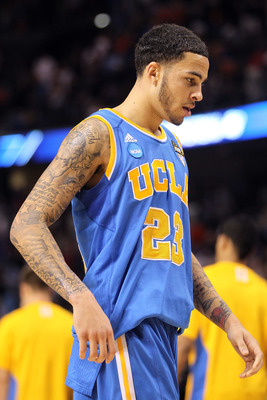 Mike Ehrmann/Getty Images
Tyler Honeycutt weighed in at just 188 pounds, which is small enough for a point guard, but Honeycutt will actually be drafted as a shooting guard. He needs to hit the gym and buffet line to bulk up, and he knows it.
When you're that small, you really need to impress everyone with your on-court skills. But Honeycutt's shooting stroke was anything but sweet during the drills. He showed brief flashes of great athleticism, but that's not going to cut it for a potential lottery pick.
Honeycutt could move back up once the individual workouts start, but he moved slightly down during the combine.
Winner: Nikola Vucevic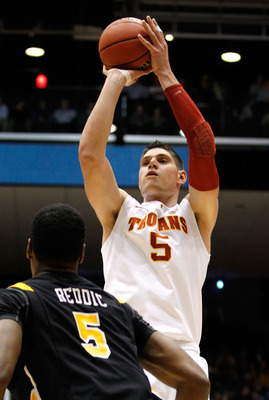 Gregory Shamus/Getty Images
Any time some people say that you performed better than a potential top-three pick, you're having a good time at the combine.
Such was the case with second-round prospect Nikola Vucevic, who some say was even better than Enes Kanter.
I think that makes him qualify as a winner.
Loser: LaceDarius Dunn
Jamie Squire/Getty Images
LaceDarius Dunn's shooting stroke was hidden during his collegiate career by his great scoring ability and athletic teammates, but it looked pretty ugly during the combine. And yes, I'm talking about both his form and the results.
With a strange hitch in the shot, Dunn was as streaky as could be. Ice-cold shooting streaks when defense isn't high-intensity are not good.
Dunn's chances of being drafted high on June 23rd are pretty much done.
Winner: Tobias Harris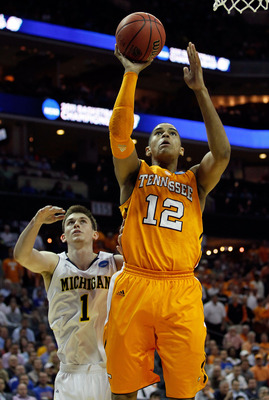 Kevin C. Cox/Getty Images
One of the biggest knocks on Tobias Harris was his body. He was a bit too big and pudgy, which made many question his work ethic.
However, Harris lowered his body fat percentage by five percent in recent weeks, thanks to a self-proclaimed diet where he cut out bread and Swedish fish.
That's a bit unconventional, but it really looks like it has worked so far.
Loser: Klay Thompson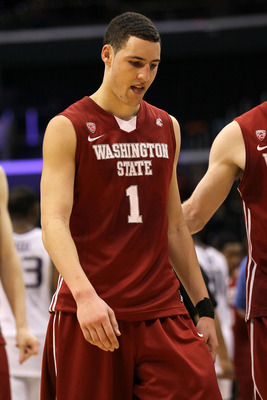 Stephen Dunn/Getty Images
One of the biggest knocks on Klay Thompson has been his physical attributes, or lack thereof.
Thompson has the size, but he doesn't have the speed or strength to succeed yet. That was pretty clear during the workouts on Thursday and Friday.
The shooting guard from Washington State still has a silky-smooth shot and a very high basketball IQ, but the speed and strength are definitely concerns.
Winner: Chris Singleton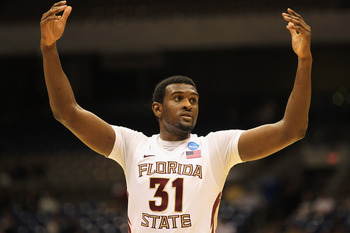 Jamie Squire/Getty Images
Chris Singleton was hailed as the best defensive player in the 2011 NBA draft class, and that ability was clearly on display at the combine.
Singleton got his fair share of blocks in during man-on-man defensive drills and didn't fail to contest a single shot. If I was a prospect participating in the combine, I would do everything I could to avoid being matched up against the former Florida State Seminole.
It's almost not fair to look at the offensive performances of the other prospects going up against him.
Loser: Trey Thompkins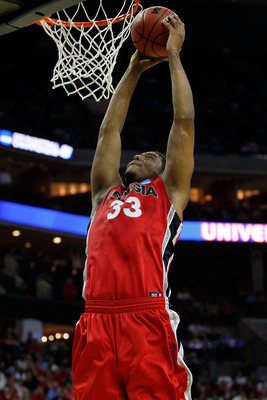 Kevin C. Cox/Getty Images
Trey Thompkins has all the skill necessary to succeed at the next level, but a lot of questions remain about his mentality and work ethic.
A major red flag, pretty much the same color as Thompkins' Georgia uniform, was sent up when Thompkins' body fat percentage was revealed. It was 15.5, by far the highest number of all the players working out at the combine.
That's going to be seen as a pretty clear indication that Thompkins is not working as hard as he could be working.
Winner: Kawhi Leonard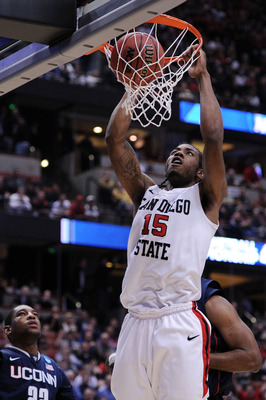 Harry How/Getty Images
Kawhi Leonard's ridiculous athleticism was on display throughout the combine and impressed a whole bunch of NBA scouts.
Then they measured his hands and were even more thrilled. Leonard's hand length was 9.8", and his hand width was 11.3".
Both of those numbers were either tied with Fresno State's Greg Smith for first or just behind Smith out of all the prospects.
Now if only he could shoot.
Loser: Jimmer Fredette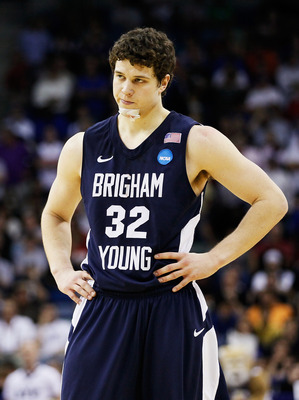 Kevin C. Cox/Getty Images
Jimmer Fredette performed well during the drills, but he went through them way too nonchalantly.
As Chad Ford said during ESPN's coverage, "Guys are going to pick apart people, and they were picking apart Jimmer Fredette a little bit. They didn't like that Fredette didn't go full speed in the drills. He shot the ball very well, but he seemed like he was more in warm-ups, floating around a little bit.
"It's not going to be a big deal if you've seen Jimmer Fredette play in person; you know he can really hustle and he plays very hard, but he didn't seem to be taking the drills as seriously as some of the other guys, and the NBA guys dinged him on it."
Everyone knows he can shoot. Jimmer isn't doing what he needs to do to answer the other questions though.
---
With the NBA Draft approaching, NBA Mock Draft season is here. Stay tuned to Bleacher Report for updated mock drafts, along with the latest NBA Draft news, analysis, rumors and predictions.
Keep Reading