Dirk Nowitzki: Oklahoma City Thunder Helpless Against Unguardable Nowitzki?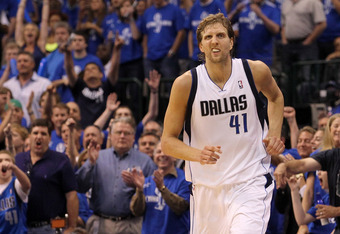 Dirk Nowitzki Proving He's Ready to Carry Mavericks to the Finals
Is there a way to stop Dirk Nowitzki? It doesn't look like it after watching the Oklahoma Thunder's numerous attempts to slow him down on defense during Game 1 of the series.
That patented Nowizki turnaround mid-range fadeaway is practically impossible to guard.
Tyson Chandler told the "Ben and Skins Show" via the Dallas Morning News:
I think that whoever is guarding him feels like they're on an island, all by themselves. Everybody in the arena is watching Dirk put on a show. [Tuesday] night, I was on the bench, and I don't know how many times I looked over the DeShawn Stevenson, when he was on the bench, Caron Butler, a couple guys, and I was just in awe. Dirk Nowitzki is a monster. He's a monster. Like, as a defender, it just baffles me of what he's able to do on the basketball court. ... He can do everything on the court. When you're guarding a guy like that, you're at his mercy.
There's no question, Tuesday night's amazing 48 point showing on 12-for-15 shooting and 24-of-24 free throws was one of the most efficient playoff performances we have ever seen.
Nowizki is playing with a purpose and the way he can just toy with opposing defenses makes him the most feared player on the basketball court.
So it doesn't matter whether it's Serge Ibaka, Nick Collison, Kendrick Perkins, Kevin Durant, Thabo Sefolosha, James Harden or anyone else on the Oklahoma City roster. If they're one-on-one against Nowitzki, he'll try to either shoot over them or drive past them.
Not to take away from his great game. But Nowitzki got so many whistles in that game. If there's a way to slow him down, the Thunder will need to cut down on their fouls and play smarter defense.
Let him shoot his jumper which he usually nails but take away his passing lanes and stop the ball from going to the perimeter to his shooters like Jason Terry, J.J. Barea and Peja Stojakovic.
2011 NBA Draft: Where Will Jimmer Fredette, Kemba Walker and More Go Now Draft Order Is Set?
If Nowitzki puts up another 48 points in Game 2 then let him. However, what the Thunder should not let happen again is to let the Dallas high-scoring bench get involved in the game. The Mavs got a combined 45 points from Terry and Barea in Game 1.
Slowing that bench down would have made a world of difference on Tuesday night. The only plan that should be employed for the rest of the series is to let Nowizki play his game, but stop the rest of his teammates from doing the same.
Most recent updates:
This article is
What is the duplicate article?
Why is this article offensive?
Where is this article plagiarized from?
Why is this article poorly edited?