NBA Playoffs 2011: Is Kyle Korver the Person to Blame for the Bulls Game 2 Loss?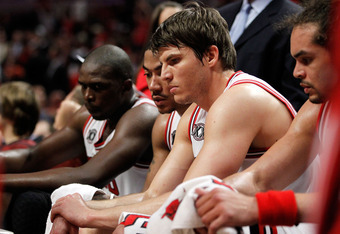 NBA Playoffs 2011 might find Kyle Korver as a scape goat
If the Bulls are pointing fingers for their Game 2 loss, it might have to be pointed in the direction of Kyle Korver.
It seems to be the mantra that you live by the Korver, or you die by the Korver. For the Bulls in Game 2, Korver killed them.
The plus to having Kyle Korver on the floor is two fold. First he's a great shooter. While he's been a little cold in the first two games of the Eastern Conference Finals, when he's on he is one of the best catch and shoot guards in the league.
Stealing Money: The 10 Worst NBA Free Agents Ever
The Bulls when they are down like to keep him on the floor. He can hit big shots and the other thing he does well is space the floor. The defense has to respect his shot so they can't take a body off of him. This allows Rose a better chance to get to the rim and draw contact.
The issue with last night, is that Korver is a bad defender and keeping him on the floor is a defensive liability. When he was on in the fourth quarter he had to be moved over to the point guard, leaving Derrick Rose in charge of guarding Dwyane Wade. That match-up favors Wade and tires out Derrick Rose.
If the Bulls are going to get a win in Game 3 they are going to have lean on Keith Bogans.
Kyle Korver may only hurt them in the long run.
Most recent updates:
This article is
What is the duplicate article?
Why is this article offensive?
Where is this article plagiarized from?
Why is this article poorly edited?