Jim Tressel: Will Ohio State Football Keep Head Coach Around?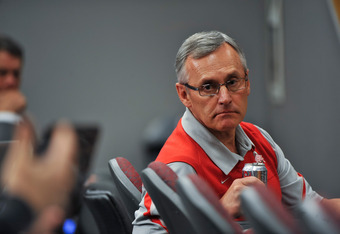 Jim Tressel has secure future despite dishonorable actions
Money talks and with Jim Tressel there is money for Ohio State.
He can lie, cheat and cover up all he wants to, but at the end of the day he's going to bring Ohio State, as well as the Big Ten, a ton of money and wins and that's all anyone really cares about.
It's a shame that we live in a world where what you can give someone outweighs everything you have ever done. You needed be classy, honorable, truthful or of the highest moral standard. You just need to win.
When Tressel acted like a babe in the woods after his players were suspended we wondered just how much he really knew. When we found out he was notified of his students NCAA violations well before they were punished for them, we shook our heads.
College Football 2011: Predicting the Winner of 50 Revenge Games
When Tressel gave us a flimsy excuse that he didn't know where to turn we felt ashamed that someone who seems to be as bright as Tressel would try and sell us a line like that. He thought we were all fools.
Yet Ohio State never batted an eyelash. They slapped a meaningless five game suspension on him went about their business.
His shady actions are better than the prospect of not winning. Failing to handle the issues on your team for the sake of winning is disappointing, but rebuilding a proud program is even morning disappointing.
He's stick around not because he deserves to, but because in college football there are things more important than integrity.
Most recent updates:
This article is
What is the duplicate article?
Why is this article offensive?
Where is this article plagiarized from?
Why is this article poorly edited?