Tiger Woods: Knee Injury Stirs Up More Rumors of Steroid Use for Woods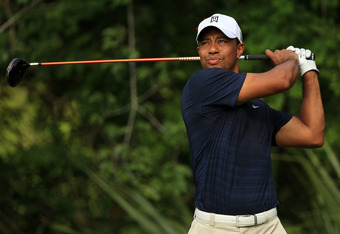 Tiger Woods can't shake rumors of foul play
As if Tiger Woods needed more people talking about him.
After he removed himself from the Players Tour Championship last week, for a knee injury that continues to bother him, the Orlando Sentinels Mike Bianchi questioned Tigers past.
According to Bianchi's article, there are more than a few golfers on the PGA tour who believe that Tiger isn't clear. Translation: they think at one point or another Tiger has been on the juice.
Bianchi goes on to say:
it was hard not to wonder if his golfing free fall has more to do with his much-publicized split from wife Elin or his less-publicized disassociation with Dr. Anthony Galea.

Woods says he used Galea not for HGH but for a technique known as "blood spinning" to help expedite Woods' recovery from knee surgery. Why Woods would choose a well-known HGH doctor from Canada to do this "blood-spinning" when many licensed American doctors also perform the technique has raised a mountain of suspicion.
K.J. Choi and 10 Lessons We Learned at the Players Championship at TPC Sawgrass
It's easy in a sports culture where we, as fans, are lied to routinely and scandals appear as regularly as reality shows on cable TV, is it wrong to question an athlete once so strong, but now appears to be so broken down?
His association with Dr. Galea is a bit suspect at best. If I routinely frequented a house where drugs were being distributed, would it be wrong to wonder if I were doing drugs? If I routinely choose a doctor who had a history of selling HGH to patients, would it be wrong to wonder if I were in on it too?
It's not pleasant to assume the worst in athletes, but it's not right to dismiss it either. We didn't create the culture of mistrust, we are just responding to it accordingly.
Most recent updates:
This article is
What is the duplicate article?
Why is this article offensive?
Where is this article plagiarized from?
Why is this article poorly edited?