Top 25 Under-the-Radar Sports Hotties
Picture this, if you will.
Bleacher Report is an ultra-powerful alien spacecraft that stakes out the internet for females that have the following qualities:
They are above average in attractiveness, have at least one non-gritty photograph on Google images, and are connected to a sports figure in some way.
It's like these babes are the humans in War of the Worlds, and we at Bleacher Report are the aliens using the highest forms of technology to find them.
Metaphorically speaking, many ladies, like Kim Kardashian, stand on top of a tall building and wave their hands at us, practically begging to be put on this site.
But then there are others.
They stay in the cracks and shadows of the internet. These cunning sort either wear conservative clothing or hide away in a sport no one cares about, like cricket or F1 Racing.
But we found them, and here they are: the top 25 women in sports who fly under the radar.
Begin Slideshow

»
Eiko Koike was a spokesperson for Japan's PRIDE Fighting Championships and is the wife of fighter Wataru Sakata.
Anyone who has read my past slideshows knows that I will sometimes conjure up stupid stories to make things interesting.
But this small Wikipedia snapshot of Eiko Koike's life is so imaginative, I didn't even try to think of something more ridiculous in fear of my head exploding:
"Recently, she has been making appearances for the comedic HUSTLE wrestling promotion supporting her husband, Wataru Sakata, and the New Generation HUSTLE Army as Yosei which means "Fairy" in Japanese. She helped her husband gain an upset victory against the seemingly unstoppable wrestling cyborg, The Esperanza, when she deflected one of his "spirit gun" bolts back at him."
What is a spirit gun, where can I get one and why in the hell aren't they being used in the WWE?
Shanna Moakler was Oscar De La Hoya's fiance until she claimed he hit her when he was drunk.
Did he also drunkenly force her to pose on her hands and knees with a plunger and cleaning gloves? Do others think that's weird and gross?
Speaking of plungers, Moakler has been on other crappy television shows like Pacific Blue, CSI and Joey.
She also made an appearance on Dancing With the Stars.
You know, the hit television show where C-list celebrities go to die and old athletes try to appeal to middle-aged women.
Elisabetta Gregoarci is the wife of Flavio Briatore, a businessman who was the manager of the Renault F1 Racing Team, as well as part owner of London's Queens Park Rangers F.C.
Doesn't this dream couple look absolutely beautiful together?
Also, this can't be ignored.
When Cher made her famous video for "If I Could Turn Back Time," I think this is the sort of thing she had in mind.
Unfortunately, when the wildebeest known as Cher tried to pull that outfit off on a Navy cruiser, it sent frightening shock waves across the music scene.
That image of her in that outfit still gives me night terrors.
Luckily for me, I have this image of Elisabetta Gregoarci to soothe my pain. I think she is trying to be a Navy superhero of some sort.
Flavio Mazoni is the ex-wife of UFC fighter Dean Lister.
I can't tell you why they divorced.
What I can tell you is that the total IQ for these two probably maxed out at around 80. Combined.
Grunts, high-pitched squeals and wild hand gestures can only take a marriage so far. It's all about communication, you know.
Rebecca is the wife of Australian Rules Football player Chris Judd.
They live a difficult life because they live their entire life in fear of strong gusts of wind.
She is so skinny, if she ever traveled to the Midwest, she would fly away and never be seen again. I don't know if I have seen anyone's last name fit someone so well.
But somehow, she is still hot. She must be deceiving me with smoke and mirrors.
Annabelle Bond has been romantically connected to Ron Dennis of F1 .
She is most known for becoming the fourth British woman to ever climb Mt. Everest.
She should get with Bear Grylls. If they produced a baby together, the child would undoubtedly have the necessary skill to be the next real Indiana Jones.
How badass would that be?
F1 driver Felipe Massa married Anna Raffaela Bassi on November 30, 2007. They had their first child, a son, exactly two years later.
F1 cart racing needs to start having items such as bananas, green shells and NOS boosts integrated into the sport.
And the drivers should dress up as Mario characters.
I think it would be a hit.
Morian Atias is a successful model, actress, and host. She has also done some humanitarian work.
Atias is known to be a huge fan of soccer.
With all this work and success that Atias has had, I have two questions.
Why have I never heard of her and why can't she afford a bra that isn't cheap and breaks on her in the middle of a fashion shoot?
Czarniak has worked as a pit reporter for TNT.
I can support anyone who makes a mistake on air and laughs about it.
Terrell won a contest sponsored by Bellator Fighting Championships, in which they find the hottest ring girl.
Her website includes some facts about herself, which include the fact that she doesn't like chocolate.
This is, in fact, absurd and I can't possibly imagine someone not liking chocolate. If I could, I would own my very own pool filled with chocolate to bathe in.
But who am I to judge. I don't like peanut butter.
Maybe Mercedes and I should team up like Bonny and Clyde and destroy all the Reese's peanut butter cups in the world. What a truly evil and deviant plan that would be.
I am along for the ride Mercedes. Are you?
Verela is a professional model and has been spotted as an MMA ring girl.
I don't watch MMA because I don't particularly enjoy the part where their sweaty man-bodies roll over one another for 15 minutes.
But that is just me. For some guys, that is their dessert in life.
However, if Claudia Verela is going to continue to walk around a ring wearing the clothing she seems to enjoy wearing, then I may begin to rethink my logic in terms of mixed martial arts.
Probably not. But maybe.
Karolína Kurková was romantically connected to Wladimir Klitschko.
In 2008, Kurkova came under scrutiny for appearing to be too fat on the runway during Sao Paulo fashion week.
Once he heard the news, Klitschko defended his lady by taking on the entire Brazilian media in a street fight.
He wound up triumphant, but caused more death and destruction than Vin Diesel and Paul Walker in Fast Five. Which is to say, pretty impressive.
Before Tiger came along and made golf cool, the sport was mostly known for having participants that weren't athletic and slightly overweight.
Many were chastised for being nerds who wore khakis and sweater vests.
But David Toms broke through that stereotype by landing Sonya Toms.
I wonder if Sonya did her Betty Childs impression and yelled "I'm in love with a nerd!" when she met David.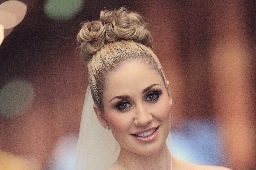 Image via @_Chantelle_R
Chantelle Raleigh is the girlfriend of Hamish McIntosh, an Australian rules footballer for North Melbourne in the Australian Football League.
Fabiana Semprebom is Guillermo Canas' girlfriend.
She was discovered by an agent from São Paulo while she was shopping at a local mall. Other than being a princess, being discovered at a mall is the dream of every girl on God's green earth.
For a guy, that is equivalent to me having an incredibly impressive performance in a pickup contest and being spotted by a Division I college coach, leading to me walking onto a powerhouse and scoring a basket to win the national championship.
Jessica Bratich recently became Mitchell Johnson's wife on May 13.
The ceremony was so secret, only 50 guests were invited. They were told to wear wigs to hide their identity. I'm not making this up.
It gets better. Mitchell didn't invite his mother, causing a big controversy, especially because the wedding was close to Mother's Day.
Doesn't his mom know? Parents aren't invited to Barbie World.
Just look at this picture. Of course that is where they went.
Sara Foster is currently engaged to tennis player Tommy Haas. On November 15, 2010, Foster gave birth to a baby girl.
And 2008 was a monumental year for Foster. For several months, Foster trapped herself in her character; having a profound negative effect on her relationships with friends and family members. Regretful things were said, several mirrors were broken, and a serious relationship was barely being held by bubble gum.
But it paid off for her. She put in 100 percent of her heart and soul and gave an Oscar-winning performance in Bachelor Party 2: The Last Temptation.
The last two paragraphs were unfortunate for Foster for two reasons.
1) No one saw that movie because it was probably abysmal.
2) I completely made all that stuff up about her performance, and the work leading up to it.
Ashley worked for Rivals.com, Big Ten Network, and Yahoo Sports.
She also has a passion for fantasy football, apparently.
In the article, she describes a world of intense arguing, hurt feelings and cat fights; all for the sake of a fantasy sport.
Christ ladies, it's a nerdy computer game to pass the time.
Take it easy.
Tiffany Simons is a sideline reporter for NBC.
She has covered many extreme sporting events, as well as the 2010 Westminster Kennel Club Dog Show.
The day I am looking forward to the most is the day she covers the 2018 X-Treme Westminster Kennel Club Dog Show, where animals jump through hoops of fire while doing back flips.
Hazel Mae currently works for the MLB Network.
With her hard work and determination, Mae was able to be the first munchkin ever to escape the world of the Wizard of Oz.
Most people in the Michigan area will know who Erin Nicole is.
I had never heard of her until I did the research to put this slideshow together.
It's wonderful to see she still possesses her skills of being able to glitterize a jean jacket.
I think I might call her up to see if she can do the same for my cell phone and laptop. LOL.
Red Sox fans will definitely know who Watney is, as she has been involved with the Red Sox as their on-field reporter.
Another fine example of a lady who can look sexy while not flaunting her body everywhere.
She is so hot, she can still make men fail completely at the simple task of speaking.
Molly Qerim has worked for ESPN, the VERSUS network and CBS Sports.
I don't watch UFC, so it's no wonder I have never heard of this girl before making this slideshow.
She looks like the Kim Kardashian of female sports anchors. That is a compliment Molly. I'm not disrespecting your intelligence.
Michelle Beadle represents the type of girl that has almost been forgotten about because of the MTV generation.
She dresses conservatively, can speak well, and has well thought-out opinions based on facts.
Although she might not be the most beautiful woman on the planet, her bright and bubbly personality is so addictive, it makes her sexier than the girls who can barely stuff their fake breasts in a tiny bikini top.
God bless you Michelle Beadle. I hope your actions start a revolution that all girls in America follow.
Adriana was the lead singer in the girl band "Chikas" and in the pop bands "Tartara" in Venezuela, and "Latin Fiesta" in London, England.
I remember her back in the day giving me my one soccer highlight a day from ESPN Deportes.
I would love to hear "Chikas" rendition of "Taco Flavored Kisses."